Retailers who are passionate about their customers are the ones that speak the loudest.
The retail marketplace is laden with an abundance of retailers who are trying to stand out amongst the competition. One retailer leading the charge in differentiation is Karina Bruce, Co-Founder, and Director of Hear Us Roar. As a finalist in the 2019 Rest Retail Business Woman of the Year category for the eftpos ARA Australian Retail Awards, Karina is dedicated to finding the right fit for her customers.
What was the inspiration behind opening Hear Us Roar?
After many years working in the in the plus-size fashion industry, I became frustrated with the lack of choice, the poor fits and the inability to create pieces that respected the curvy figure – let alone flattered it. Out of this sheer frustration, Hear Us Roar was born. My business partner Blaise McCann and I wanted to develop a space where fashion exists first, and size second.
Now having operated as an online store, with pop-ups throughout Australia, we have now created a marketplace that helps women who find difficulty shopping in main-stream stores to find clothing for every occasion by designers who understand the curvy figure.
What is the best part of your job?
For me, it's all about the customer experience. The look on their faces when they have found an outfit or something they love from one of our excellent designers that fit them is priceless. It's always so humbling to hear from customers.
We've even had some customers drive five hours to come to our pop-up stores and others who have flown from different states, which is always so humbling to see. One of the best parts of my job is being able to curate the designs as new designers come onto the platform and select what we feel are quality, fashion-forward, and practical pieces that our customers will love.
Where do you see yourself in 5 years?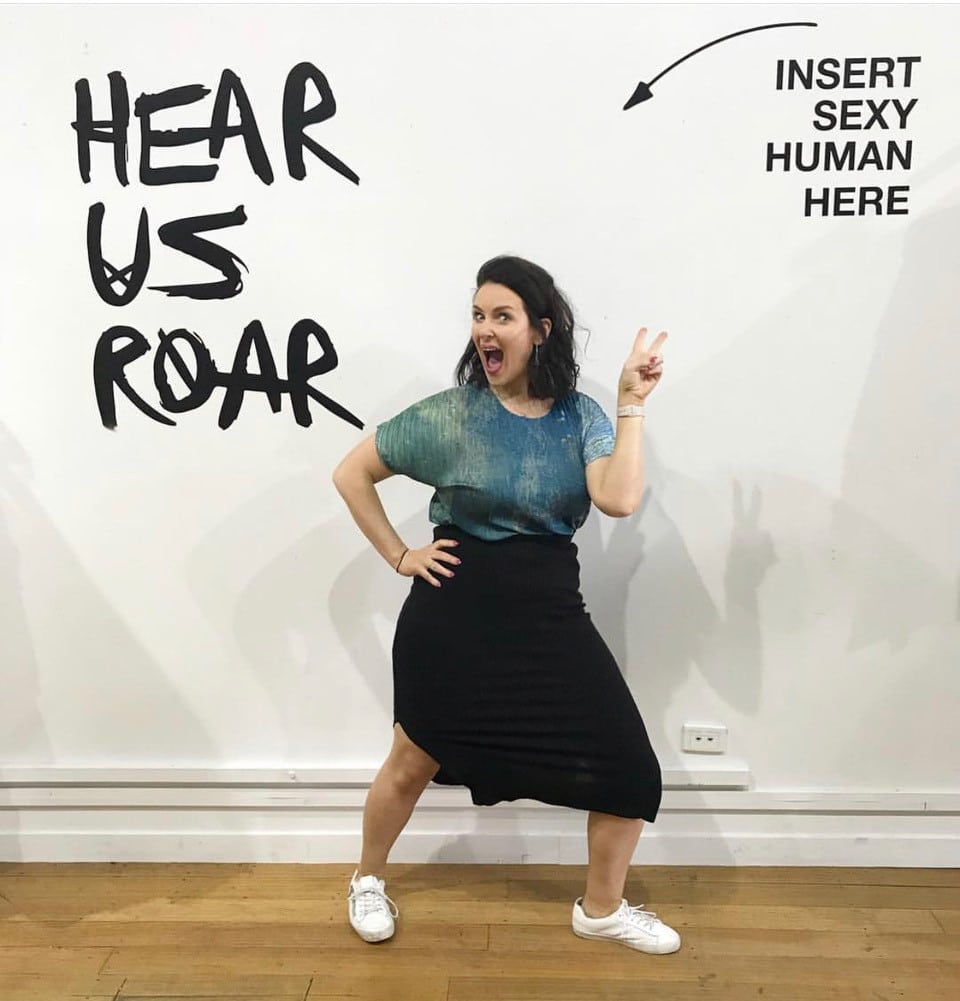 We would love to see global expansion for Hear Us Roar we are excited to be launching into the US in August. We want to have all women embracing across the world sharing and wearing clothes from new and emerging curve designers who are fashion-forward and understand the needs of our customers.
Our business is built on a community of like-minded individuals who support and understand each other, and we hope to this continues to grow and strengthen over the coming years.
What have you learned about yourself?
To embrace my fears and work hard. One of the sayings I love is, embrace the simplicity the other side of complexity. I try to live by this.
How has your vision changed since you first started?
The validation that there are so many women like me in Australia who want to be stylish and on-trend but don't have an avenue to shop continues to fuel my vision each day. At Hear Us Roar, we have always aimed to push the fashion boundaries into new territories for all ages, empowering women to be stylish and on-trend at any size, a female rite of passage.
Our ethos is offering women a choice that allows them to express themselves through fashion and finally feel like they can create a style identity. As our brand continues to expand, we aim to maintain this ethos and continue to build a supportive community based on a culture of trust, respect, and experience while delivering exceptional customer service.
What do you see as your future obstacles?
International expansion – there will be many obstacles we will need to overcome, from distribution to market presence. But I'm excited to embrace the road ahead.
What advice would you give young people in the industry who are passionate about making a career in retail?
Follow your passion; if it's your passion, then it won't feel like work or a job. That's the best way to embrace your career.
How can the retail industry better support you as a leader in your field?
The best way would be through funding and offering mentoring support from leaders in the retail industry.
What is one challenge/issue affecting retailers today?
It's a robust industry that has many big players. It's able to compete with them in this fast-moving tech space, keeping up with new technologies and how they can apply successfully to our business is always at the forefront of our mind.
How do you think retailers can engage better with customers?
Understanding their needs better and creating environments that support this. Whether it be style pods, pop up stores, product information evenings – there are lots of opportunities to improve.
For more information on Karina or Hear Us Roar, visit hearusroar.com.au. To read more inspiring stories from exceptional female leaders in retail, visit the Australian Retailers Association's Women in Retail Series at retail.org.au/womeninretail