Sexual harassment can have significant consequences, with retailers urged to take every precaution to prevent its occurrence.
By Nick Tindley, FCB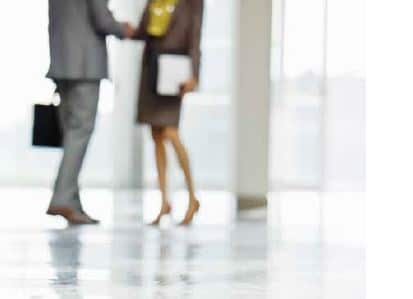 West Indies cricketer, Chris Gayle's comments to female interviewer Mel McLaughlin in January shocked television viewers and sent social media into meltdown.
The reaction was hardly a surprise. After all, it's not every day that we have the privilege of witnessing a professional cricketer proposition a media personality live on national TV with lines such as "I get to see your eyes for the first time, it's nice. Hopefully we can win and go for a drink after".
Disrespectful as these comments may be, they demonstrate the sad reality that sexism remains widespread within Australian society, and the workplace is no different.
It goes without saying that no person should ever be made to feel uncomfortable or treated differently because of their gender, yet employers often struggle to manage this issue effectively.
Recent case law highlights that the courts are willing to impose hefty penalties on employers who fail to prevent sex discrimination in their workplaces.
Allowing a sexist workplace culture to fester may expose you to significant liability for psychological injury, as well as having wider consequences for the performance of your business in terms of reduced productivity and increased absenteeism.
What is sexual harassment?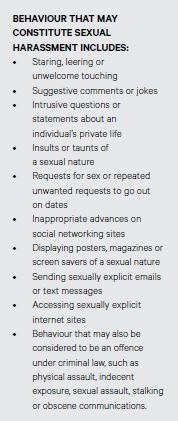 Australia has strong anti-discrimination legislation that makes it unlawful for an individual to treat a person less favourably because of that person's sex, sexual orientation, gender identity, intersex status, marital or relationship status, pregnancy or potential pregnancy, breastfeeding, or family responsibilities. Sexual harassment is a type of sex discrimination. It is defined as any unwelcome sexual advance, request for sexual favours or conduct of a sexual nature in relation to the person harassed in circumstances where a reasonable person would have anticipated the possibility that the person harassed would be offended, humiliated or intimidated.
This may take many different forms. It can be overt or indirect, physical or verbal, repeated, or one off and perpetrated by both males and females against people of the same or opposite sex.
It does not matter whether or not the particular individual was actually offended, humiliated or intimidated.
While there may be a difference between harmless flirting and unlawful discrimination, the 'reasonable person' standard means that the conduct is judged against what an average person observing the conduct would have understood it to mean. A person can complain about sexual harassment even if the conduct was not specifically targeted at him or her.
As an employer, you should be aware that your liability for incidents of sexual harassment can arise in several ways, both personally as well as through vicarious liability for the unlawful actions of your employees.
Preventing sexual harassment
To avoid vicarious liability for actions undertaken by your employees, you must have taken 'all reasonable steps' to prevent the sexual harassment from occurring.
A key element to taking 'all reasonable steps' is implementing training for your workplace in regards to sexual harassment and the related issues of discrimination and bullying. This training should be ongoing to ensure that new employees are made aware of the standards of behaviour you expect in your workplace, in addition to reinforcing these messages in the minds of existing employees.
Such training should include:
Identification of what constitutes 'harassment', 'bullying' and 'discrimination' in the workplace, including examples
Clear expectations of the standards of behaviour expected from employees, including a strong statement on the company's attitude and objectives regarding sexual harassment
A statement, with reference to the relevant anti-discrimination legislation, that workplace harassment, bullying and discrimination is against the law and may result in employees being personally liable for their actions as well as exposing the company to significant liability
Explanation of the grievance and complaint process that employees should follow if they are subjected to harassment, bullying or discrimination in your workplace, including an assurance that such complaints will be handled sensitively and confidentially
Exploration of the consequences that may follow from breaches of the policy, including termination of employment
Information on where your employees can obtain further assistance.
In conjunction with such training, employers should also implement a clear and concise sexual harassment, bullying, and discrimination policy that sets out the issues dealt with above. The policy must be clearly communicated to your workers and enforced in a consistent manner.
Implementing regular employee training and introducing a well drafted policy into your business is essential to promoting a healthy, productive, workplace culture, as well as avoiding liability by taking all reasonable steps to prevent such behaviour under Australia's anti-discrimination legislation.
What's the risk?
There is growing acceptance among Australian employers of the need to implement measures to prevent sex-based harassment in the workplace,
with many employers taking steps to improve workplace productivity and reduce their liability.
This is not surprising given the increasing willingness of Australian courts and tribunals to award significant amounts of compensation or damages
to workers who are subjected to sexual harassment in the workplace. Six figure payouts are now not uncommon, with the courts occasionally awarding amounts reaching into the millions of dollars.
For more information regarding sexual harassment in the workplace, please contact the ARA Employment Relations team on 1300 368 041.
This article first appeared in ARA's The Retailer magazine in February 2016.