As retailers finalise recruitment for the busy Christmas period, thinking about how to attract and keep the best talent is important as labour shortages continue to challenge.
To kick-off our ARA '12 Ways to Christmas' campaign – a compilation of resources and tips to help our members have a successful season – here's some ways retailers can help find and retain the best Christmas talent.
Upskilling – train your teams in the skills most important during peak season
CUSTOMER AGGRESSION – We know that during times of heightened intensity, retail staff may unfortunately experience customer aggression at work. Help your teams build the confidence and capacity to effectively deal with challenging customer situations in a way that minimises any negative impact on individuals, their colleagues, other shoppers, and the customer. With the right tools and coping mechanisms available, the Christmas shopping period can be a more pleasant experience for all. Learn more and enrol in our micro-course here.
CUSTOMER SERVICE – Customer service skills are highly valuable and transferable across the retail industry and providing training in this skillset is a fantastic investment for your business. Not only will you grow the capability of your team, but you'll also see improvements in customer retention as their experience in your store goes from strength to strength. We offer a short 2-hour micro-course that is a great opportunity for Christmas staff.
INFECTION CONTROL SKILL SET – Most of us are well versed in infection control within a retail store but newcomers to your team may not have experienced this yet. Keep your staff and customers safe by ensuring your whole team is up to date in the latest infection control training. Register your interest here.
Fill staff vacancies with the ARA Retail Institute
The Christmas and summer retail season is fast approaching. As you may well already be experiencing, labour shortages are making it difficult to find the right candidates to fill your job vacancies.
We have several resources available to assist you with your recruitment process, whether you are looking to fill full-time, part-time, or casual roles.
The ARA Retail Institute can assist with matching your vacant roles with our vast network of work ready job seekers.
As the skills shortage continues to deepen and present challenges to our retail community, a strategy that might be worth thinking about is how you can use this recruitment opportunity to find and retain staff beyond the busy Christmas period and fill ongoing gaps in your team.
LOOKING FOR SEASONAL STAFF? REACH OUT TO US
The ARA Talent Registry
The ARA Talent Registry is a first-to-market retail-specific recruitment platform that removes human bias from decision making, reduces costs and time to hire, and not only matches on the skills needed for the role, but also assesses a candidate's cultural and organisational fit to your business.
Whether you're a business looking to hire talented people ahead of the Christmas shopping season, or you're ready to embrace a role in the exciting world of retail – we're here to help!
CHECK OUT OUR WEBSITE FOR MORE INFORMATION ON THE ARA TALENT REGISTRY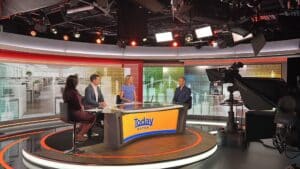 ARA CEO Paul Zahra recently spoke on Today Extra about job openings in retail this Christmas