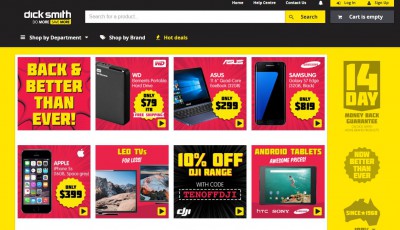 Kogan.com has relaunched Dick Smith as an online-only technology retailer in Australia and New Zealand.
Kogan acquired the Dick Smith online business in March, and was scheduled to begin operating the websites from June, however, the new dicksmith.com.au and dicksmith.co.nz websites have gone live one month ahead of schedule.
The Kogan team has built a fully responsive online platform for Dick Smith in under two months, allowing customers to shop on any connected device. The platform leverages the existing operations and logistics infrastructure of the Kogan.com business.
Dick Smith is an iconic Australian brand, with a legacy spanning almost 50 years. Established in 1968, the brand grew into Australia's largest consumer electronics retailer with 363 stores.
The website now offers more than 5,500 products, including a full range of the latest smartphones (Samsung, Apple, Kogan), cameras (Canon, Nikon, Swann), tablets (iPads, Android), and home appliances (Breville, Bissell, Kogan).
David Shafer, Executive Director of Kogan.com and Dick Smith said the new and improved Dick Smith site is better than ever.
"The efficiency with which we have been able to relaunch Dick Smith is the same efficiency that will see us delivery product and price leadership into the future," said Shafer.
"We are extremely proud of the speed with which we were able to relaunch the Dick Smith online business, with a leading website, product range, and back end systems to power the operation. All orders from today onwards come with the full backing of the Kogan.com business, and are supported by our first class Australian customer service team.
"Our digital efficiency will help to make the latest products more affordable at Dick Smith, and rebuild the legacy of the brand as a leading destination for the latest technology.
"It is early days and we are only just getting started. We are a customer focused business and we are here to serve our customers. We invite all Dick Smith customers to give us comments and suggestions to continually improve the new Dick Smith online store."