Since its launch in mid-2021, we've heard from a great array of featured guests on the ARA's Retail Therapy podcast. We've spoken to leaders in the retail industry, government representatives, small business owners, sustainability and climate experts and academics – all giving us fantastic insight into the most important topics impacting our industry. Take a look at our full library of podcast episodes below.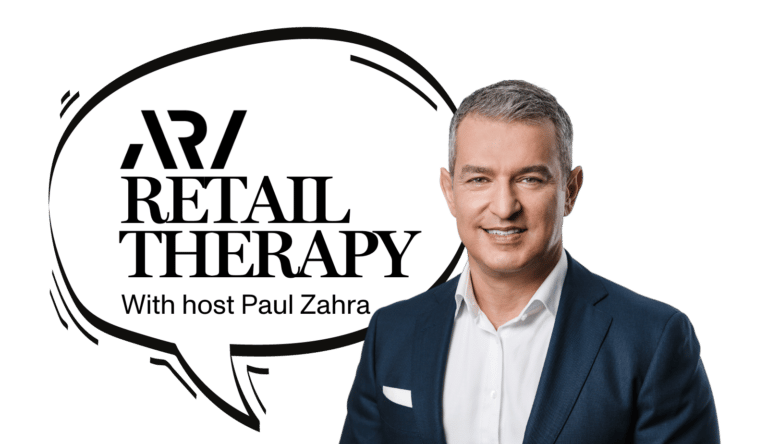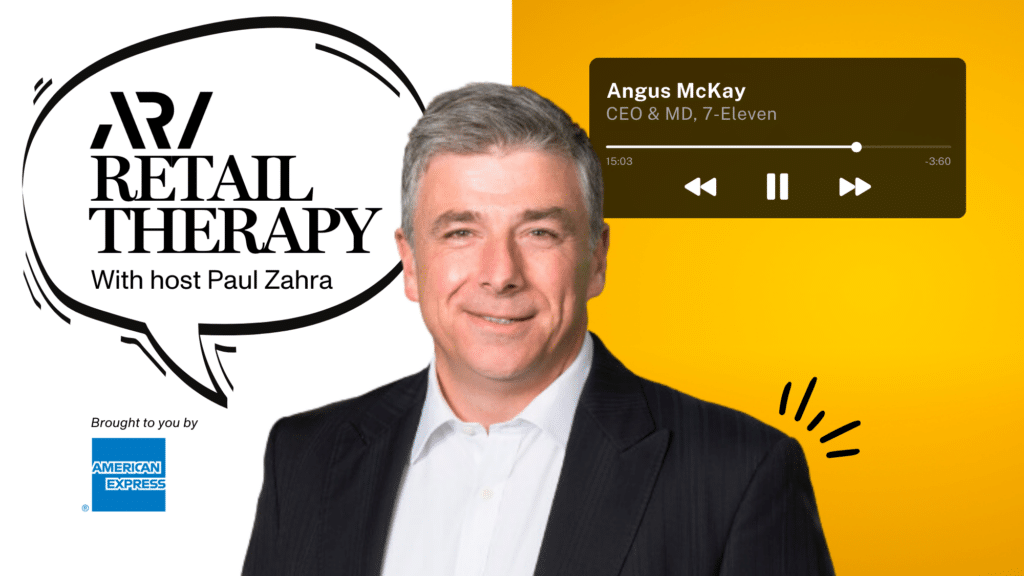 In this episode of the ARA's Retail Therapy Podcast, we have the privilege of sitting down with Angus McKay, CEO and Managing Director of 7-Eleven.
LISTEN NOW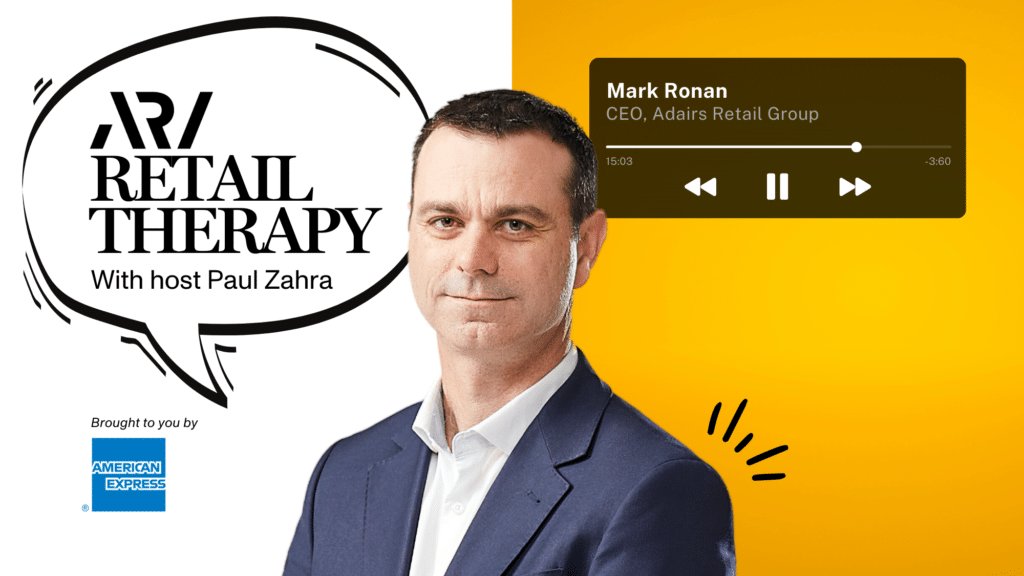 Welcome to another episode of Retail Therapy, where we delve into the heartbeat of the retail industry. In this episode, we are thrilled to have
LISTEN NOW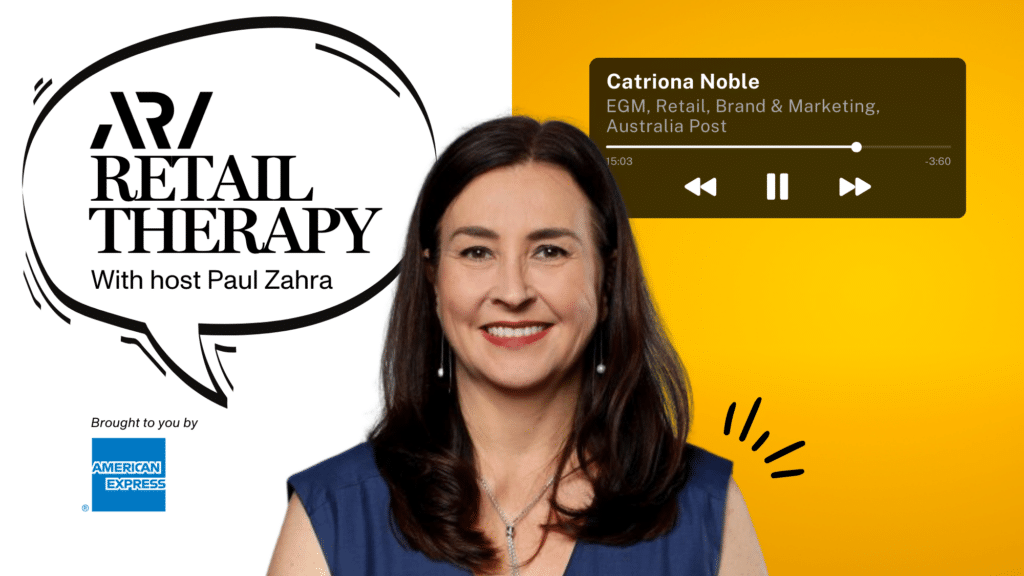 Joining us for some Retail Therapy is Catriona Noble, Executive General Manager, Retail at Australia Post. Catriona is responsible for the organisation's network of 4,320
LISTEN NOW
Season Four - Tech and Innovation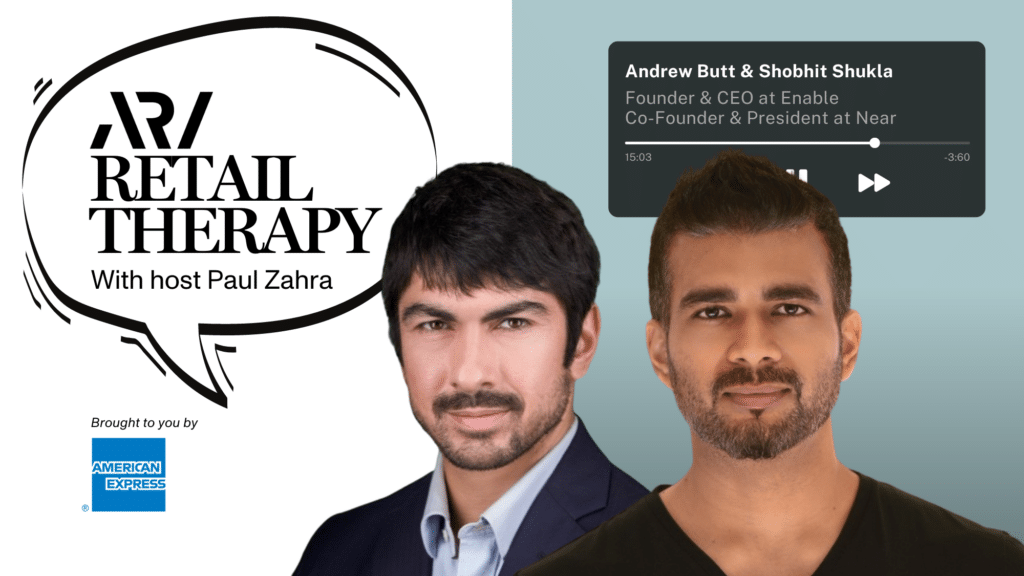 In this episode of Retail Therapy, ARA CEO Paul Zahra welcomes two successful entrepreneurs, Andrew Butt and Shobhit Shukla to the podcast studio. They discuss
LISTEN NOW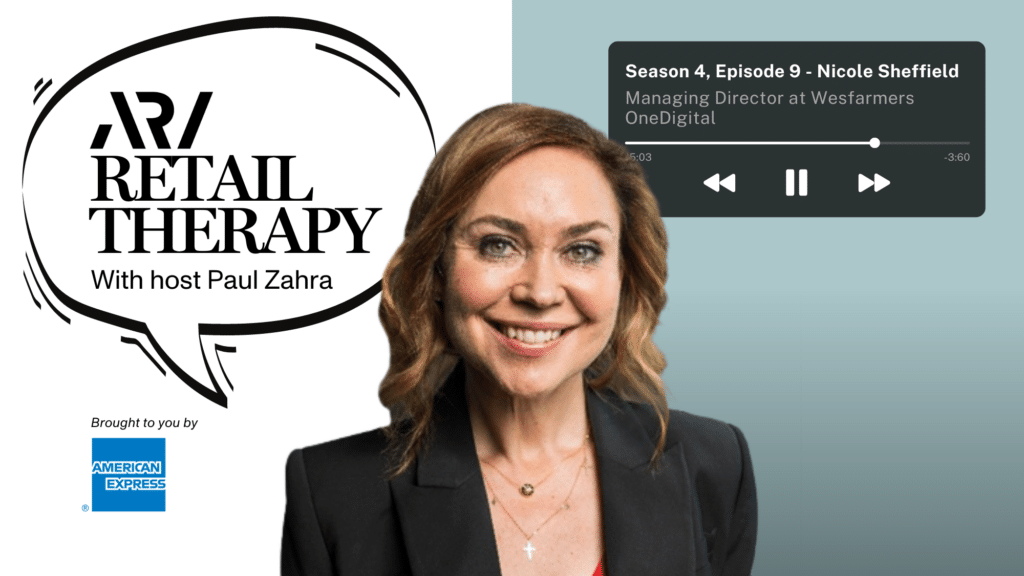 In this episode of Retail Therapy, we welcome Nicole Sheffield, Managing Director at Wesfarmers OneDigital and the first female president of the Australian Retailers Association
LISTEN NOW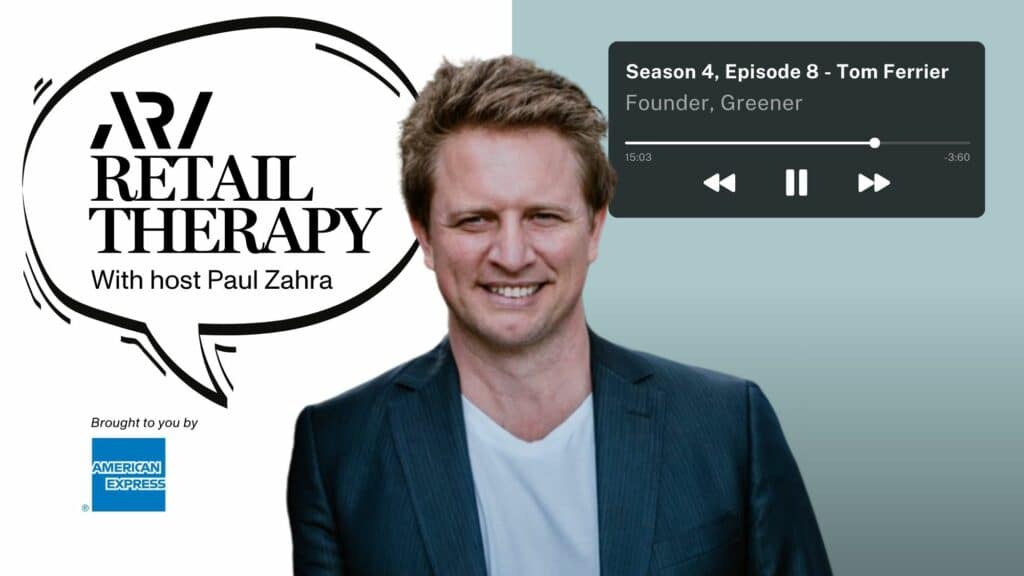 In this next episode of Retail Therapy, we're chatting about the opportunities within sustainability innovation for retailers with Tom Ferrier, Founder of Greener.
LISTEN NOW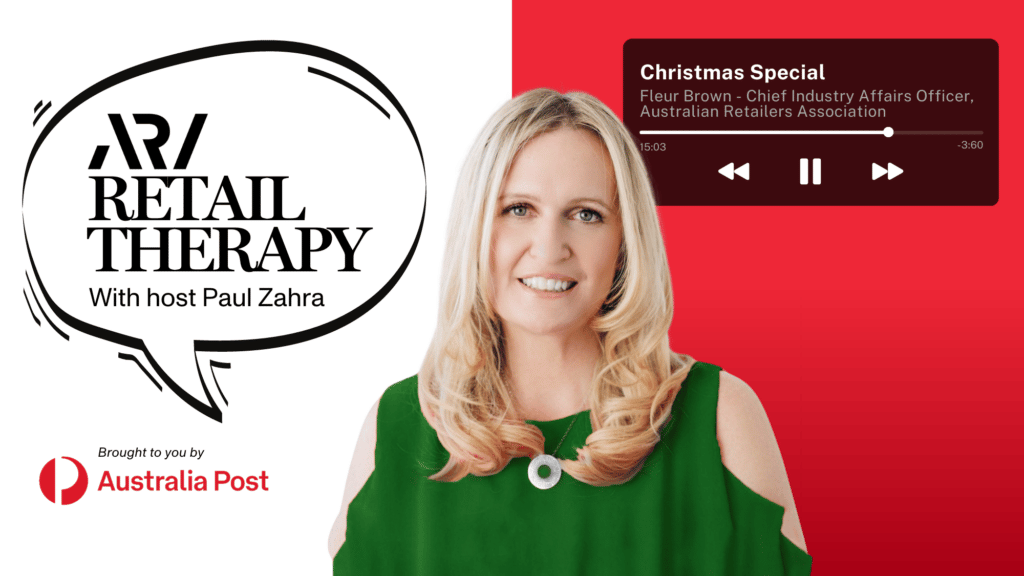 The holidays are fast approaching and retailers are in preparation mode for the Christmas shopping rush. There's lots of challenges facing our industry in terms of supply chain and staff shortages, but plenty to be optimistic about from a sales point of view.
Listen now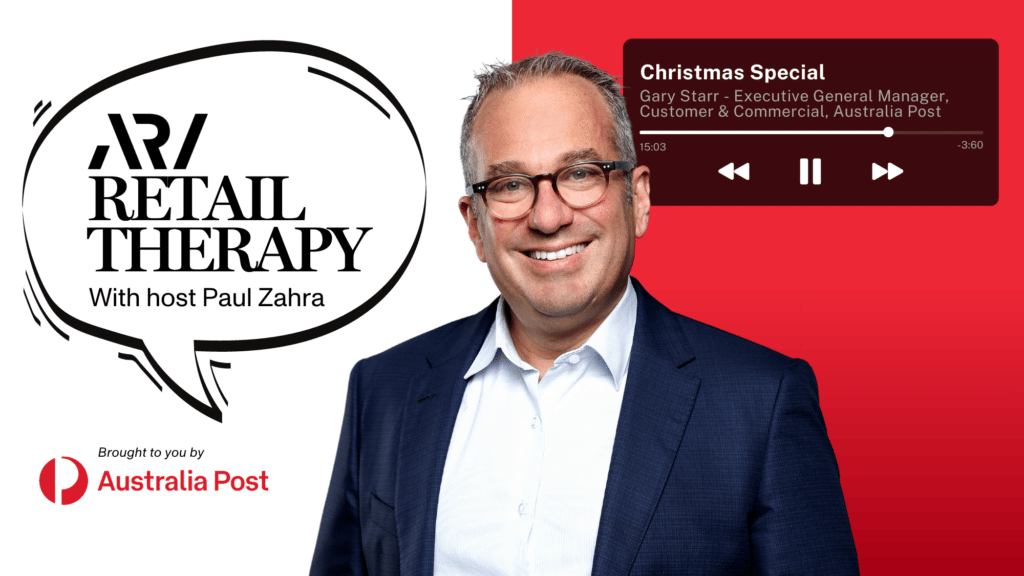 Australia Post plays an integral role in supporting retailers through this busy trading period and in this bonus episode, Gary gives us an overview of the state-of-play for the postal service this Christmas.
Listen now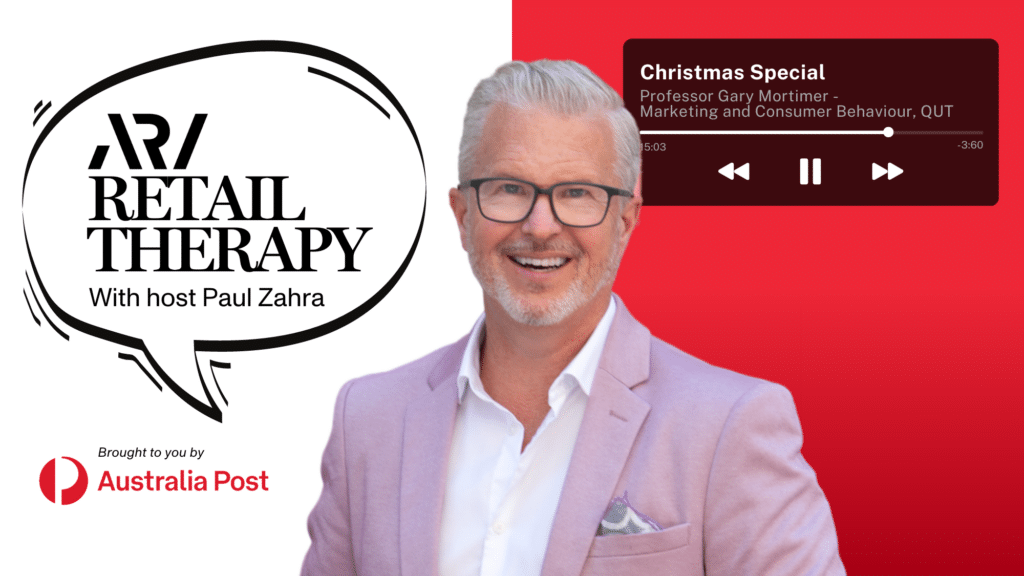 Introducing the insightful Gary Mortimer, Professor of Marketing and Consumer Behaviour at QUT Business School and Chair of the ARA Consumer Research Committee.
Listen now
Season Three - Sustainability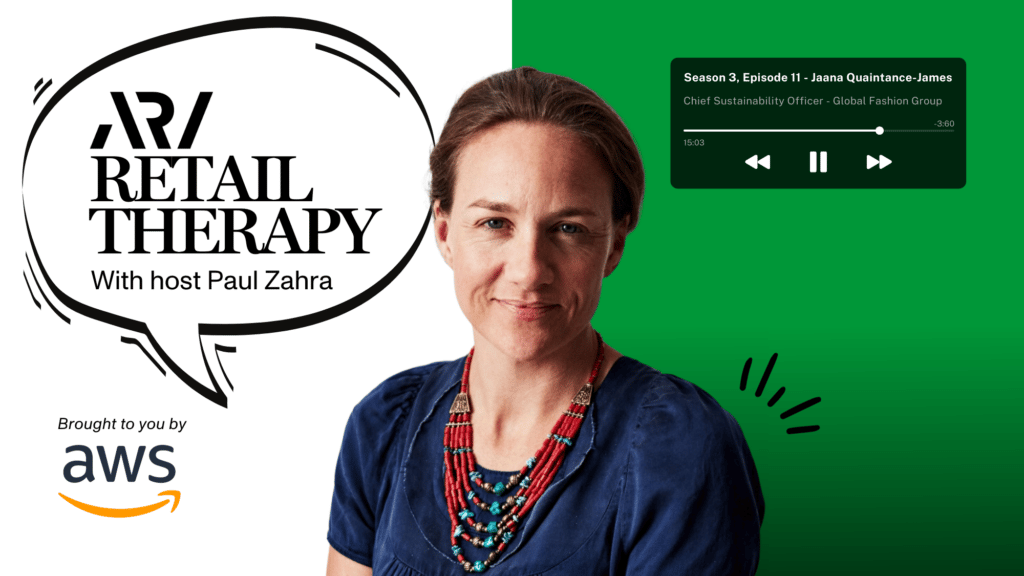 Joining us for Episode 11 of Retail Therapy Season 3, is Jaana Quaintance-James, Chief Sustainability Officer at the Global Fashion Group, parent to THE ICONIC – a well-known online fashion retailer here in Australia and in New Zealand
Listen now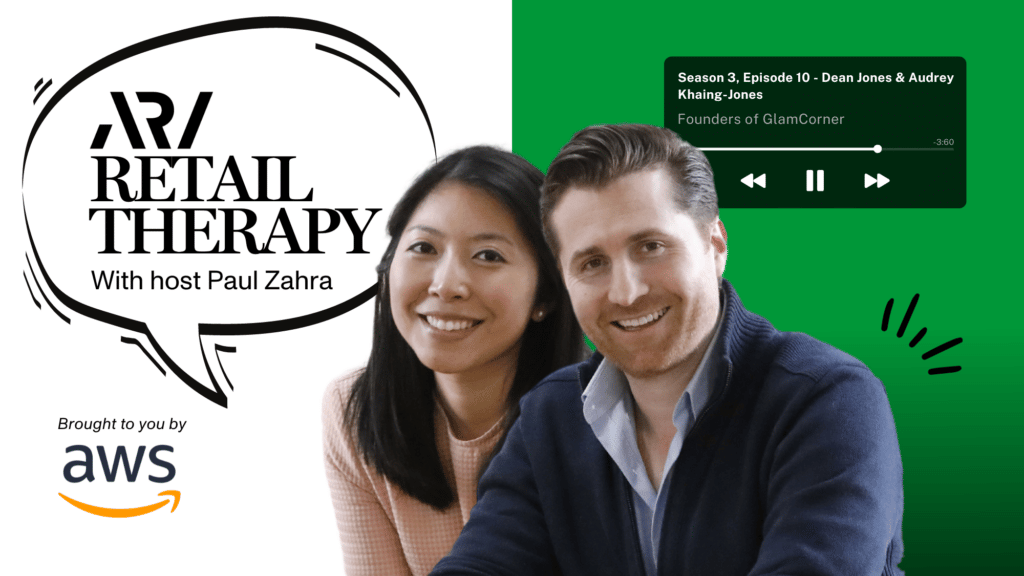 Climate-conscious husband and wife team Dean Jones and Audrey Khaing-Jones are co-founders of GlamCorner, an online designer fashion rental service
Listen now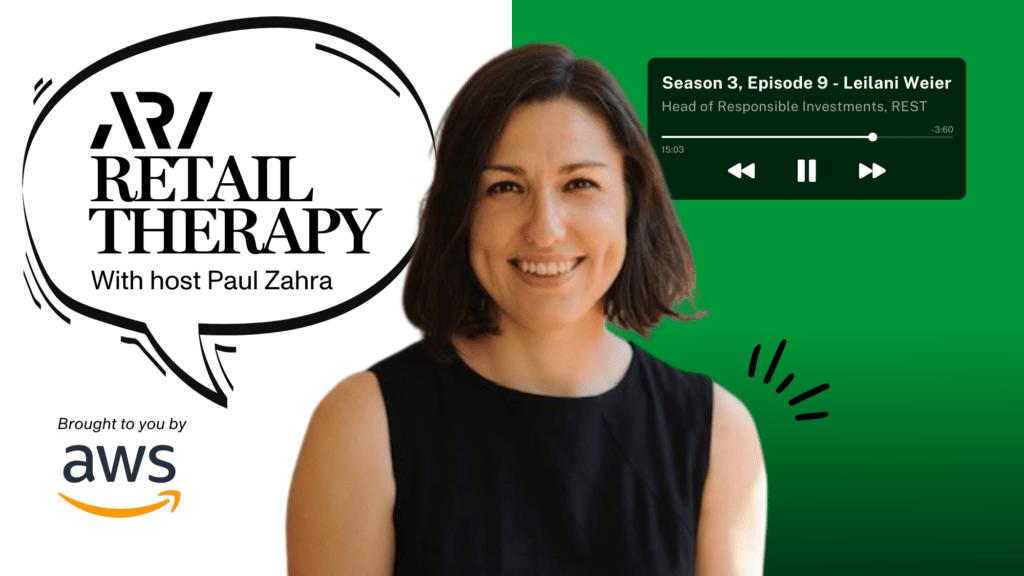 Our next podcast guest is Leilani Weier, Head of Responsible Investments at Rest, a strategic partner of the ARA.
Listen now
Season Two - Small Business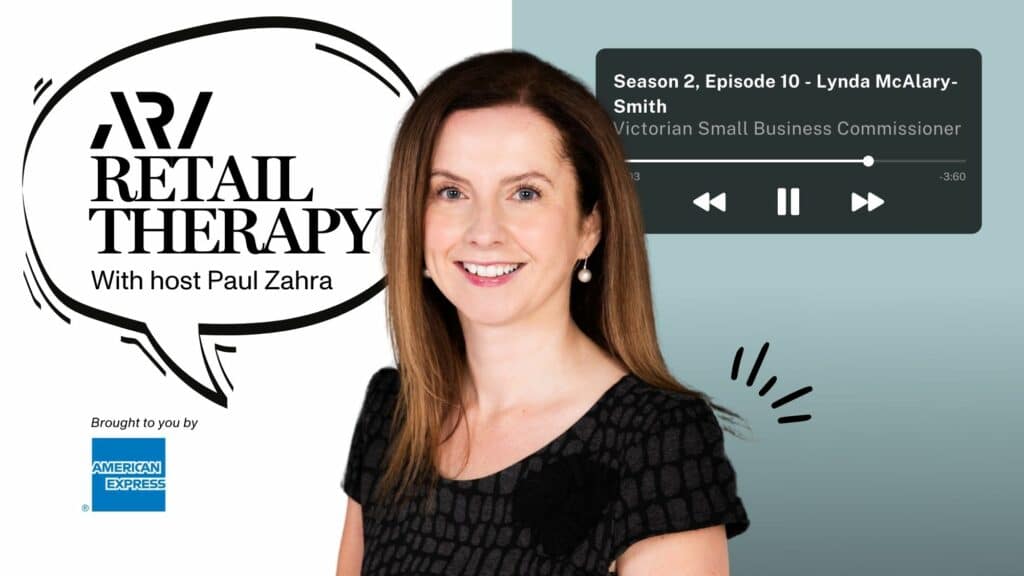 Introducing small business advocate Lynda McAlary-Smith, Victorian Small Business Commissioner. Find out which superpower Lynda sees SMBs demonstrating, pre and post Covid, that now pulls them forward into a hopeful new future.
Listen now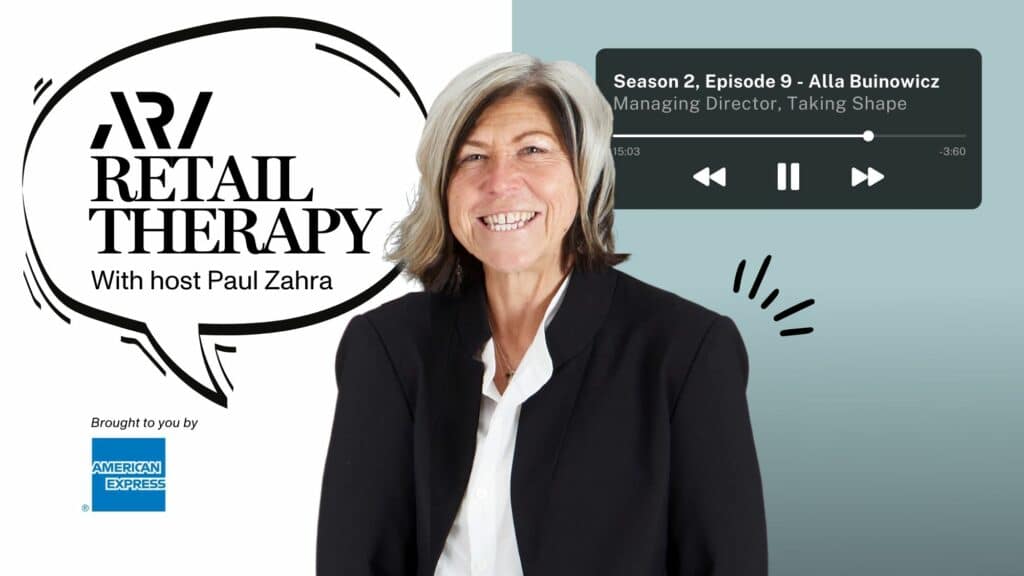 Meet Alla Buinowicz, Managing Director of the plus-size women's fashion juggernaut Taking Shape. For 17 years, Alla has dedicated herself to creating amazing customer experiences.
Listen now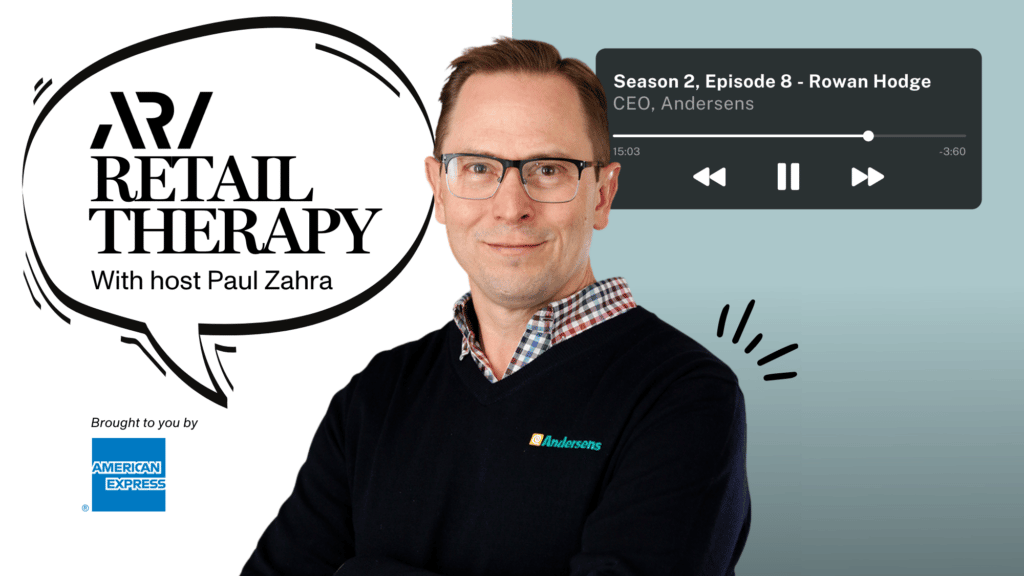 You'll love this episode with Rowan Hodge, CEO of Andersens. His career has taken him around the world and if anyone gets what it takes to make a franchise a success, it's him.
Listen now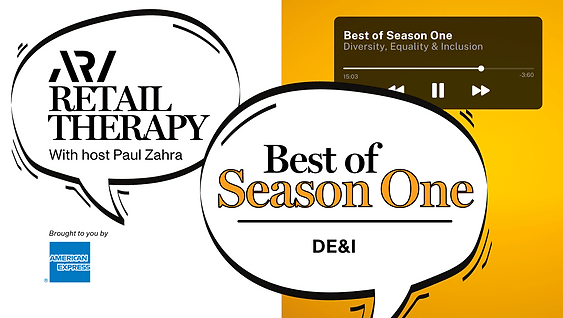 Let's continue our look back at the 'Best of Season One' of the ARA Retail Therapy podcast.
To round out our 'best of' episodes we're taking a look back at the insights we learned about the work/life balance of the top retail CEOs in Australia
Listen now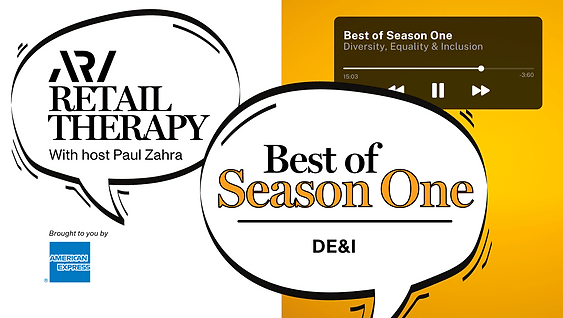 The topic of Diversity, Equality & Inclusion was a common conversation thread throughout series one of Retail Therapy and we are delighted to share with you some snippets from Australia's top retail CEOs and leaders.
Listen now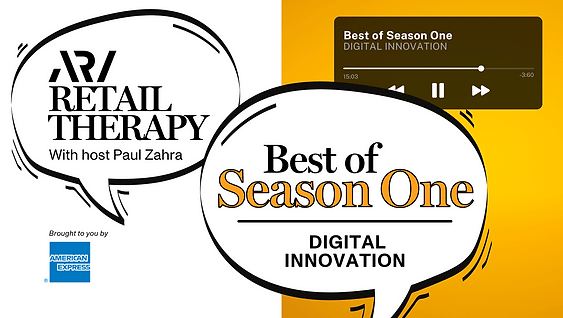 Let's continue our look back at the 'Best of Season One' of the ARA Retail Therapy podcast.
Listen now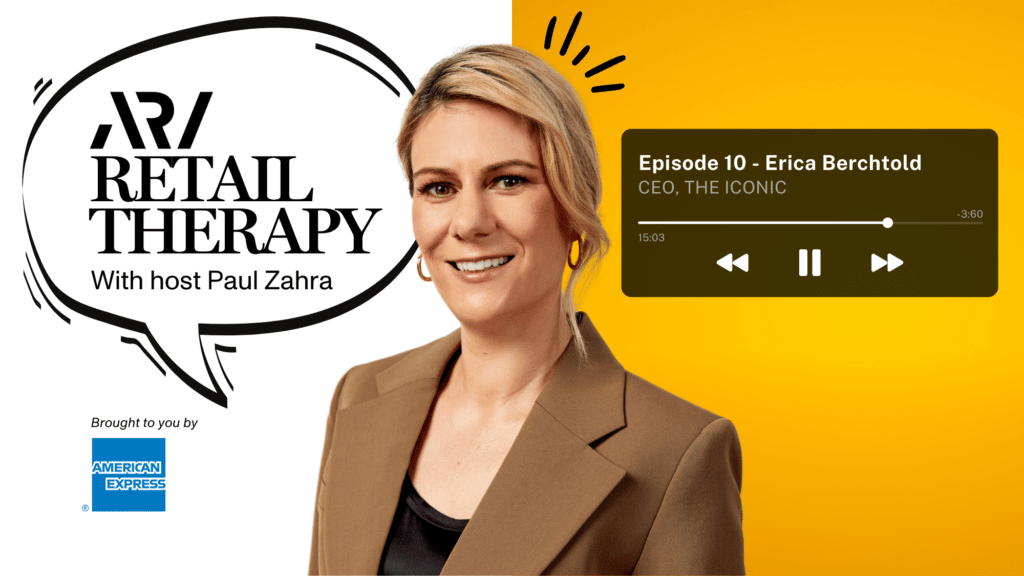 In the last episode of Season 1 of Retail Therapy, Paul Zahra speaks with Erica Berchtold, CEO of THE ICONIC. THE ICONIC is part of Global Fashion Group, one of the world's largest fashion retail businesses, connecting over 10,000 global and local fashion brands to a market of more than one billion customers.
Listen now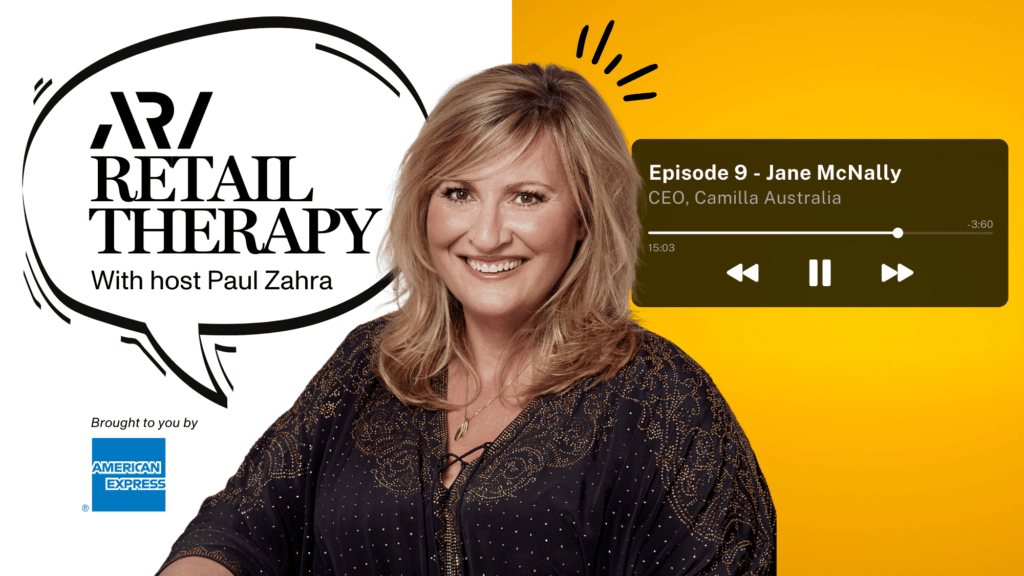 Joining Paul Zahra for some Retail Therapy this week in the Amex Lounge is Camilla CEO, Jane McNally. Jane is responsible for bring the artistic vision of designer Camilla Franks to life.
Listen now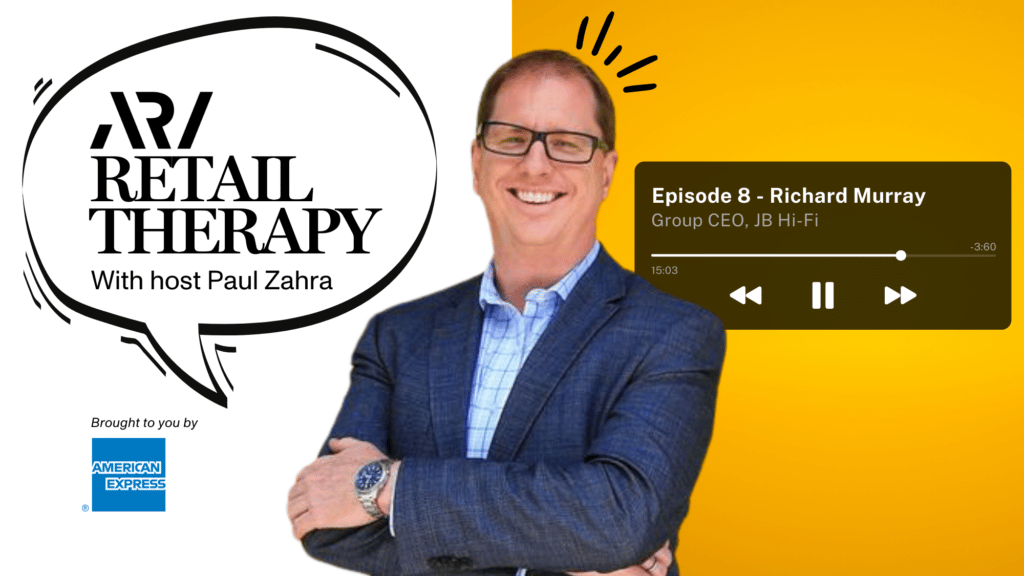 Richard has been the CEO of JB Hi-Fi since 2014 and in April this year announced that he would be leaving to join Premier Investments – which includes the brands of Just Jeans, Portmans and Peter Alexander.
Listen now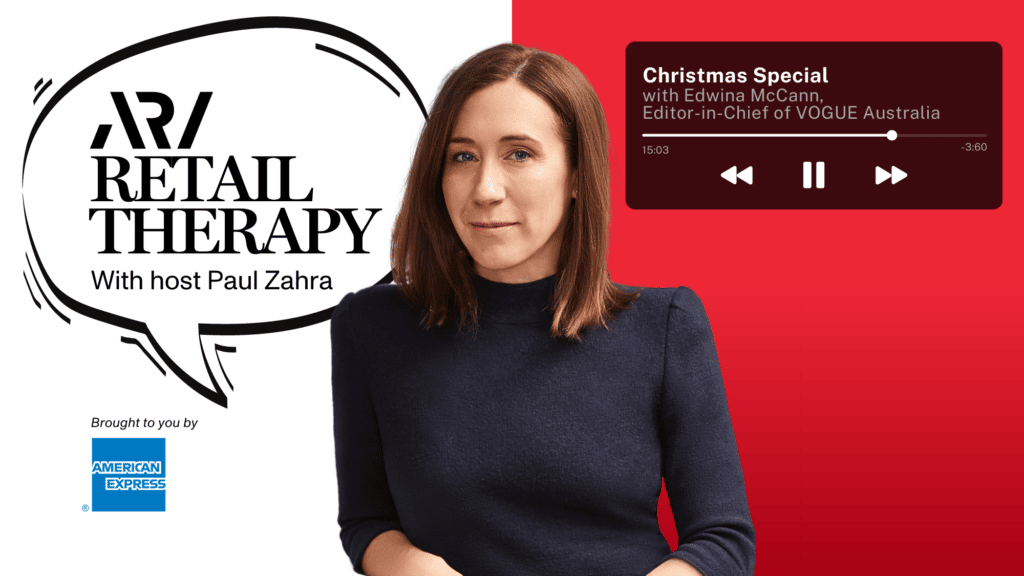 In the final ARA Retail Therapy podcast Christmas special, ARA CEO Paul Zahra speaks with Edwina McCann, Editor-in Chief of VOGUE Australia.
Listen now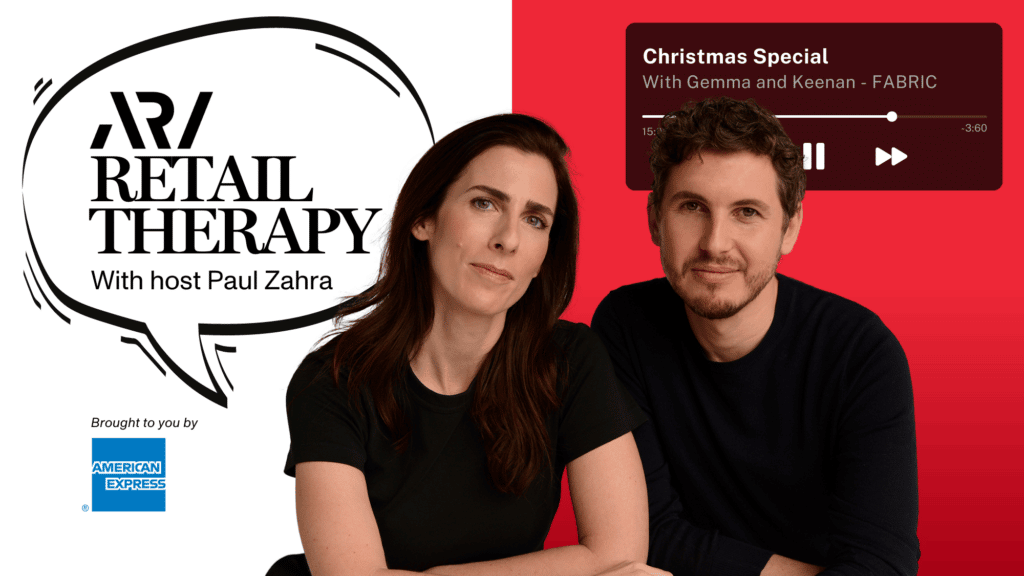 As we head into the important festive trading period – a well-executed campaign around Christmas could make or break the fortunes for a retailer. Gemma and Keenan sat down with Paul Zahra in the Amex Lounge to talk about the upcoming Christmas shopping period and explore their top tips to retailers during this critical time.
Listen now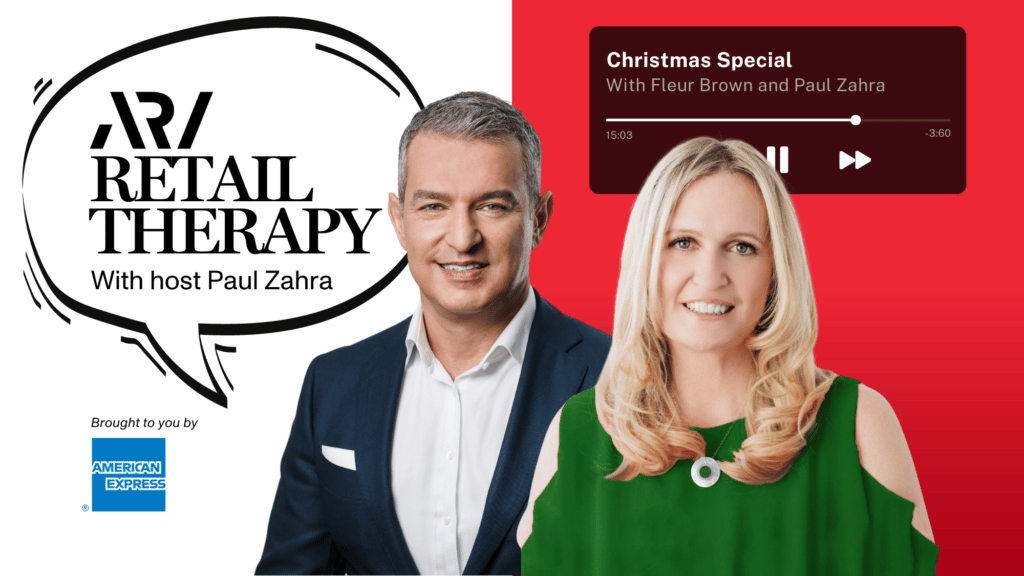 In this first Christmas bonus episode of Retail Therapy, our own Chief Industry Affairs Officer Fleur Brown joins ARA CEO Paul Zahra in the AMEX Lounge to discuss the upcoming Christmas shopping season and what's in store for retailers.
Listen now