Australians are set to shop up a storm in the final days of 2021, spending $3.1 billion from Boxing Day through to the end of year, as retailers slash their prices for one of the biggest sales events of the year.
The forecast is from the Australian Retailers Association (ARA) in conjunction with Roy Morgan. A total of $21.1 billion is set to be spent in the post-Christmas sales period both instore and online (the three weeks from Boxing Day) – up 2.1% on the previous year and up 12.6% on pre-pandemic levels in 2019.
ARA CEO Paul Zahra said the Boxing Day sales are a key event on the retail calendar and the appetite for shopping remains strong despite the ongoing Covid threat.
"Australians love their sport, and they love their shopping, which makes Boxing Day one of the most anticipated days of the year. For retailers – this is their Boxing Day Test Match," Mr Zahra said.
"Consumers can expect to see discounts across the board with retailers to slash their prices on a range of items from fashion to homewares and electronics. While people have been purchasing gifts for others in the lead up to Christmas, the Boxing Day sales are traditionally a time when people purchase things for themselves or their homes. Like the Boxing Day Test, comfortable shoes and remaining hydrated are key to a successful outing. For those who want to escape the crowds, a good alternative is to shop from the comfort of your own loungeroom – on your laptop or mobile phone.
"We're forecasting a record $21.1 billion will be spent in the post-Christmas sales (Boxing Day to January 15). There is strong sales growth forecast for Tasmania, up 8.6% and Victoria, up 6.6% on the previous year.
"Sales are set to remain strong despite the ongoing threat of Omicron, with retailers remaining alert but not alarmed. Safety and hygiene remain important protocols for businesses allowing consumers to shop with confidence. It's important that shoppers follow the health advice and wear a mask.
"We're also asking customers to be patient. Retail staff will be fully stretched with so many people out in the shops at this busy time of year so it's an important reminder for people to shop respectfully," Mr Zahra said.
Post-Christmas sales forecasts (26 December 2021 – 15 January 2022) – Retail Categories

Post-Christmas sales forecasts (26 December 2021 – 15 January 2022) – States and Territories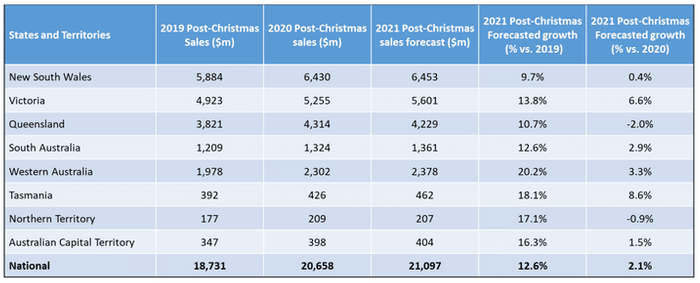 Seasonally Adjusted Retail Sales in $m Food: Supermarket, grocery stores, Liquor, and Other specialised food retailing; Household goods: Furniture, houseware, textile goods, Electrical and electronic goods and Hardware; Clothing: Clothing, footwear, personal accessory; Department stores; Other: Newspaper, book, recreational goods, Pharmaceutical, cosmetic, toiletry, Stationery, flowers, etc.; Hospitality: Cafes, restaurants and takeaway
ENDS…
For more details:
Dominic Cuschieri 0418 224 072
(e) dominic.cuschieri@retail.org.au
About us: The Australian Retailers Association (ARA) is Australia's oldest, largest and most diverse retail body, representing a $360bn sector which employs 1.3 million Australians. As Australia's peak retail body, representing more than 100,000 retail shop fronts, the ARA informs, advocates, educates, protects and unifies independent, national and international retail members. To learn more about ARA's exclusive benefits and more, visit www.retail.org.au