Retail and fast-food customer violence is on the rise in WA and action must be taken to ensure that these workers are respected and protected.
These offences cause significant distress to workers, their families, and the community, leaving lasting injuries and psychological scars.
Today the SDA Union, which represents retail and fast-food workers, joins with major employers and industry associations to present petitions containing around 9,500 signatures, calling for the WA Parliament to legislate higher maximum penalties for assaults on retail and fast-food workers.
Action has been taken in the Northern Territory, South Australia, and New South Wales, with increased maximum criminal penalties already in place. But not yet in WA.
Shop violence is on the rise. Key Statistics.
An SDA report released on Friday identified that the number of workers who have been assaulted at work increased by more than 56%.
Additionally, this data showed that only 48% of respondents said that they felt safe at work.
Overall, 87% of SDA members said they had experienced abuse from customers in the last year, 30% reported incidents occurring on a weekly basis. 12% of experiences involved physical violence, 9% had been spat on and 15% reported the abuse being sexual in nature.
Quotes attributable to SDA WA Secretary Ben Harris:
"Tougher penalties are needed to address the increasing number of assaults in shops and will send a strong message to offenders.
"Our members are often young workers in their first job, or someone's parent who is putting food on the table. All too frequently, they are subjected to abuse and violence at work, and we want strong legislative action to be taken to protect them."
"COVID-19 demonstrated what the Union has known for some time: the work our members do is essential."
"It is crucial that these workers should feel safe when performing an essential service."
Quotes attributable to ARA Chief Executive Paul Zahra:
"We proudly support the SDA's campaign against retail violence."
"All retail workers have a right to feel safe at work and the wellbeing of this vital workforce has a flow on effect to the wellbeing of many others in our community.
"Being asked to show your receipt doesn't give you an excuse to crack someone over the head. That's why we want to see tough laws in WA to better protect our retail workers and keep them safe."
Media contact: Steve Sloan 0448 736 953 steve.sloan@sdawa.asn.au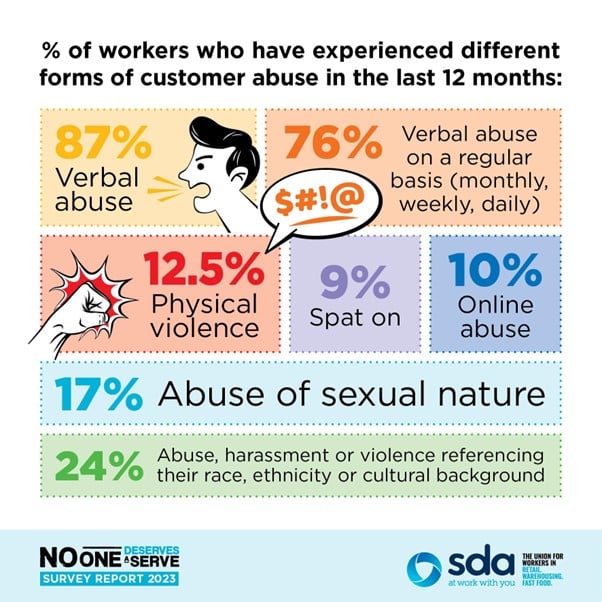 ENDS
Media Enquiries:  M 0434 381 670 E media@retail.org.au