Australian retail sales reached their highest levels on record, with March trade increasing 9.4% compared to the same time last year and increasing 1.6% compared to the previous month, according to figures released today by the Australian Bureau of Statistics.
Australians spent $33.6 billion in stores and online in March, eclipsing the previous record of $33.3 billion set in November 2021, when consumers enjoyed the Black Friday/Cyber Monday sales and were shopping early for Christmas.
Australian Retailers Association CEO Paul Zahra said it's a phenomenal result, however spending challenges loom for the months ahead as cost-of-living pressures begin to impact family budgets.
"We're in an uncertain economic environment, with cost-of-living pressures starting to bite and interest rates rising for the first time in over a decade. Whilst the top line performance of retail trade is strong, consumer confidence has fallen significantly this week and we could see more subdued levels of consumer spending in the months ahead as people start to tighten their household budgets," Mr Zahra said.
"Whilst it's pleasing to see record levels of retail sales for March, we know that increased consumer prices that are flowing through the economy have contributed to the result. The eased Covid restrictions have also helped lift sales, and businesses are now able to trade closer to their full potential, with the relaxation of close contact isolation requirements helping to alleviate staffing pressures.
"We're encouraged by the performance of clothing, footwear and personal accessories, which recorded a 14.3% year on year sales increase, and cafes, restaurants and takeaway food (up 13.2%) – two sectors that have been amongst the hardest hit through the pandemic. We are also pleased to see year on year growth in March for department stores (up 1.3%).
"Despite the increased pressure that's set to be placed on family budgets in the coming months, with further interest rate rises predicted, we're expecting sales to remain reasonably robust given the high savings rates of Australians throughout the pandemic, and the ongoing potential for domestic tourism spending to flow onto retail for the remainder of the year," Mr Zahra said.
Retail category performance
| | |
| --- | --- |
| RETAIL CATEGORY | YEAR ON YEAR SEASONALLY ADJUSTED RETAIL SALES GROWTH (MARCH 2022 v MARCH 2021) |
| Food retailing | +5.2% |
| Household goods | +11.6% |
| Clothing, footwear and personal accessories | +14.3% |
| Department stores | +1.3% |
| Cafés, restaurants and takeaway food | +13.2% |
| Other retailing | +15.4% |
| Total retail | +9.4% |
State and territory performance
STATE/TERRITORY
YEAR ON YEAR SEASONALLY ADJUSTED RETAIL SALES GROWTH (MARCH 2022 v MARCH 2021)
NSW

+10.3%

 

VIC

+10.2%

 

QLD

+10.4%

 

WA

+6.95%

 

SA

+7.8%

ACT

+7.0%

 

NT

-0.4%

 

TAS

+3.2%

ALL STATES & TERRITORIES

+9.4%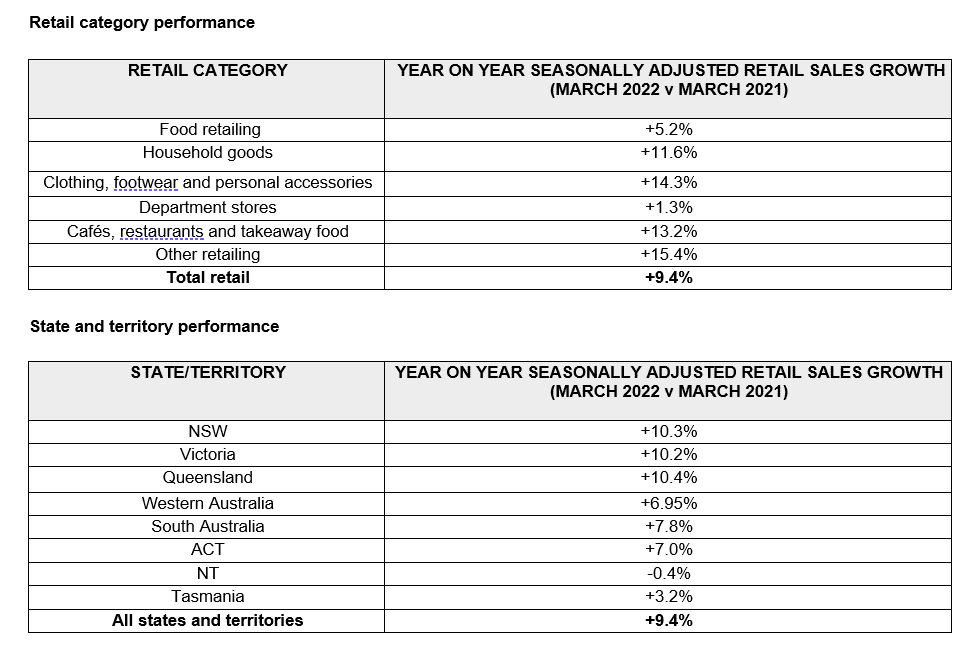 Media Enquiries:
Dominic Cuschieri
M 0418 224 072