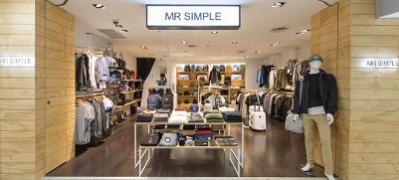 Lagardère Travel Retail has opened their first men's fashion store in the Pacific region, Mr Simple.
Located in the Melbourne Qantas Domestic Terminal (T1), the 52sqm store features a simplistic, sophisticated and accessible design and layout. The uncomplicated approach to fashion is reflected in the clean designs and understated use of lighting and fixtures.
With a tag line of Life Made Simple, Mr Simple offers clothing including basic tees, windcheaters, casual chinos, and accessories such as watches, wallets, backpacks and luggage.
"We are excited to bring Mr Simple, a first to travel retail, to the passengers of Melbourne Qantas Domestic Terminal," said Matthieu Mercier, CEO of LS Travel Retail Pacific.
"Through its uncomplicated and thoughtful product offering, Mr Simple will create an experience unique to its location, and will truly resonate with the diverse passenger market that exists in Melbourne.
"Our partnership with Qantas continues to be a driving force behind our ability to bring exciting new innovations and brands to market, and provides opportunity to connect with travellers from all over the world."
The store Mr Simple airport store also carries an range of Herschel Supply product.
Mr Simple was established in Fitzroy Victoria in 2008 as a maker of classic apparel and accessories.