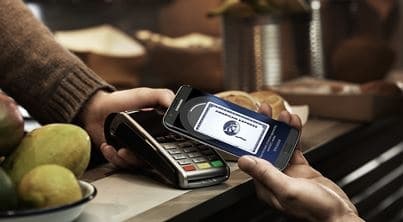 American Express will roll out Samsung Pay across Australia to allow customers with a compatible Samsung handset to make mobile payments anywhere American Express contactless payments can be made.
All Australian American Express issued cards, including personal, small business, and corporate cards, can now use Samsung Pay, which is supported on the Galaxy S7, Galaxy S7 edge, Galaxy S6, Galaxy S6 edge, Galaxy S6 edge+ and Galaxy Note 5 phones.
"The addition of Samsung Pay to our digital payment portfolio means that about 90 percent of our card members who already use their smartphones with us can now make mobile payments," said Julie Nestor, VP of Customer, Marketing and Experiences, American Express Australia and New Zealand.
"The partnership with Samsung is demonstration of our commitment to providing our card members with choice and flexibility in how they choose to pay, whilst earning rewards. We're proud to be leading the industry in bringing the most innovative ways of making mobile payments to Australians."
Samsung Pay includes three levels of security for users; fingerprint authentication, tokenisation – where each transaction uses an encrypted digital token to replace the user's personal payment information – and Samsung's Knox security platform, which monitors malicious software and activities on the user's device for added security and protection.
"Many of our customers love the speed and convenience of waving their card or smartphone at the checkout and we welcome Samsung's digital wallet to the market as it provides our customers with an even greater choice of payment options," said Aaron Faraguna, GM Retail Operations, David Jones.
Samsung Pay is already live in other markets including South Korea and the US, and has surpassed more than five million registered users within the first six months of launch.