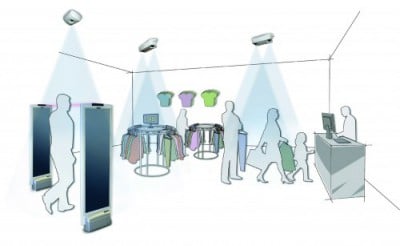 3D traffic management analytics are helping retailers use customer data to convert shoppers into buyers. Tyco Retail Solutions has been assisting service and store environments to track people movements using sensors, optical tripwires, heat mapping, and data analytics to better understand their customers, capture more sales and capitalise on business growth opportunities.
People counting technology has come a long way since it was introduced in the 1980s. While old 2D systems were hampered by issues such as sunlight and shadows, these challenges have now been resolved.
Today's 3D overhead systems now incorporate mini PCs with dual lense cameras – one to detect the human shape and the other to detect height. Fixed to ceilings they have a minimum 95 percent accuracy, filtering out children, trolleys, luggage and shopping bags.
The latest 3D people counting technology also includes highly sophisticated analytics that deliver accurate insight into shopper movements. These devices are particularly useful for locations with one single entrance point and can be a strong measurement tool for linking in-store traffic back to online and omni-channel marketing efforts.
Investment in a traffic management system can be extremely cost effective. In the context of the cost of a shop fitout, the investment in the latest 3D people counter can be a relatively modest investment. For retailers with multiple stores, the investment in more sophisticated programs may have even greater far reaching benefits. Converging retail technology that includes 3D people counters and data analytics programs can provide retailers with unprecedented information about their business.
As retailers consider newer cutting edge technology such as RFID technology, 3D people counters can be a good starting point to experience retail data analytics. Having access to customer traffic data sets that would be otherwise unknown can help increase retail performance and for local Australian retailers, there is a lot to be gained from simply measuring traffic accurately instore.
What to consider – 3D Traffic Intelligence Hardware
Beam break integrated or wall mounted sensor: with 85 percent accuracy, this is an effective low cost option that is visually hidden when integrated within EAS systems
Overhead mono sensor: Capturing with an average of 90 percent accuracy, this ceiling mounted option helps eliminate tampering and provides image processing of the entire scene.
Overhead stereo sensor: boasting 95 percent accuracy, this advanced solution handles depth perception making it ideal for high traffic stores with variable conditions.
3D people counters can help retailers claw back profits by understanding the floor, assessing traffic and helping to predict staffing requirements in peak or high traffic periods. The counters can also track customer movements around the store, to analyse the success of an in-store POS promotion and, in some cases, provide solid support for rent negotiations with landlords.