In a step towards a healthier Australia, flybuys is partnering with activity trackers such as Fitbit to reward customers for being active with a 10 percent discount on all of Coles' fresh fruit and vegetables.
The Steps to Savings initiative will run from 14 September to 30 November and customers will receive a 10 percent discount on their fruit and vegetables (instore or online) up to five times in the 11 week period, each time they log 100,000 steps on their activity tracker.
The Steps to Savings initiative is part of Coles' efforts to help Australian families take a more active role in their health and encourage a balanced diet.
A survey of 3000 people commissioned by Coles and conducted by Ipsos in December 2015 found that one in five Australians own and wear an activity tracker; and 40 percent of Australians place eating more fresh fruit and vegetables as their number one priority for 2016.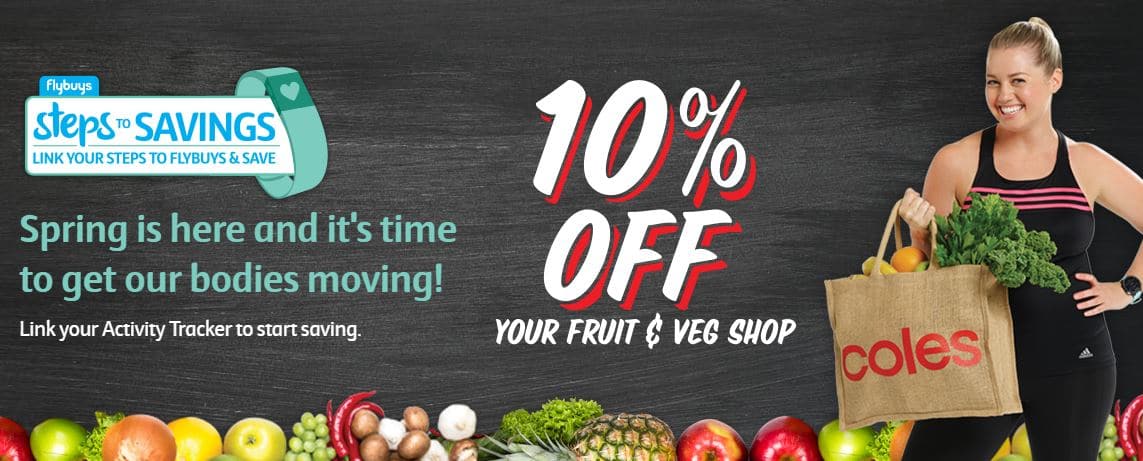 flybuys GM, Adam Story, said the initiative is about encouraging healthy behaviours, such as exercise and healthy eating.
"flybuys is always trying to innovate and find new ways to offer relevant rewards to our members, bringing together some of our health partners such as Coles, Fitbit, Medibank, Garmin and Goodlife Health Clubs. We hope that it will encourage flybuys members to make healthy choices this spring," he said.
Coles Marketing Director, George Dymond, said the initiative was in keeping with Coles' commitment to provide the highest quality fresh produce at great value for customers.
"Coles is delighted to be a partner in this initiative which will encourage customers to enjoy our fresh fruit and vegetables at even better prices."
Based on the recommended guide of 10,000 steps per day, flybuys members will be able to unlock a 10 percent discount every 10 days over the 11 week period. To further incentivise members to get active, thousands of points are being awarded to the most active steppers, and the highest stepper will win a trip for four to Hawaii. Members will be informed via email when they have recorded 100,000 steps and will be able to use their flybuys cards in stores to unlock their discounts.