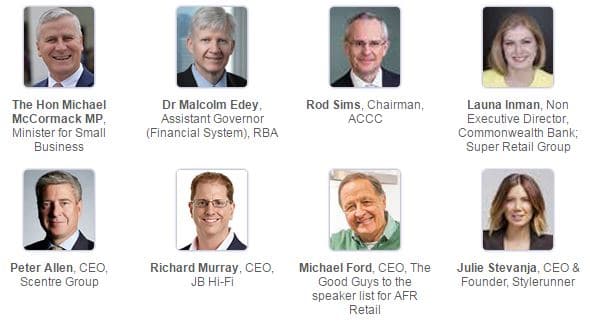 There are just two weeks to go before the heavyweights of the retail industry gather at the Australian Financial Review Retail Summit, 28-29 September at the Sofitel Melbourne on Collins. On the agenda: the future for Australian retail, and the strategies by which retailers can boost productivity and competitiveness in an increasingly tough market.
ARA members receive a 10% discount to the AFR Retail Summit if they mention they are a member at the time of booking.
Confirmed to attend are C-suite speakers and delegates from retail juggernauts including Coles, JB Hi-Fi, Cotton On, Super Retail Group, Fantastic Holdings,Sussans Group, Westfield/Scentre Group, Bakers Delight, Officeworks, and Barbecues Galore. Key policymakers and regulators including the Minister for Small Business, the ACCC and the Fair Work Commission will also be addressing the Summit.
But it's not all about the big players – with a firm focus on enabling innovation and competitiveness, the Retail Sumit aims to shake up the status quo and interrogate just how we could go about better supporting retail growth at all ends of the scale. It features innovators and disruptors like Stylerunner, Mon Purse, Redbubble, eBay,Beginning Boutique, and Marketplacer.
With numbers capped at an intimate 200 attendees and the Financial Review's best retail journalists on hand to cover the event, the AFR Retail Summit is an unparalleled opportunity for insight, inspiration and influence for retailers of all sizes. ARA members receive a 10% discount (please specify you are a member when booking) and special rates available for SMEs and start ups.
To attend the Financial Review Retail Summit, or for more information, click here.