Australian retailers have followed consumers to online retail, and now with Paypal research saying that 72% of Aussies now shop on mobile, it's the move to mobile e-commerce. However, as online shopping landscape settles, there's no time for retailers to rest on their laurels – there's new tech on the scene and how quickly retailers adopt Augmented Reality (AR) will make or break their success in the modern age and with fresh competition.
Online shopping offers consumers many advantages over physical stores. Where else can you shop at midnight, wearing your jammies? There's also no doubt being able to quickly and easily compare prices, alongside better deals often found online, also means there's usually a financial incentive for consumers to shop online.
Why AR?
One disadvantage of shopping online is the inability to visualise what a particular product may look like in 'real-life' or in situ. This is where AR comes in, offering retailers the opportunity to transform how people shop. Retailers should remember that AR is not about creating a completely new reality; it's about enhancing what already exists. When the virtual item is well fitted with the physical and interacts with it, that's when AR magic happens.
The crucial part of the AR experience is whether the technology adds real value to the customer. Creating a habit for consumers to have experience with a product will have them coming back purchase after purchase, helping you to build a better customer profile. Simply overlaying something virtual on a phone screen doesn't always cut it and can appear gimmicky. Having an ad pop-up on your smartphone after scanning a brand's logo might be fun, but people would tire from it pretty quickly.
People will only change their behaviour if they receive value to their day-to-day lives from either your product or service adding that extra information around their experience with your product. So, it's important to think about the contexts in which they may be willing to do this. In retail, AR can add value in two distinct areas; product visualisation and quality customer experiences.
Product Visualisation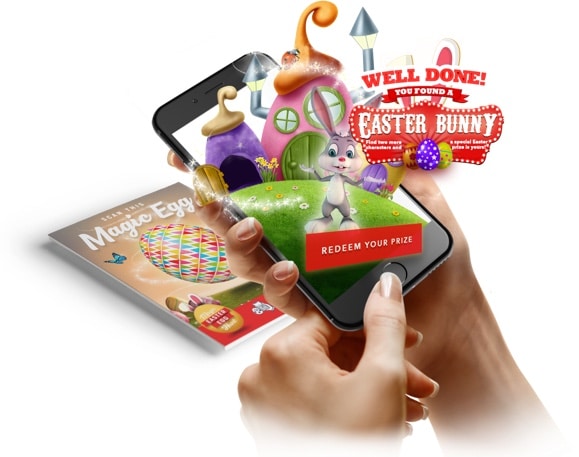 Being able to visualise how a particular product will look is key to AR success in retail. For example, one customer might try on shirts without having to travel to the store. Another might order furniture on the spot, confident that it's right for the house. At Plattar we've worked with retailers in a number of ways to add value to customers. For example, KFive provides inspiring workspace solutions and is able to bring their products to life by showing potential customers exactly what their chairs would look like with their existing furniture and colour schemes. In addition, we've helped La Marzocco demonstrate what their beautiful coffee machines would look like on a customer's kitchen bench. In both of these cases, our clients have seen better customer experiences outcomes, easier product sampling and most importantly increases in sales due to more confident purchasing decisions
When choosing products through an AR app, consumers have the ability to have the complete product range at their fingertips. Customers can try out different product sizes, colours and models so they can have full confidence in their decision at the time of purchase. By providing access to all the information they need, in one place, AR is a simple way for retailers to recreate the 'try-on' experience that customers get in-store and convince digital shoppers to follow through with more purchases.
Customer experience
Retailers are constantly trying to figure out how to gain an edge over their competition and remain innovative. One way retailers can do this is to differentiate themselves by creating highly engaging customer experiences where customers can discover and learn about a product before purchase.
AR is often associated with adding digital information to the physical world to give users a greater understanding of the features and benefits of a product, as it allows them to explore all the major aspects of the product. Wouldn't it be great to understand in an instant why that particular chicken fillet is healthier while you are standing in the supermarket aisle.
Consumer expectation
Consumers now expect retailers to have some form of an AR experience. According to a report by Paypal on m-commerce, 51% of consumers said they expect retailers to have an AR tool now, while 32% said that they are planning to launch AR features. This is for a good reason, as 38% of retailers believe that AR would assist in securing more sales.
With this in mind, there's no doubt AR is already starting to transform retail. Applications using AR stand to eliminate customer pain points, elevate customer service, and create a differentiated, personalised customer experience. Retailers need to embrace the change now or risk falling behind.
Rupert Deans founder of Plattar, the first platform to use augmented reality to transform the way customers' experience products – at every stage of the product lifecycle. Learn more at plattar.com