How to future plan your retail space by using sustainable materials that require minimal maintenance.
What flooring you choose for your retail space can have a major effect on the design and feel of the result, making it important to choose the correct materials for the atmosphere you want to create. However, some types of flooring can have harsh effects on the environment and, in an age where paramount importance is placed on sustainability, it is imperative to understand the impact of what you choose to have under your feet.
Nowadays, there are endless options for colours and materials and luckily, the choices for sustainable flooring are increasing as well. It's just about picking what is best for your budget, the function, durability requirements and how much time your store managers will have for maintenance.
Sustainability does not just mean 'good for the environment' – it also covers off usability (ensuring it doesn't add a burden to your staff through maintenance, that it feels great underfoot, etc.) and cost (that ongoing maintenance doesn't break the bank).
A quick way to consider whether your materials are sustainable is to ask your suppliers what the space will look like and feel like in several decades. Will the floor be splintering? How often will staff have had to maintain it?
If you're looking to upgrade your façade or floored area, composite decking is an ideal option. Its environmental sustainability, premium aesthetic, and durability make it an outstanding choice for any area, plus there are less ongoing labour and cleaning required for the maintenance of composite decking – so it's sustainable on all accounts.
Whether it's building or renovating retail properties, the look and feel of composite decking makes for a beautiful transition between outdoor-indoor zones.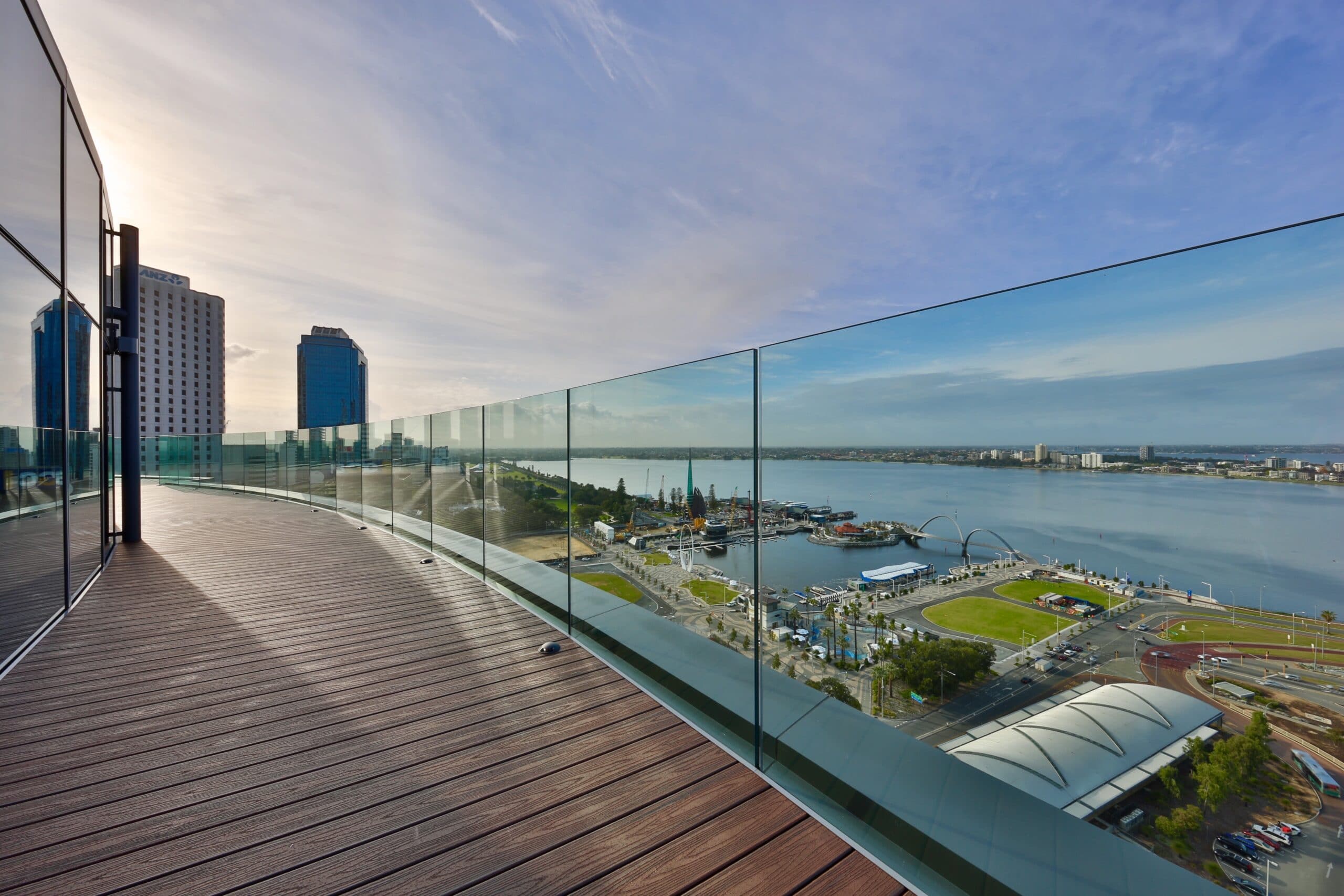 Composite decking is made from an innovative blend of recycled timber and plastic, with brands such as Trex using 95% recycled materials and a manufacturing process as 'green' as its products.
Unlike timber, composite decking will not warp, twist, rot, splinter, split or scratch, making it a much more durable choice than traditional timber decking. This also means a lot less maintenance than what is required by old-fashioned wood decking. Gone are the days of seasonal painting, staining, and sealing, making composite a preferred option of many specifiers, especially in high-footfall areas such as shopping centres.
The quality of wood-plastic composite decking results in a long-lasting and sustainable flooring product. Alongside using sustainable flooring, retailers can secure sustainable operations for future planning their stores through:
Switching to recyclable or canvas bags for your customers
Use sustainable lighting, such as energy-efficient lightbulbs. In back-rooms that aren't used throughout the whole day, consider sensor lights to save energy – you'll also save on your bill!
Fill your office kitchen with no-plastic options for your staff, such as stainless-steel water bottles and cutlery
While you're there, include a recycling system for when they complete their work lunches
Make cleaning easy for your staff, and great for the environment, by choosing eco-friendly products that work. Find which is best via a consumer advocacy group
Create a recycling scheme for your field – for instance, if you have a fashion store, consider a 'donate for 10% off' scheme to drive customers into the store, whereby you can collect and sustainably recycle
It's easy to future plan your retail space and create a sustainable environment with a little forethought and assistance from your suppliers.
About: Trex Company is the world's #1 decking brand and inventor of timber-alternative composite decking. For over a quarter of a century, Trex has defined and perfected the composite decking category – offering low-maintenance, high-performance, eco-friendly products that have fundamentally changed the way we build and live outdoors. For more information, visit au.trex.com