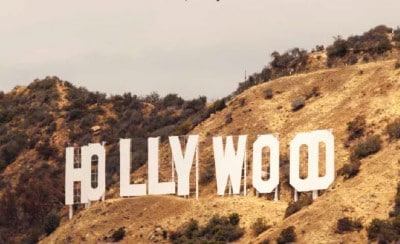 Celebrities are taking on retail businesses with fervour, heralding a new era of retail glamour.
We see their flawless faces beaming out of our television screens and life size in movie theatres, but Hollywood actresses and actors can now been seen at a store near you.
In the past, retail has been reserved for the general public, those who prefer business to the bright lights of the stage and screen. Not so in 2015, with a spate of famous faces entering the retail sector peddling products covering everything from fashion, health and wellness, to baby accessories.
Actress, Jessica Alba, star of the Fantastic Four movies and television series' such as Dark Angel and Entourage, founded The Honest Company with Christopher Gavigan in 2012.
The Honest Company sells safe and eco-friendly baby products including nappies, organic baby formula, vitamins, furniture and apparel. It is now valued at $1 billion, with revenue of $250 million a year – not bad for a business Alba founded after breaking out in red welts while washing clothes for her newborn daughter in detergent specially created for babies.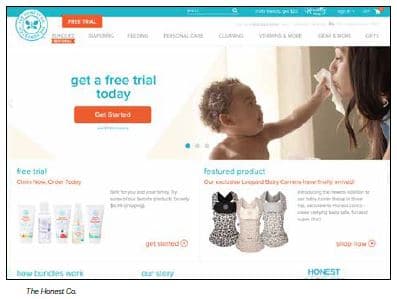 Around 75 percent of The Honest Company's revenue is derived from its online store, with bundles of environmentally and baby friendly nappies and wipes accounting for most of this.
Like many US start ups, the company has turned to venture capital to keep the coffers stocked, with General Catalyst, also a backer of e-commerce start up Warby Parker, as well as Lightspeed Venture Partners and Institutional Investment Partners, stumping up an initial $27 million.
Kate Hudson, most widely known as the daughter of fellow actress, Goldie Hawn, and star of movies Almost Famous and How to Lose a Guy in 10 Days, founded the Fabletics online activewear and accessories brand in 2013.
While the brand has its roots in e-commerce, Hudson has just announced the roll out of five Fabletics bricks and mortar stores to complement the
online store in Bridgewater, New Jersey; Wilmington, Delaware; Cincinnati; Columbia, Maryland; and St Louis, Missouri.
The Fabletics stores will all be in General Growth Properties (GGP) centres, with Alan Barocas, Senior EVP of Leasing, GGP saying: "More and more, pureplay retailers like Fabletics see the value of adding physical locations to enhance sales and brand visibility.
"In fact, 90 percent of all US retail sales occur at physical stores, and when a pureplay retailer opens a physical store, they see online sales increase three to five times in the same trade area," said Mr Barocas.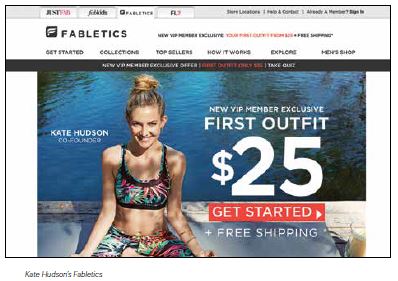 Reese Witherspoon is the latest celebrity jumping on the retail bandwagon, with the launch of online brand, Draper James, selling clothes, jewellery and accessories. A 3000sqft physical store is slated to open in Nashville later this year.
Starting out the other way around were reality stars, Kim, Kourtney, and Khloe Kardashian, with their Dash retail fashion concept. The first Dash store opened in 2006 and has grown to three in Miami, New York and Los Angeles, with the e-commerce store coming last, launched in April this year.
A Dash pop up store also traded in the second half of 2014 in the Hamptons. Other Hollywood residents to have made a foray into retail include the Olsen Twins, Mary Kate and Ashley, with The Row, which opened its first store in 2014 in LA; Gwenyth Paltrow has hosted pop ups for her Goop concept in LA and Chicago; and Tori Spelling's ill-fated boutique in LA, InvenTori.
Of course, celebrity collections have existed for decades, with wholesale ranges from musicians, actors and reality stars (think the Kardashian Kollection) now commonplace.
Musicians, models, actors, artists, and famous people in general have been lending their name to products for almost as long as famous people have existed.
Topshop has done this with huge success, pulling in big names from Kate Moss to Rhianna, while Nike's marketing masterstroke was partnering with legendary basketballer, Michael Jordan, on its Air Jordan footwear and apparel line back in 1985.
So why are celebrities taking such a shine to retail these days? According to Australian retailer, Jodie Fox, co-founder of Shoes of Prey, in the US retail is seen as a prestigious career choice, up there with the likes of lawyers and stockbrokers. In short, retail entrepreneurship is the new cool.
In Australia, we have some catching up to do in this respect, with many regarding retail as something engaged in while continuing study, however, as mos ARA members know, this is far from the case.
Locally though, Instagram has given rise to some famous faces of our own, with Nicole Warne, otherwise known as Gary Pepper Girl, generating a cult following for her vintage inspired posts. While Warne is now more likely to be seen in photoshoots in exotic locations wearing high end couture, she began life in retail with a small eBay store before opening her own e-commerce presence.
Australian actors and actresses are a little on the quiet side when it comes to retail, but sporting stars have picked up the slack. Former Australian Wallabies captain, George Gregan, has a successful chain of cafes, while former rugby league player, Peter Wynn, owns a sporting apparel shop, and Sean Garlick launched the Garlo's Pies franchise and wholesale business, now known as Gourmet Bakehouse.