Global payments platform Square is celebrating the third anniversary of their Square Point of Sale in Australia. In honour of this milestone they've released the 2017 Square Australian Coffee Report.
The 2017 report summarises data collected and analysed from the millions of cups of coffee sold on the Square platform at hundreds of cafes and coffee bars across the country. It identifies the most popular drinks in each state and territory, the average price we're paying for our favourite coffees, as well as the new flavour trends taking over menus.
Square also took an additional a deep dive on the latte capital of Australia — Melbourne — looking at different suburbs and surrounding regional towns to see what residents are spending on their favourite brew.
Here's what Square found:
Pricing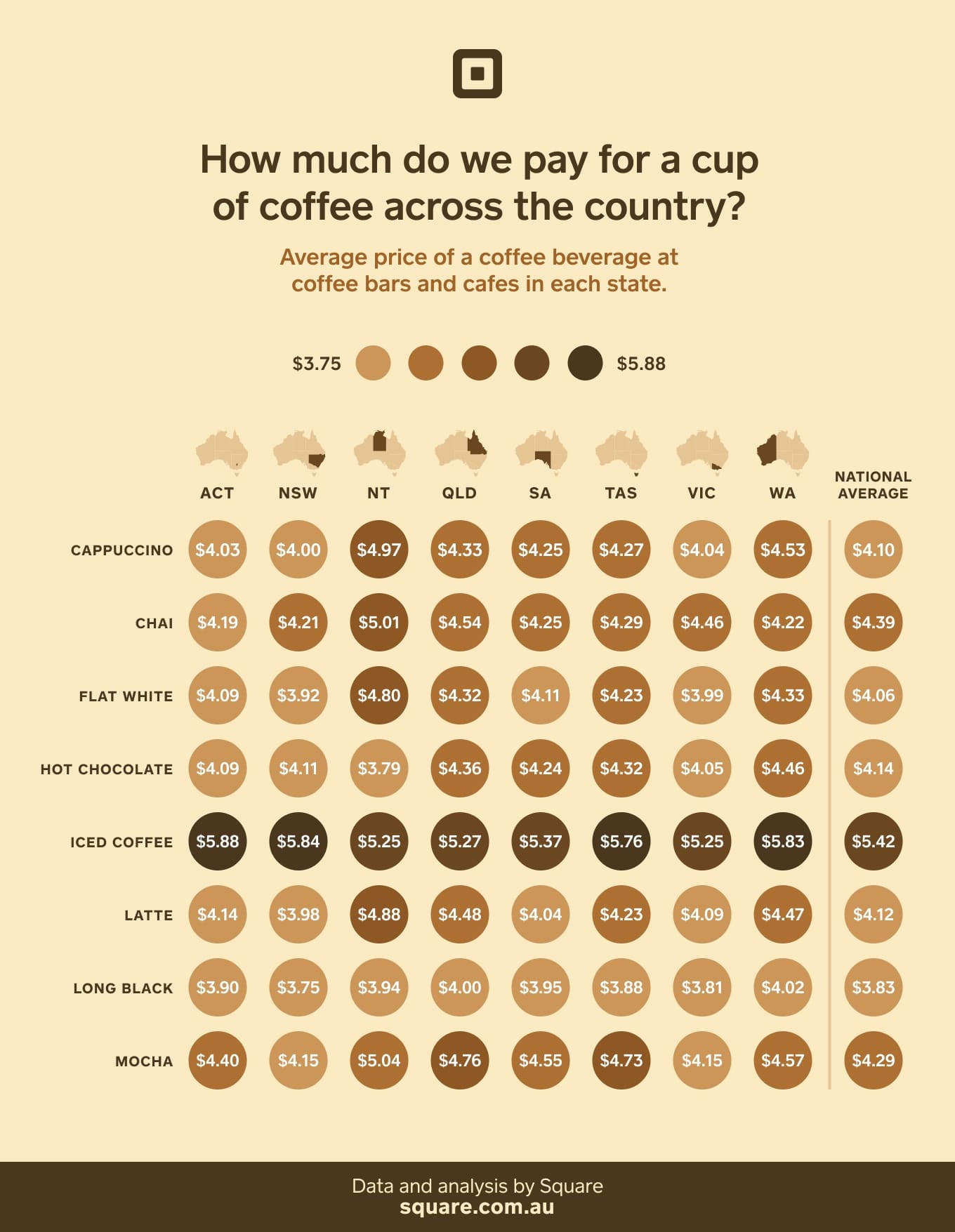 The report shows that customer demand and spend can vary dramatically by state, as seen by latte drinkers in the Northern Territory, spending on average almost $1 more than those in New South Wales.
Across the country the most expensive coffees were of the iced variety, tipping over the $5 mark in every state. While Aussies were also spending more on mocha and chai, the cheapest coffee across the board was the traditional long black, the only coffee with a national average spend of less than $4.
Around Victoria the average spend for a latte in Bendigo, $3.80, is around 20% less than what residents are spending in Melbourne's trendy northern suburbs on the same beverage.
Popular brews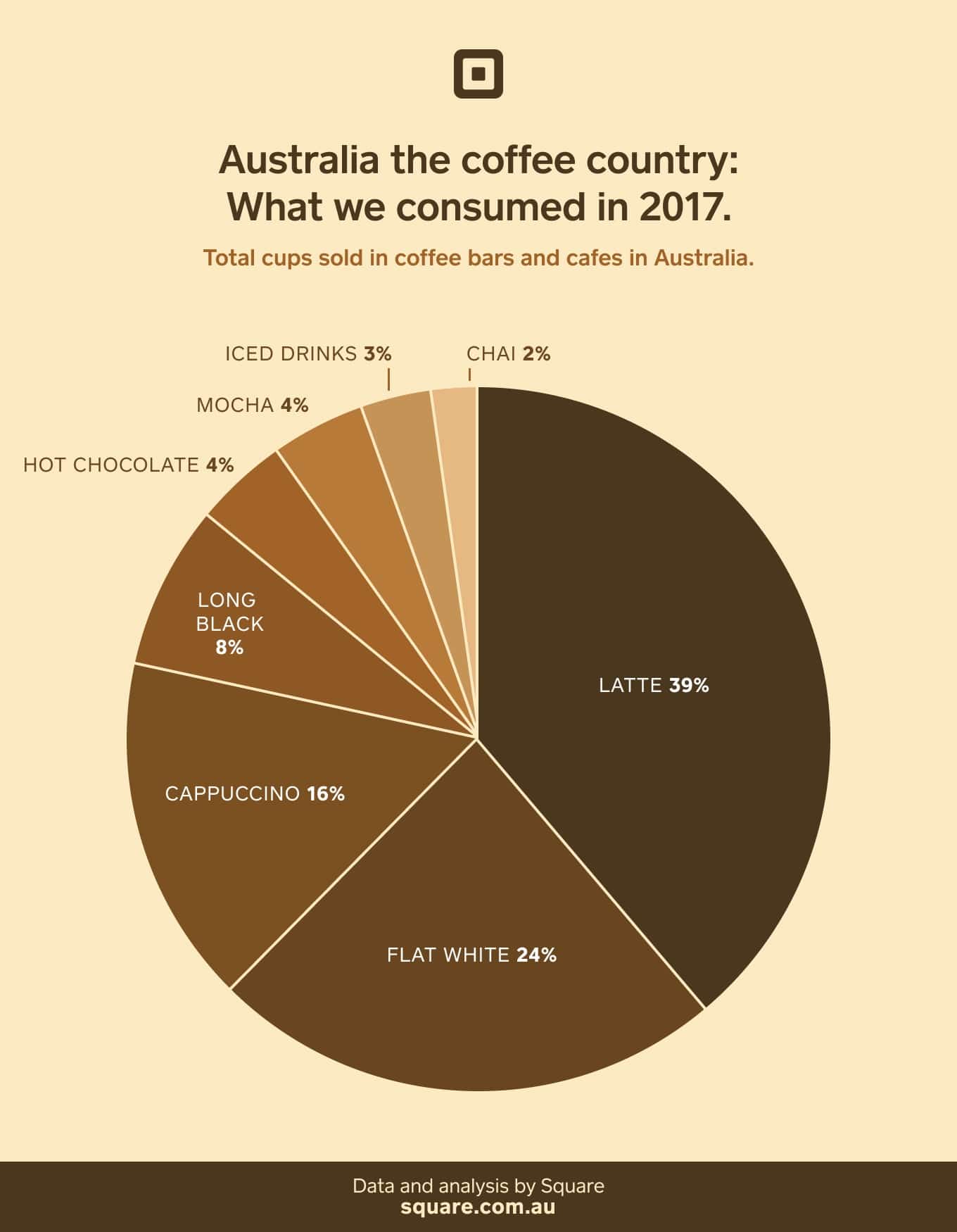 The latte is still the most popular coffee choice across the board, especially in Victoria where it made up almost half (47%) of all cups sold.
Across the country sales of flat whites have been steadily increasing, up by more than 22% since 2015, with cappuccinos (up 15%) and long blacks (up 6.6%) also on the rise.
The past two years have seen a surge in popularity of coffee infused with on-trend flavours, like chai and matcha. From October 2015 to October 2017, there was a 120% increase in the sales of chai lattes and a whopping 360% growth in matcha-infused brews.
This year also saw more adventurous latte flavours introduced on menus — including beetroot, taro and turmeric. While they all started to show signs of growth in 2017, the biggest spike was seen in turmeric lattes, more than doubling in popularity (120% growth) between April and July.
Melbourne's Latte Lovers
With almost a $1 difference between the cheapest and most expensive latte in the city, Bendigo locals are saving the most pennies. The rest of the Melbourne don't have to travel far from the city centre to get a Latte under $4 however, with Coburg averaging $3.80 a cup.
Surprisingly, Melbourne's CBD isn't the most pricy when it comes to the cost of latte's, with the surrounding regions of North Melbourne, Carlton and Port Melbourne charging well over $4 per cup.
Technological innovation in Retail allows for greater and more in-depth data collection. These days with a rapidly adapting environment it is essential for retailers to have similar systems in place to be able to streamline services, increase profits, and grow as a brand while the industry changes with it, one coffee cup at a time.