Like most people, you probably know the feeling of checking your debit or credit card statement and seeing an unfamiliar purchase. Maybe it looked vaguely familiar, but the merchant name shown doesn't ring a bell. Maybe you even disputed the charge because you didn't recognise it and assumed it was fraudulent — only to discover it wasn't.

As a merchant, you know this kind of transaction confusion among customers can lead to unnecessary disputes and chargebacks that can cost you both time and money.
In fact, a recent Ethoca and Aite Group report found that 25% of all disputes could be avoided by giving cardholders more details about their purchases on statements. Those details could include things like the exact date and time of purchase, device IP address, product information —details a product like Consumer Clarity™ can provide.
But there's another powerful detail you can add to digital statements to help your customers recognise transactions: your logo.
A new Mastercard and Ethoca initiative makes it easy for merchants to associate their logo with card purchases and provide a clear merchant name. "By enriching transaction details, merchants can alleviate friendly fraud, reduce chargebacks and improve the customer experience," said Johan Gerber, executive vice president of Cyber and Security Products at Mastercard in a news release.
All you need to do is fill out a brief online form and attach your company logo. Your logo will then be shown in the digital banking and payment apps of participating issuers whenever your customers make a card purchase from you.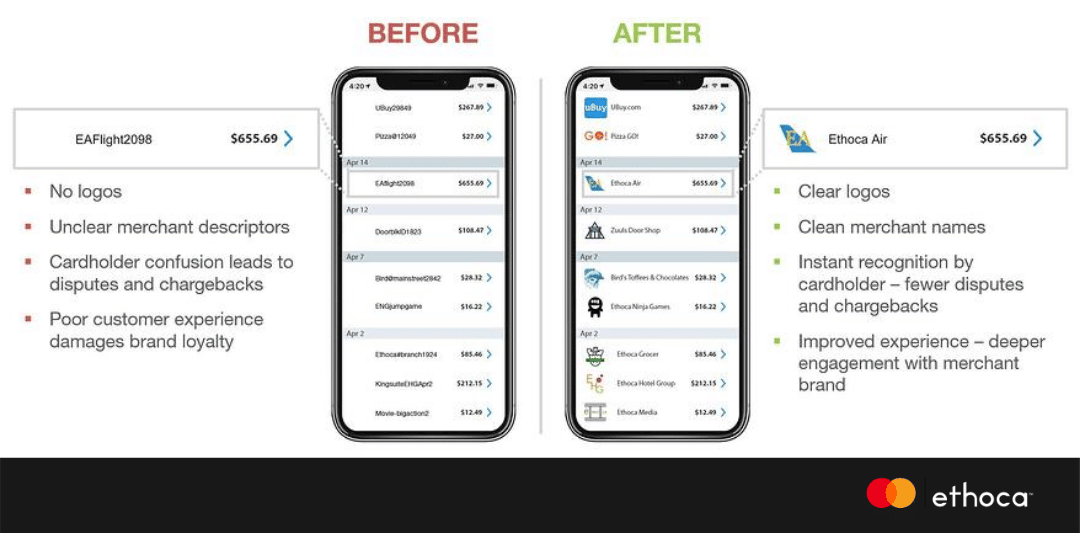 Here's a closer look at the benefits offered by adding your merchant logo to digital banking apps.
Benefit #1: Greater transaction clarity while reducing friendly fraud
If you can help your customers better recognise their purchases, they won't unintentionally dispute them due to transaction confusion — a type of card dispute that is commonly called "friendly fraud."
Your logo is one of the most powerful visual cues you have to help customers recognise their transactions. That's because your logo is likely on your storefront, website, order confirmation emails and more. So when a customer sees it on their online statement, they can quickly recall where they last saw it and likely what the purchase was.
Benefit #2: Fewer chargebacks
You want to do all in your power to prevent chargebacks — because they can be expensive and time consuming. If you're like other merchants, they consume between 13% and 20% of your operational budget, and friendly fraud is a big piece of that, according to a study by Javelin Strategy & Research.
By providing consumers with clear transaction details, it will help minimise chargebacks that result from friendly fraud—or in other words, those chargebacks that result from consumers looking at their statement and thinking "Wait a minute, what was this purchase again?"
Benefit #3: A better customer experience
Customer experience matters more than ever, and that means you want your entire shopping experience to be frictionless. According to an Ethoca and Aite Group study, 96% of consumers desire more details to help them easily recognise their purchases.
As consumers make more and more online transactions — and favour merchants that offer an easy, hassle-free shopping experience — it's important to recognise that your digital experience is an important part of that. Many studies found that customers will spend more money and keep returning to brands that provide a great customer experience.

Building a better customer experience doesn't have to be complicated, and gone are the days of needing a big development budget to implement cutting-edge customer experiences. Providers like Ethoca offer many ways to leverage your purchase data with minimal time and resources required while enhancing your customer experience.

Keep in mind that having your logo and a clear merchant name on your customers' digital banking apps indicates that you're there for them. They may be more likely to turn to you — instead of the issuer — with any purchase concerns they have, reducing the odds of chargebacks even further.
Benefit #4: A stronger brand presence
Your logo is a core part of your company's branding — and you probably include it in all of your customer-facing marketing. Now, you can extend that presence to card transactions.

Beyond just helping you reduce chargebacks, creating a consistent brand presence across your complete customer experience — whether offline or online — is a smart move for any merchant today. In fact, consistent brand presentation has been found to increase a company's revenue by 33%. Coupled with the fact that it takes an average of five to seven impressions before someone remembers your brand, adding your logo to some of the most commonly used banking apps globally can provide your brand with great ongoing exposure at minimal cost.
At the end of the day, there's no good reason not to include your logo on online banking and payment apps — and so many reasons you should. And now it's easier than ever. Learn more about Mastercard and Ethoca's new logo tool and get started today.
{{cta('319f7aef-f283-49f0-931d-65fa08f0e629')}}