Dubbed the training of tomorrow's workforce, the possibilities of using Virtual Reality (VR) to educate staff are expanding at a rapid rate. As the benefits of mixed reality and Augmented Reality (AR) are increasingly becoming more available to organisations, the ability to create effective and entirely immersive educational experience for employees is allowing organisations to capture greater attention and engage learners further.
When considering the training of retail staff, to effectively engage the brand message and importance of a well-rounded customer experience can be challenging, to say the least. Using VR in workplace training presents an opportunity that is simply not possible with traditional instruction methods and other mediums, such as online videos. Virtual Reality has the ability to recreate a 360 degree representation of a real-life situation or experience and bring the user on a journey to explore and learn in a controlled environment. These situations can be directly related to retail through product information, customer service, management or challenging situations in store.
The power of emotion also plays a significant role in the success of Virtual Reality in training. Neuroscience research continually indicates that bringing emotion into the learning process is key to knowledge retention and engagement. Our brains need novelty and emotions to learn efficiently; they trigger a dopamine release, which leads to a much greater ability to remember and process new information.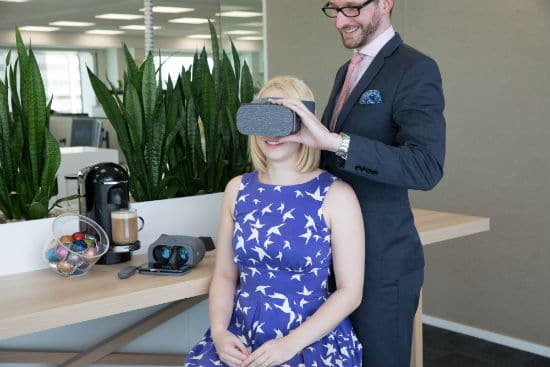 At Nespresso, more than 80 percent of employees are consumer-facing, making the learning and development of employees' customer-relations skills imperative. Boutiques are spread across the country, so Nespresso are constantly challenged to provide a cohesive training strategy to engage and educate staff in a way that doesn't interrupt their busy schedules and is accessible to all.
In November this year, Virtual Reality was used as a part of the training mix to educate retail staff on one of Nespresso's most innovative machine launches, Vertuo. Google DayDream technology was used to create a 360 learning environment that brought to life the product story, everything from coffee bean to cup. The simulation combined visuals with facts, figures and emotions, allowing for the technicalities of the Vertuo machine and its high-quality coffee to be communicated simply and succinctly. Lasting for just 3.5 minutes, the module was a fast and intense input of knowledge around an incredible sensory trip of the Nespresso brand and new machine.
Virtual Reality was also used as a trigger to generate momentum and excitement with staff about how revolutionary the Vertuo machine launch was for the brand. In order to match the great innovation of the product, Nespresso saw it fitting to provide its staff with innovative and exciting ways of learning about the machine and coffee.
Using Virtual Reality in the training mix has completely changed the way Nespresso look at learning and development programs. The experience has given its employees the tools to deepen product and brand knowledge and convey emotion in a completely immersive way.
The potential for Virtual Reality in training for the wider retail industry, is incredible. It's exciting to see how this technology will continue to grow, encompassing not only employees in the retail industry but eventually customers as well.
Nestlé Nespresso SA is the pioneer and reference for highest-quality portioned coffee. From farming the bean through to perfectly portioned capsules, elegant and easy-to-use machines and personalised services, Nespresso is committed to delivering exceptional experiences to consumers. For more information visit nestle-nespresso.com.