CEO encourages fellow retailers to make products that are here to stay.
You could never accuse Benjamin Young of sitting on the sidelines. The Melbourne-based entrepreneur and environmental activist is known for pushing the envelope.
After coming across some devastating realisations during his corporate years in mergers and acquisitions, specifically in the waste management sector, Young decided to take action and launch reusable coffee cup and water bottle company, frank green.
Over a few short years, frank green has expanded in operations by continuing to offer consumer lifestyle products that replace single-use alternatives.
When it comes to recycling, Young is quick to demystify the fairy tale of it all, revealing that it's failing us because the materials aren't being repurposed as intended and sadly end up in landfill.
"Recycling is a romantic notion as the economics just don't stack up, and the plastics recycling facilities can produce more toxic emissions than any other factory," Mr Young said.
He started manifesting the business philosophy 15 years ago when he was encouraged by his then-boss to present business cases that addressed environmental concerns and dissolved consumer pain points.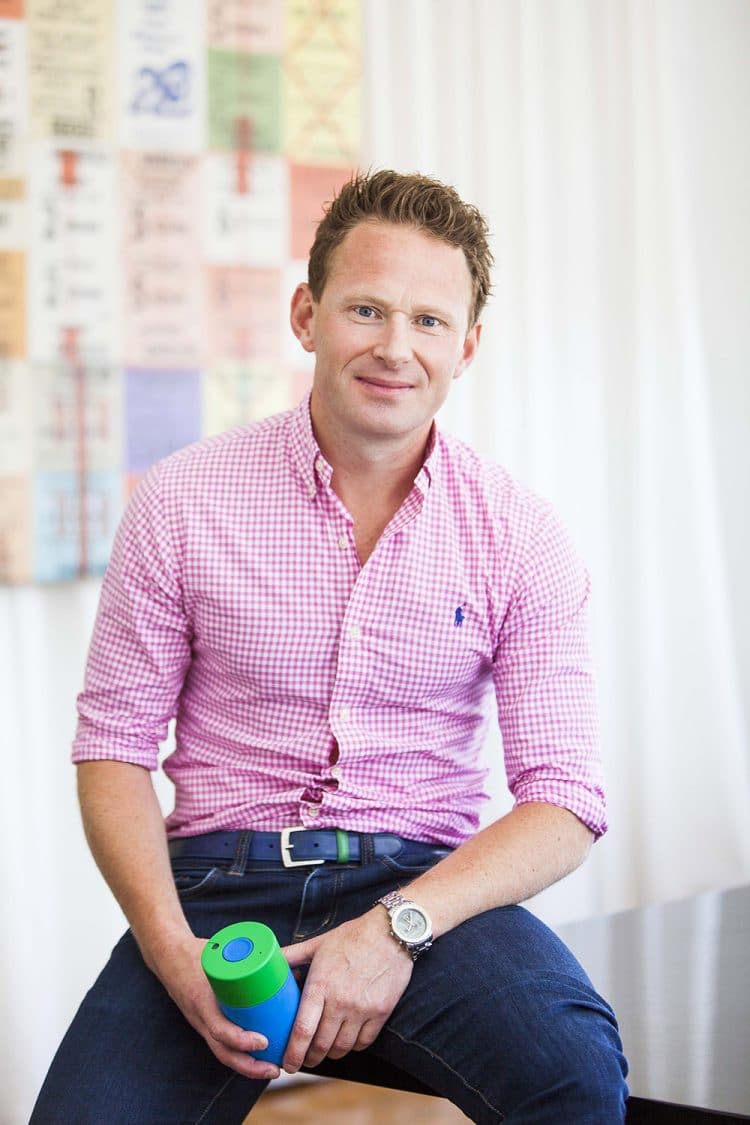 Although he wasn't the first to the market, Young knew people were still having trouble converting to reusables, so he set out to create a design so appealing and intuitive that it would become an everyday accessory they wanted to carry.
The philosophy was always to design innovative products that everyone would bot only be proud to own but also something functional, innovative, and, most importantly: good for the environment. Years past and eventually, his fortunate time in corporate land allowed him to bring the frank green idea out of his imagination and into the hands of consumers around the globe.
Admittingly it was tricky at the beginning to create something stylish and sustainable. However, the company is proud to declare that frank green is designed and engineered right here in Australia. But it was never just about creating a product and leaving it there; Young wanted to power a new movement towards a wholly sustainable future.
It's frank green's mission to motivate others to live more sustainably and to reduce unnecessary waste through the retail business, adding that: "companies need to reimagine their packaging, paying particular attention to firstly removing the plastic components but also considering if instruction leaflets could be delivered electronically."
This calls for more collaborative efforts between retailers and manufacturers to help solve dilemmas and support the entire supply chain together.
Young has made it his business to provide local manufacturing opportunities to champion Australia's domestic craftsmanship and support its future.
"Our customers and our partners understand that when they partner with frank green, they're working with a business that cares deeply about human rights on people, manufacturing standards, and the environment. We are as transparent as possible about what we do as a business internally."
Since its inception in 2013, frank green has grown into one of Australia's most loved reusable cups and bottles brands and is rapidly expanding around the world. What we make is innovative products that are stylish, functional, and great for our environment. They are SmartCups and SmartBottles, made of premium, safe materials. We are frank green – designed for humanity. For more information visit frankgreen.com.au