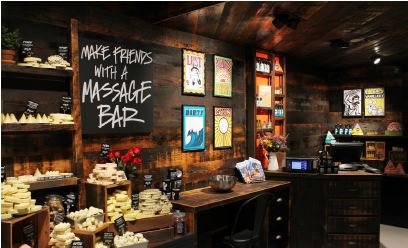 Lush Cosmetics has relocated its flagship store to a space three times the size of its orginal in Sydney's Queen Victoria Building (QVB).
The previous store had been trading since 1997. Sales for the first day of trade finished 54 percent higher than budget.
The new Lush global concept store design focuses on sustainability in both the materials and processes used. Materials are either upcycled, reclaimed or have recycled and recyclable content. This has led to reclaimed timber furniturethat reduces contribution of wood to landfill each year, LED lighting throughout, and a large stained black timber canopy feature.
Reclaimed wood has come from the scaffolding of the Sydney Harbour Bridge, wooden barrels sourced from the Hunter Valley, and concrete sinks have been built.
The design introduces elements such as white tiling in skincare areas, signage in key ranges in the store, and showcasing the raw ingredients used in products across visual merchandising to communicate the Lush principles of being handmade and fresh.
Customer experience
Michelle Brindle, Lush Property Development Manager, Australia and New Zealand says customers are always first in everything Lush does.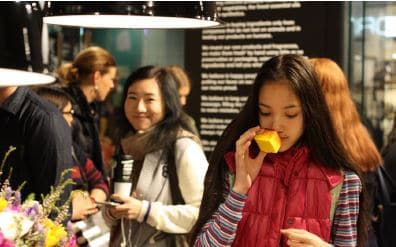 "An innovative shop design is no exception. A Lush store should feel fun and vibrant, welcoming and exciting," said Ms Brindle.
"The idea behind our design is to create a magnificent shopping experience to QVB visitors and to showcase our wonderful fresh, handmade product in the best light possible.
"Queen Victoria Building provides a magnificent setting, so we felt that our shop should meet its great long lived retail success."
Colourful bath product displays are based on a fruit market look, where fruit is stacked in crates. Large chunks of naked soap are inspired by cheese shops in Borough Market, London. Haircare and shower products reflect old grocers, where ladders were used to reach stock stacked on high top shelves.
Skincare represents an English kitchen, with a sit down table, where Lush staff will demonstrate the products suitable for your skin.
Expansion
Since the new store design was implemented in 2014, the business has relocated or refit 12 stores in Australia and two stores in New Zealand. Over the next 12 months relocations and refits will be unbdertaken at Rundle Mall, Adelaide; Kotara, NSW; Chadstone, Melbourne; Queen St, Auckland; and
Swanston St, Melbourne.
New stores are also set to open at Southland, Melbourne; Warringah Mall, Sydney; and Northlakes, QLD before the end of the year.