The NRF Retail Big Show kicked off in New York this morning with an insightful conversation between Walmart's U.S. president and CEO John Furner, along with Harvard Business School's Dr. James Cash.
'The Huddle' is a platform Walmart U.S. president and CEO John Furner started as a way to connect with a broader audience, to share knowledge and learn. Vitally important, Furner suggested, retail leaders must put in place some mechanism to listen and connect.
Dr James Cash began with discussing his childhood. Growing up in the segregated 'deep south', within a working class family. Cash spoke of a father who worked two jobs and a mother who desired to learn, despite educational restrictions being placed on African Americans in the mid-1960's. He spoke about growing up during the civil rights movement in the US, and how the challenges and turmoil of those events shaped his early years. 
"If the elevator is broken, take the stairs. Don't let barriers stop you," said Cash. Reflecting on his time growing up and as a university athlete. An approach he continues to adopt even today, as a professor at the Harvard Business School.
Cash also suggested that retail leaders should "not get too caught up in the challenges of the day". Arguing with the right perspective, we can move forward and arrive at a much better place. Simply, maintain optimism and share that optimism broadly with your teams.
"Progress is sometimes better than perfection", said Cash. We sometimes get tied up in the minutia and finer details of a project, and never actually move forward. Ultimately, competitors then pass us by. Change can happen if you persist.
Cash joined the Walmart board in 2006.
Furner asked why Cash accepted the invitation to join the board of Walmart at the time Walmart was exposed to regular negative press. He was currently on the boards of Microsoft and General Electric.
Cash spoke to relatives who worked for Walmart – who gave him a positive impression about Walmart business. He extended those discussions with other, team members, managers and suppliers, before making the decision to join the Walmart board
He chose not to listen to media and do his own research before taking on the role as a board member.  Since then, he has sat on 15 boards of publicly listed companies, over the last 35 years.
Furner share his experience as a retail leader. "I have always said 'yes' to roles and jobs, most would say 'no' to".
Cash's advice for young, middle level retail leaders was, "find something you are passionate about. It won't feel like work. You'll out-perform others who have been 'told to do it'."
Cash suggested "don't spend the time on things you are not passionate about".
He encouraged young retail leaders to have the courage to take on roles and challenges. There is great reward in saying yes, even when you think you may fail.
Cash claimed, "even when things are going bad, celebrate, as these are learning moments." These challenges will take you, your team and company to a better place. "Never let a crisis go to waste".
Cash and Furner stated that 'retail touches people in many ways'. It is important to be culturally sensitive. Modern retailers today to be inclusive. It is vital to have a teams that are diverse.
Focus on the big picture – don't worry about the click bait.
Furner concluded asking Cash, "What is the new normal? What should we be focused on today?"
Cash suggested, "the new normal is in fact the old normal". Customers still want the most cost effective solutions to their needs. They continue to seek value – and value means easier access and more choice.
Cash indicated "technology enables the consumer to demand more personalised experiences". Retailers must respond.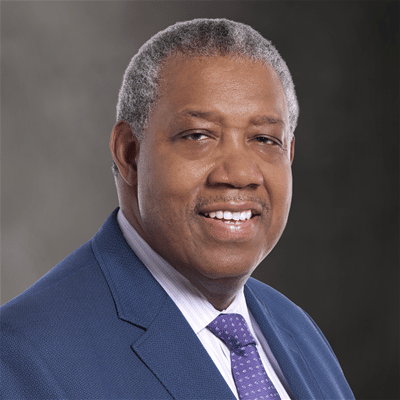 Dr Cash
shared his business and leadership perspectives, drawing from his vast experience that includes holding board positions at 15 Fortune 100 companies. Dr. Cash has been instrumental in laying the foundation for Walmart's minimum wage increases and played a critical role in shaping Walmart's workplace culture and employee retention strategies.