The pandemic continues to impact every facet of retail from customer behaviour to retail operations.
To help retailers keep pace with this ever-changing landscape and plan for tomorrow, the 2023 NRF Innovation Lab showcased new technologies that will help retailers meet these new and ever-changing challenges.
Firms offering new and exciting innovative technologies including artificial intelligence, augmented and virtual reality, mobile POS, blockchain and robotics where present throughout the three day event.
After spending many hours with this retail technology zone, it was clear six top retail 'tech' trends were emerging.
Mobile point-of sale (POS) will benefit retailers and customers.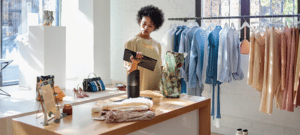 Imagine a busy supermarket. Lines are forming and customers just want to pay and leave. Currently, a call goes out and teams move to the service area to open more registers and serve customers. Naturally, retailers are limited in how many registers they can 'open'.
HP m-POS technology enables retailers to respond flexibly when stores are busy. Teams can simply grab an m-POS, transact customers purchases quickly, then return the m-POS to its cradle and return to the job at hand.
Referred to as 'Queue Busting' technology, ultimately, HP is reinventing the customer experience with technology that empowers employees.
AI voice – enabling customers to ask computers complex questions.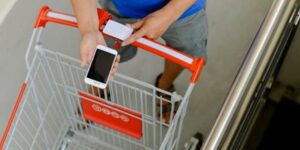 In our cars, we can use our voice to make calls, change stations, and even adjust the air conditioning. In the same way the 'voice button' is appearing on television remotes, 'voice' will innovate the way people shop. Think Alexa, Siri and Google Assist, but in a retail store.
The future of AI-enabled Voice' technology.
The Consumer Voice Study  by Open Voice Network found 90% of US consumers use Voice to connect with Siri via a mobile device, and nearly 80% use Google Assist. Similar numbers found in the UK.
Imagine opening a retailers app, while wandering your local supermarket, asking where a product is located, or which brand of shampoo is on special this week, or even how to cook a new recipe? This will be how we will shop in the future.
Naturally, there are challenges such as different languages, that you may find across Europe. However, German retailer Schwartz Group is already working with Vixen Labs to roll out more complex and advanced AI, that can deal with a variety of languages.
There are clear benefits for retailers.
Today, 40% of Google search is done by 'voice', yet no one is doing 'voice-SEO'. Retailers should be investing in V-SEO and analysing what their customers are asking for. Voice enables retailers to measure sentiment – so, consider a frustrated customer 'abruptly asking to speak to a customer service team member', versus the same requests 'spoken more softly'.
There is a big opportunity to analyse 'voice' and then offer relevant marking offers to customers in store.
Virtual queuing – Time is money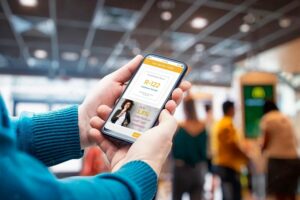 Don't waste your customers' time. Rather than waiting at the paint counter for your paint to be mixed, keep shopping and get a push message your paint in ready.
In pharmacy, don't wait around for your prescription, new technology will alert shoppers when it's ready to be collected.
The future of customer service is Online Appointment Booking, Virtual Queuing, and Click & Collect. No waiting, no stress, no lines, customers can simply join a virtual cue and continue to wander the store, until it's their turn to speak to a team member.
SocialQ is currently working with Australian retailers like The Athletes Foot, Kmart and Target to provide solutions for 'click and collect' and 'virtual queuing'. At the same time helping retailers become 300% more efficient while optimising the customer's seamless shopping experience.
Virtual Reality layouts and shopper insights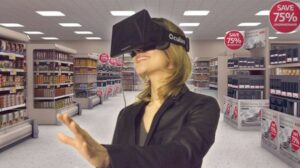 ReadySet is the first immersive 3D VR software designed for product manufacturers, retailers and researchers to autonomously design, test and implement retail solutions.
The software enables retailers to customise their virtual landscape then add in ReadySet's advanced VR experiences to gather accurate shopper insights.
The software allows retailers to create and customise their own VR stores from front-end layouts to category aisle planograms. The end results is a hyper-realistic virtual store environment with real products, signage and fixtures.
Then, cost-effectively study shopper behaviours utilizing eye-tracking that instantly generates accurate data. This enables retailers to undertake 'virtual reality marketing research' and 'go-to-market solutions' before investing in physical implementation.
Smart Mirrors and AR fitting rooms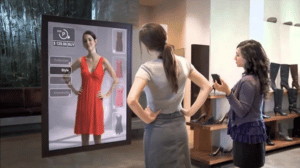 The convenience of being able to try things on without having to take your clothes off. The future of fashion retail shopping will be underpinned with Smart Mirrors and AR fitting rooms.
Recently, Swedish fashion retailer H&M Group started rolling out a host of tech-enabled shopping experiences across its Cos stores in the US, including smart mirrors that offer personalised styling recommendations and virtual try-on.
There were several vendors at NRF2023 Retail Big Show, like ShopExp.
ShopExp's Smart Mirror is an Augmented Reality fitting room that uses photorealistic virtual clothing, accessories, makeup and footwear that instantly displays styles for all body types.
This smarter way of shopping also allows for stores to showcase new collections or products out of stock, without the wait time. With a full HD display and touch screen capabilities, let ShopExp give your customers a shopping experience they won't want to forget.
Applications would be suitable for not just clothing, but cosmetics, footwear, jewellery and eyewear.
Holographic marketing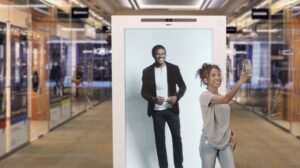 ARHT's 'HoloPresence' enables sales teams to be anywhere as a hologram while accomplishing more with greater impact, in life-sizes, life-like and in real-time.
Imagine a cosmetics specialist arriving as a hologram in fifty department stores, at the same time to deliver a make-up tutorial to customers. A hardware sale representative arriving in all of a retailers' stores at 8am to speak about a new product.
For leaders, imagine appearing in all your stores, across the country, at the same time, to deliver your morning updates.
Holographic technology enables sales teams, representatives and leaders to be 'virtually' there without boarding a plane, suffering from jet lag and being away from family, friends and work for untold unproductive hours.