With its new ownership now firmly instated, stalwart department store, David Jones, has unveiled a new store concept it hopes will cement its place in Australian retail's future.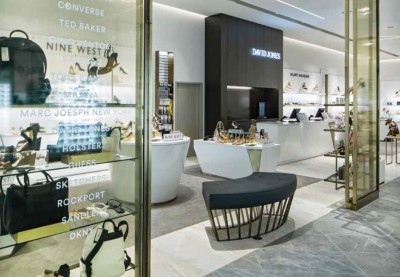 After a year of intense development, UK design agency, Dalziel & Pow, has created a modern and luxurious new store environment for department
store, David Jones, to help transform and re-establish the 177 year old iconic brand.
The design elevates the store experience with a more aspirational, fashion led, premium attitude, differentiating David Jones to appeal to a younger, fashion forward audience.
Dalziel & Pow has designed the total experience, which the company describes as a "carefully crafted adjustment of the current graphic identity, a full communications and navigation approach for the retail space, and bespoke digital installations for multi-media storytelling about the brand and its offer".
The process has resulted in a complete and comprehensive redesign of David Jones' brand and the customer experience.
"Bold, extraordinary, modern and sophisticated", says Dalziel & Pow, it re-establishes the DJs brand principles through a restrained monochrome palette, premium finishes and bold digital statements.
The customer journey is punctuated with a number of key features, including a casual fashion hub framed in red tinted glass; a clear destination for lingerie and footwear that brings authority to those ranges; and a premium branded atrium café offering coffee in the centre of the retail space.
One of the highlights of the new store look is an interactive beauty campus, offering masterclasses and pampering treatments in partnership with Beauty EDU.
The concept debuted late last year, with a new two floor, 77,000sqft department store in Eastland, Melbourne and will be rolled out to a more new stores over the next four months, while existing stores at Bourke St, Melbourne; Pacific Fair; and the former Kirkcaldie & Stains store in Wellington, New Zealand are also being refreshed.
Customer service has been elevated as part of the new format, with customers able to take advantage of personal shoppers and advisors, gift wrapping, alterations, gift registry kiosk, complimentary instore wi-fi, and a parents room.
The project was realised following close collaboration between Dalziel & Pow and DJs' inhouse store development team, working with its retail, buying and merchandising teams.
In addition to the new format rollout, the David Jones Bourke St store also its Melbourne flagship, has been refurbished to create a new luxury accessories hall.
The refurbishment presents a premium cluster of multi-brands in the central space, surrounded by a series of key brand shop in shop boutiques.
According to the company, these are the first steps in its commitment to investing in design to create world class store environments, visual merchandising, and systems.
This story first appeared in the February edition of the The Retailer, the ARA's quarterly magazine focusing on retail trends, news, and advice.