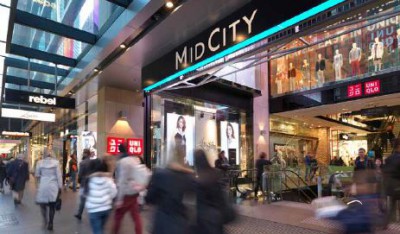 A retail renaissance is set to take place across Australia's CBDs as governments invest in vital public transport infrastructure like the light rail which will support the expansion of retail outside of the core.
According to research from Colliers International, seasonally adjusted national retail sales data released by the Australian Bureau of Statistics continue to grow at 3.6 percent year on year, just below the rolling 10 year average rate. Given the nation's rotation toward the services orientated sectors, it's unsurprising that retail sales are strongest within the south eastern states.
NSW and Victoria, now boast annualised growth rates of 4.95 percent year on year and 4.30 percent year on year respectively, comfortably exceeding the national average. Retail sales growth in resource orientated economies of Queensland and Western Australia are less impressive at just 1.2 percent year on year and 2.04 percent year on year respectively.
According to Michael Bate, Head of Retail and National Director at Colliers International, retail market conditions have been mixed across states, reflecting in part the ABS sales data trends.
"Within the CBD markets, our proprietary Colliers Edge data from Quarter 1 in 2016 (1Q16) suggests that rental growth has been the strongest in Sydney while incentive levels across almost all cities has remained broadly unchanged.
"CBD sales activity confirms this trend, with cap rates remaining the sharpest in Sydney and Melbourne, however we note that all CBD's have experienced cap rate compression on an annualised basis.
"Going forward we expect apparel and department stores to maintain momentum and we should see some growth in cafes /restaurants as the impacts of the lower dollar and increased tourism take hold.
"The Light Rail really is a game-changer, especially for Sydney CBD retailers and harks back to the city's glory days when trams connected shoppers with a network of department stores.
"Department store retailers like Marcus Clark & Co., Waltons, Anthony Hordern & Sons and Mark Foy's ruled Sydney's CBD up until mid-last century. In the CBD core alone there were around 18 department stores connected by Sydney's network of trams.
"Fast forward to today and with retail vacancy at negligible levels, the requirement for larger floor space in excess of 2,000sqm and significant growth in white collar employment retailers will now be forced to look outside the core of the CBD to the north at Circular Quay and south towards Central Station. The backbone of this retail renaissance is light rail, increasing connectivity between outlets and facilitating the necessary foot traffic to support new retailers," he continued.
Sydney's transformation has already begun with construction of the light rail currently underway on George St and other areas adjacent to the CBD. The light rail is being supplemented by the Sydney Metro project that will extend from Sydney's North West, through the CBD and then out to the South Western corridor. Both projects are expected to open for initial operation in 2019.
Melbourne's well-integrated tram system is already in operation but there is further development afoot. Currently the City Loop rail network is running at capacity, so to optimise the efficiency of CBD rail transport, the Metro Tunnel will traverse the City Loop, allowing more trains to run into, and out of the city. The project will incorporate five new underground stations, with two of these located in the CBD. Construction will take place between 2018 and 2026.
In Queensland, a plan for a proposed $1.54 billion Brisbane Metro was revealed in January this year, while the Queensland government has labelled the Cross River Rail as its highest priority infrastructure project. Both rail projects are aimed at increasing overall CBD transport efficiencies however funding for both projects has not yet been finalised.
In the Gold Coast, stage 1 of the light rail project has been completed, with stage 2 currently under construction. Stage 2 will connect the existing light rail network in the south to Helensvale station.
In Perth, the Metro Area Express (MAX) is a proposed high capacity service running from the CBD to Mirrabooka in the north with the objective of reducing traffic congestion. Construction will commence in 2019 with completion estimated to occur in late 2022.
The reintroduction of light rail systems in Australia's CBDs will not only alleviate congestion, it will facilitate the growth of retail precincts as the demand for amenity and retail sites increases.
"Over the past 5 years, we have witnessed the introduction of many offshore brands to our CBDs as the tastes of domestic consumers evolves. Brands such as Uniqlo, H&M, Zara and Topshop are not asking for 150m of space, they're asking for 1,500sqm or more, often over multiple floors" said Mr Bate.
Nationally, investment volumes have risen swiftly in the 2016 calendar year to date and now sit at just under A$3.3 billion. Although this is still a long way off the volumes of 2015, investor demand for retail assets remains strong.
"The decision by institutions like Vicinity Centres and Blackstone to recycle capital has lifted overall transaction volumes," said Lachlan MacGillivray, Head of Retail Investment Services at Colliers International.
Shopping centre dynamics are more diverse, although it appears that across centre categories, rental growth was weakest in Perth.
Data through to 1Q16 suggests that shopping centre incentive levels have moved a little higher, particularly within the sub-regional category although the quantum of movement remains in the low single digits.
Shopping centre cap rates compressed across all cities and categories on an annualised basis with the only exception being Perth's regional centres where there was no movement over the year to 1Q16. Across centre categories cap rates are generally sharpest in Sydney in Melbourne while remaining higher in Perth and Adelaide.
"Market conditions also augur well for the retail sector more generally. Consumers will continue to benefit from record low interest rates as the RBA strives to support our economic transition from mining towards services. Additionally, discretionary spending will be supported by oil prices that are well below 2014 highs, even with the recent rally back towards the US$50 mark," he continued.
According to Andrew Johnston, National Director of Retail Valuations at Colliers International, the national supply of retail floor area increases from 429,000sqm in 2016 to a peak of just over 580,000sqm in 2017.
"This supply is concentrated to shopping centres and large format assets across NSW and Victoria. Overall retail supply levels taper from 2017 onward with 500,000sqm, 153,000sqm and 74,000sqm being delivered in 2018, 2019 and 2020 respectively. Supply is weighted toward shopping centres, with Queensland and NSW being the main recipients in 2018."
Mr Johnston went on to say that large format retail experienced some rental growth with the strongest annualised gains taking place in Sydney and Adelaide.
"Incentives over the year have remained broadly stable although there have been slight increases in Melbourne (+3%y/y) and Perth (+4%y/y). Large format cap rates have compressed further with the strongest activity taking place in Sydney" he said.
Outlook
Despite some high profile corporate missteps occurring over the year, and some sluggish economic data releases, we caution from adopting a gloomy outlook for retail. Lower for longer interest rates and subdued fuel prices relative to 2014 will continue to support discretionary spending.
Additionally the economic rotation toward services and a lower Australian dollar should support retail sales in the south eastern states and those areas exposed to the tourism sector.
The spatial demand from international retailers together with CBD transport infrastructure development should lead to rental growth over time. On the investment side, the demand for assets remains high as evident in recent transactional activity. The key challenge looking forward is simply the lack of stock availability coming to market.