Almost three quarters (70 per cent) of Australian online shoppers are likely to switch to an alternative retailer if dissatisfied with their online shopping experience, according to the third annual JDA/Centiro Customer Pulse 2017 Report conducted by YouGov.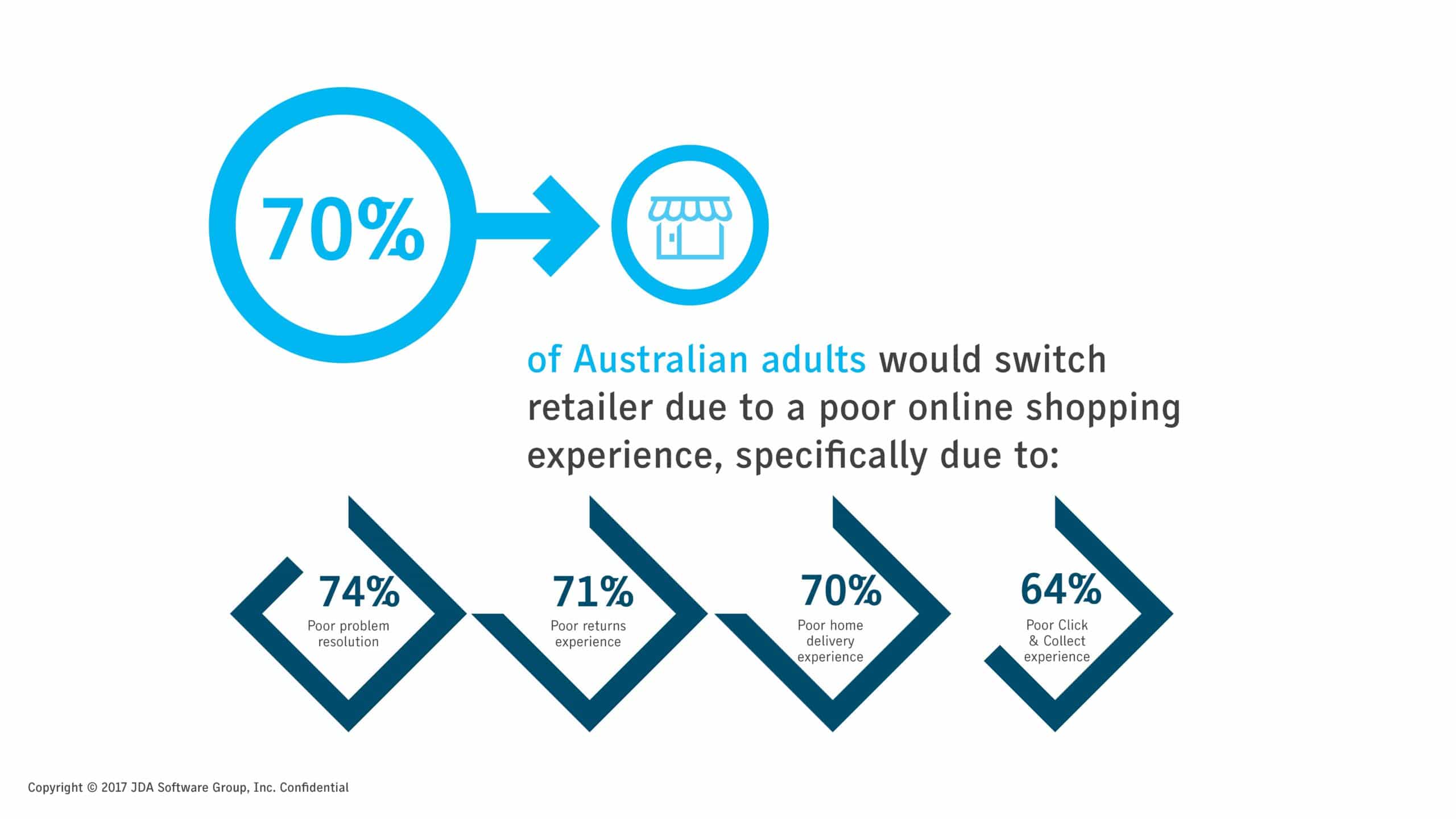 This comes at a time when several bricks and mortar retailers are consolidating their online presence to meet the challenge of competition from international retailers including Amazon. More than half (62 per cent) of the Australian adults surveyed had experienced a problem with an online order in the last 12 months. Of those who had experienced a problem, 50 per cent had experienced late delivery, 41 per cent had missed a delivery despite being at home, 28 per cent never received an item, and 23 per cent received an incorrect item. Regardless of whose fault it was, more than half (55 per cent) of shoppers believe retailers should resolve delivery issues.
Key findings from the survey point to the following trends:
Online home delivery and Click & Collect continue to grow in popularity in Australia.
Retailers need to focus on reducing online fulfillment issues otherwise they risk losing customers.
Australian consumers are more accepting of minimum online order values than consumers in other countries.
Returns continue to be a sore point for consumers, however, if returns are necessary, they want a hassle-free experience.
Australians embrace Click & Collect, and bricks & mortar is here to stay
The research conducted revealed that Australian shoppers have a high level of Click & Collect usage, with the key drivers being to avoid home delivery charges (45 per cent) or because it is more convenient than home delivery (37 per cent).
Despite the increasing acceptance of this system, as many as 68 per cent of Click & Collect shoppers have encountered an issue over the past year. For those people who encountered a problem, the major issues were long waiting times (27 per cent), staff in-store unable to locate items (27 per cent) and no dedicated Click & Collect area in-store (20 per cent). These findings point to the fact that retailers still need to think about their in-store processes and the workforce management impact. As click and collect continues to grow retailers need to consider their store design in order to streamline the execution experience for their customers.
It seems smaller retailers in particular are constrained by a lack of investment in their supply chain infrastructures, which limits the accuracy and visibility of their inventory. 25 per cent of Click & Collect shoppers experienced issues with out of stock items at their preferred store and 25 per cent were notified that items were no longer available after their order had been placed.
People 'getting real' about delivery charges
With the cost of fulfilling orders being increasingly identified as a pain point by retailers, many of them have started to introduce minimum order thresholds for free delivery. An overwhelming majority (83 per cent) of respondents would be happy to exceed minimum order values in order to ensure they can enjoy free delivery. Nearly a third of Australians online would be happy to exceed minimum order values if it resulted in them qualifying for either free same day delivery (29 per cent) or next-day delivery (28 per cent). Worryingly, a sizeable 27 per cent of Australians would take their business to a retailer that did not have a minimum order value for free delivery or Click & Collect, while 23 per cent would choose an alternative free delivery / collection option.
Returns still a headache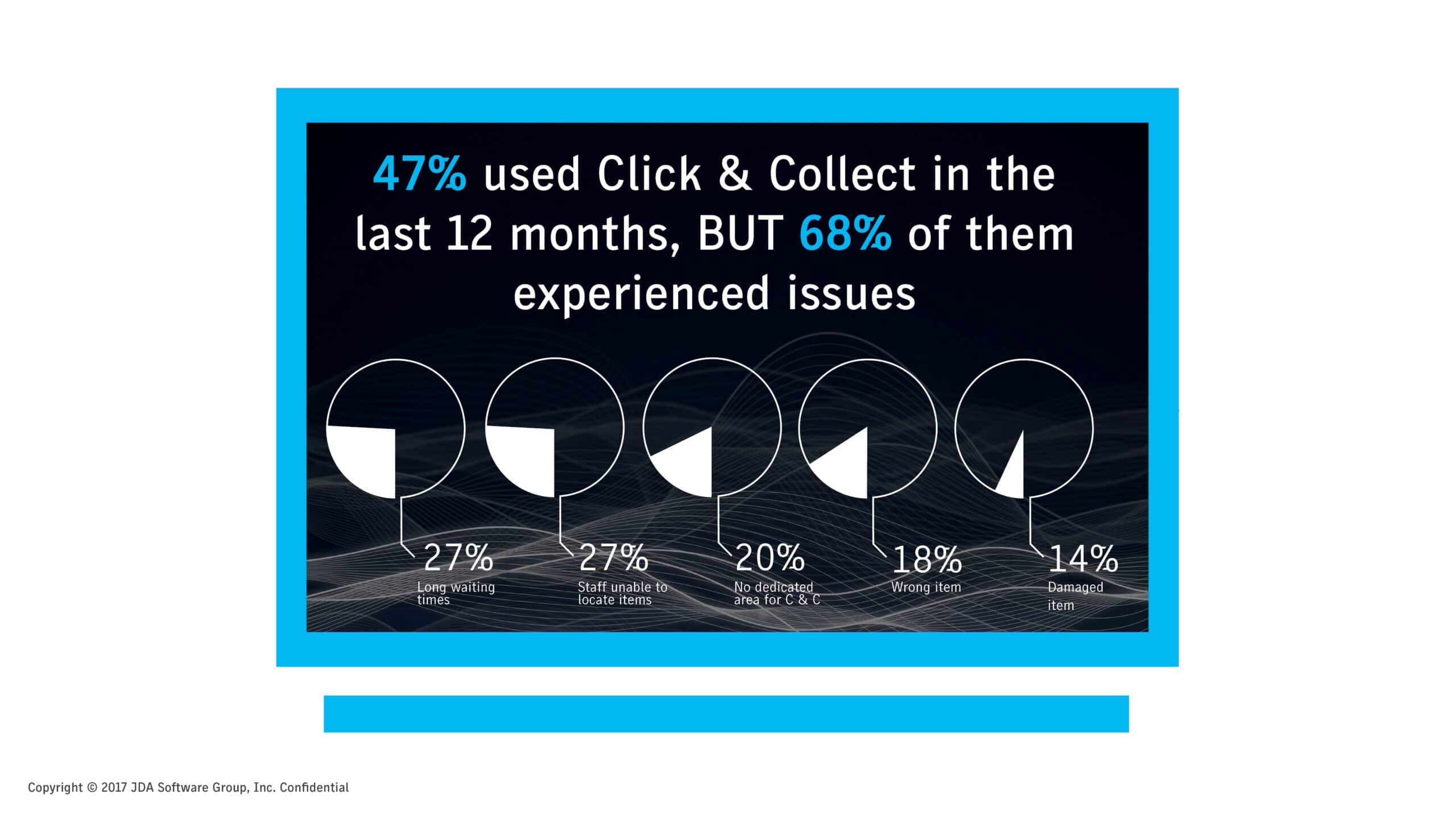 The Customer Pulse survey revealed that 57 per cent of Australians send back at least one unwanted items they bought online in an average year. This ranges from the 25 per cent of respondents who return an average of two items to the 2 per cent that return more than 10 items in a typical year. Not surprisingly, the JDA/PwC survey 'CEO Viewpoint 2017: The Transformation of Retail' survey found 74 per cent of leading retail executives believe the cost of customer returns is impacting on their profits to at least some extent. They are looking very carefully at how they balance the costs of handling returns with ensuring they do not lose sales because of any onerous return policies they might introduce. This is a sensible approach given the Customer Pulse survey found that as many as 70 per cent of consumers regard the ease of being able to return items as a factor in determining which retailers they shop online with.
The data leaves no doubt that Australian retailers face challenges on several fronts when it comes to online. Fulfillment and 'last-mile' issues continue to hinder retailers' efforts at a time when consumers are becoming increasingly intolerant of poor customer service. However, encouragingly for retailers, it does appear their continuing investments in Click & Collect are starting to pay off. Adding to that, 41 per cent of shoppers expect the store to be their most popular channel, so it is clear that stores are not going to be disappearing any time soon. The physical store in Australia remains vitally important to domestic retailers in fighting the challenge presented by international retailers, provided they also address their online issues.