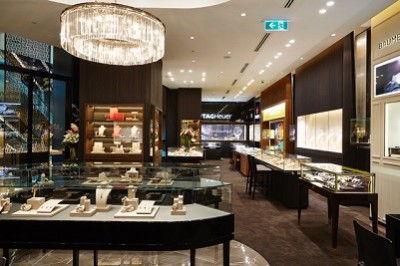 For centuries, fine jewellery has been kept in silk lined, ornate boxes, which fill boudoirs with delightful musical chimes when opened. Music and fine jewellery have long been a perfect union.
Established in 1967, Gregory Jewellers has a long tradition of craftsmanship, style, and innovation, and still operates a workshop at its premises on Castlereagh St, Sydney.
The family-owned business entered the retail market in 1987, and has since set up luxury outlets in 14 locations, with several Pandora franchises in the stable.
The original founders Christopher, Lahdo, and Isak Gregory, now in their sixties and seventies, still report to work each day and remember a simpler time when 'online' had a much different meaning and customer relations was highly personalised.
Their hometown in south east Turkey is renowned for Syriac silver crafts called telkari, handcrafted filigreed ornaments, which the Gregory family, like many others, produced in their ancient stone house. Artistic merit and originality matter.
Gregory Jewellers proudly boasts a music strategy that is simple and effective. With romantic, classical sounds on its website, luxe music playing 'on hold' at head office, and a specially curated playlist updated weekly and distributed to all stores, this jeweller is serious about crafting a sparkling brand identity.
Andrew James Pascoe, Communications & Marketing Manager, has been with Gregory Jewellers for almost a decade.
"Music is in the heritage of the business, even more vital when we became retailers almost 30 years ago," Mr Pascoe said.
"It serves to create a sense of security, calmness, assurance, and luxury for what is a considered and very personal purchase.
"Our customer profile is very broad. What appeals to a 25 year old man shopping for an engagement ring for his girlfriend is unlikely to appeal to a 55 year old shopping for a 30th wedding anniversary present for his wife. We overcome this by ensuring the playlist is luxurious, calming and sophisticated, regardless of the music genre," he said.
Gregory Jewellers' curated playlists in every store also include carefully timed partner messages to communicate 'new release' messages from its 21 partners, including Gucci, Dior, Rado and Raymond Weil. It has a Retail and General: Background Music and Dubbing licence from APRA AMCOS.
New bundled fee for retail music licensing
For retailers with floor space of up to 500sqm, there is now a discounted, bundled fee for background music instore. The new scheme was developed by the Australian Retailers Association (ARA) in partnership with APRA AMCOS and PPCA.
The scheme offers one, flat fee to play background music instore on an unlimited range of music devices. What would have cost up to $1,482 annually has been bundled together into one flat fee of $550 incl GST.
You can now be licensed to play music from CDs and smartphones as well as streaming devices, and for music in the workplace and 'on hold'. Previously, if you were a store of this size you needed to take out a range of individual licenses, with both APRA AMCOS and PPCA to cover your
varied music use. The ARA is now providing unlimited copying, unlimited devices, unlimited music on hold use and unlimited music in the workplace for a flat fee.
This scheme was developed with the ARA's full input and will be administered by the ARA. One licence fee paid to the ARA means less paperwork,
greater savings and easier compliance with copyright law.