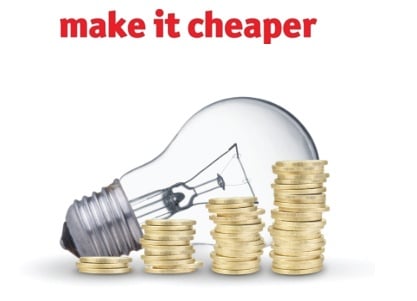 Australian Retailers Association (ARA) is excited to welcome our sole energy partner, Make It Cheaper.
Make It Cheaper is one of Australia's largest independent business energy brokers who offer a free, fast, easy bill comparison service across all types of electricity and gas account, including small to medium businesses, commercial, industrial and household.
Make It Cheaper compares prices across their panel of energy retailers. You can select the deal that's right for you and then Make It Cheaper will take care of the switch, so you can focus on running your business.
Make It Cheaper can successfully identify lower prices for 4 out of 5 customers1 and have already identified fantastic savings for some of the members of the Australian Retailers Association (ARA).
Case Study – Bakers Delight
Over the past 24-months, Make It Cheaper has managed to identify $89,000 in savings for Bakers Delight franchisees2.
Of those that switched, the estimated average business saving was $2,224 per annum3.
Here's what a couple of the franchisees had to say:
"Cheaper electricity bills are something all franchises are looking for. The problem has always been the time to find the cheapest deal.
I decided to send my bill to Make It Cheaper for a free comparison. I received a call straight away and after some research by Make It Cheaper, they secured a better deal – saving the business over $3,500 a year!
The whole process was simple and easy. Make It Cheaper organised everything for me. When my current contract expires I will definitely be calling Make it Cheaper again."
– Andrew Toogood, Bakers Delight – Mount Gambier, South Australia.
"I am extremely grateful to Make It Cheaper for reducing the costs of our energy bills at Bakers Delight.
They completed a free comparison for me about 4 months ago and changed over our energy supplier.
Our average bill has reduced $600 per month since then, saving us approx. $7000 per year!
We found their service excellent and straight forward, they even did all the paperwork for me!
I would highly recommend the Make It Cheaper service to any other Bakers Delight franchisee or any other retail business that wants to wants to save on their energy bills".
– Bakers Delight Franchisee, NSW.
Just think – a short conversation with Make It Cheaper could unearth some massive savings for your business. Find a new plan today by using their fast, simple and effective service.
FOR A FREE QUOTE:
Based on analysis of 10,400 bills between Oct, 2015 & March, 2016
Based on 46 business bills, January 2015 to December 2016
Based on 32 business bills, June 2015 to September 2016.