By John Rice, University of New England and Nigel Martin, Australian National University*
Retail sales data showed growth in the sector falling flat last week, and it remains a tough time to be a retailer in Australia.
Overall, shoppers are expecting more for less, abandoning any sense of loyalty. However, there are bright sparks of success in the moribund sector that point towards what works and what doesn't in making profits in retail.
Australia's overall inflation, currently at historical lows, is only kept above zero by the increasing prices of services like health and education, not by retail goods. Retail staples like food, clothing and footwear are all cheaper than this time last year. Price competition, and pressure on margins in the grocery and clothing markets is intense.
The deflation in "food and non-alcoholic beverages" prices recently reported by the ABS can be most readily explained by the Aldi effect. Aldi's continued expansion throughout regional Australia and continued push westward to South Australia and Western Australia is playing havoc with the retail margins of both Coles and Woolworths.
Both have fallen to around 4.7 percent of sales as price declines have been outstripped by operational cost efficiencies. The major challenge for both Coles and Woolworths, however, is to address the fundamental difference in their cost of doing business versus the lean operations of Aldi.
Away from groceries, as the seasons turn, Australia's bulging wardrobes continue to make room for yet more clothes and shoes. Despite this, prices are falling. In clothing and footwear, deflation is better explained by the ascendant online marketplace and consumer preferences, shopping traits and experiences. Overall online clothing retail sales growth continues to far outstrip bricks and mortar retail, with small online retailers (sales less than A$2.5 million) seeing strong growth of more than 20 percent per annum on the back of more agile systems and shopper convenience.
Green shoots
Looking below the "sectoral" numbers to some examples of individual businesses provides some interesting evidence of these trends – both supportive and contradictory.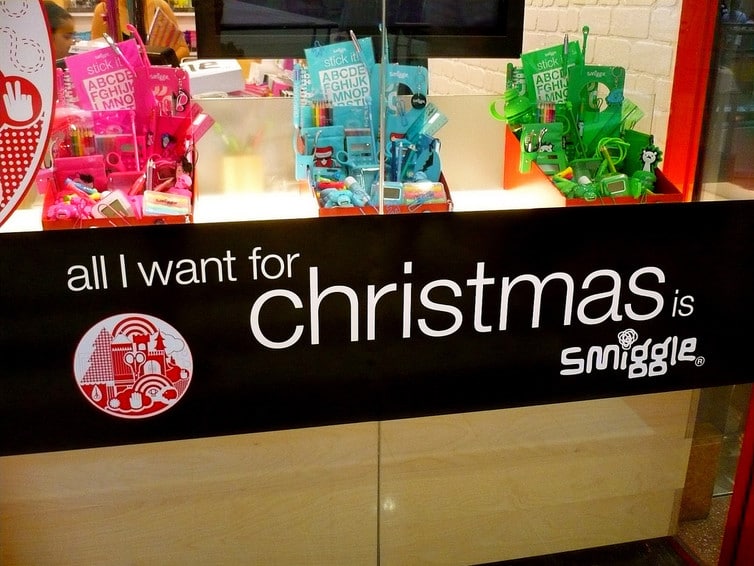 Online surfwear and sportswear retailer Surfstich, for example, saw its share price savaged after it posted a massive loss on the back of a flagging acquisition strategy and management upheavals. In a closely related market, however, Kathmandu is performing relatively well, flagging higher margins and earnings to come. CEO, Xavier Simonet, attributes these outcomes to "product newness and careful management of promotional activity" – basically selling a more narrow range of more appreciated goods with less discounting.
Premier Investments continues to outperform. Controlled by Solomon Lew and led by the colourful former CEO of David Jones, Mark McInnes, Premier seems to have the right portfolio of products and store-based and online business strategies to maintain growth and margins. Its Smiggle business is a case in point. It sells cheap things at high prices to a demographic of adoring tweens, while the quality Peter Alexander brand works as a sales generating all-rounder in the family clothing sector.
Another somewhat bright spot seems to be Kogan – the online electronics retailer that recently listed on the ASX. It is a business that is hard to categorise. It has a portfolio of own-branded electronics, operates a channel of grey imported products from its offshore subsidiary, and is branching into services including travel. Trading at a discount to its IPO, it is fair to say the market is watching with interest rather than enthusiasm before it decides on the longevity of this idiosyncratic retailer.
One of the most resilient of retailers, Harvey Norman, also reported last week. Its result was stellar and its share price soared. Sceptics wonder, though, how much of this can be attributed the the exit of Dick Smith and the rather topsy housing market which all but the most optimistic spruiker sees at or near its zenith.
Both Premier and Kogan point to an emerging trend – innovation matters in retail more than ever. Strong growth among small online retailers is showing consumers want variety and novelty in their baskets and wardrobes rather than generic and cheap (or worse, generic and expensive). Globally, firms like Threadless (a T-shirt company whose customers design its logos) are trying new things and creating products that appeal to narrow yet loyal customer groups. In Australia, niche online retailers like Babes in the Shade are showing they have a business model that can work over time.
But innovation is both risky and expensive. More often than not supermarket trialled novelties do not last, with the same true in clothing and elsewhere. This can explain the emergence of firms like Premier Investments that combine retail smarts, relatively deep pockets and novel ideas. Premier can afford the odd disaster when balanced with successes like Smiggle.
In the future, we expect more innovation and variety and thus more turblulence in the sector. Occasional narrow-brand innovators like Noni B will succeed, but a more likely model for success will be the porfolio players. They can ride out the ups and downs of retail's various sub-markets and sustain profitability and growth.

* John Rice, Professor of Management, University of New England and Nigel Martin, Lecturer, College of Business and Economics, Australian National University.
This article was originally published on The Conversation. Read the original article.