It is easy for retail businesses to view the rise of digital engagement as a threat to traditional retail, but it is just as important that retailers also see the opportunities it brings. Digital engagement is an opportunity to capitalise on your customer's love of all things electronic, to provide a more personalised experience and create a more dynamic in-store environment. It's also an opportunity to save time and money by streamlining and digitising tiresome business processes.
With more of the world's biggest brands setting up retail footprints in Australia and the growing dominance of the e-commerce giants in the online retail market, it's more important now than ever for smaller retailers to adopt effective digital tools that can help them thrive.
Here are six ways that you can use digital technology to help your business work smarter and offer your customers more:
Meet your customers online
Customers often turn to the internet when searching for information about a business they're interested in. This is why it's important to have your store locations and other details including trading hours and social media handles listed online – both on your website and other platforms like Google, Facebook or Yelp.
It might seem obvious, but you'd be surprised how many businesses don't check to see if they are listed properly online. A good test is to search for businesses in your area and then search for your business name — your business should come up in both of these searches.
Streamline your point of sale (POS) and reduce waste
Gone are the days of oversized POS devices, clunky cash-drawers, piles of paper receipts and cluttered countertops. Businesses can now run fully integrated POS and payments systems, like the new Square Stand for contactless and chip. This new payment system streamlines business operations into one platform — from accepting card payments to online invoicing, inventory management, real-time analytics, and employee management.
Go mobile with your customers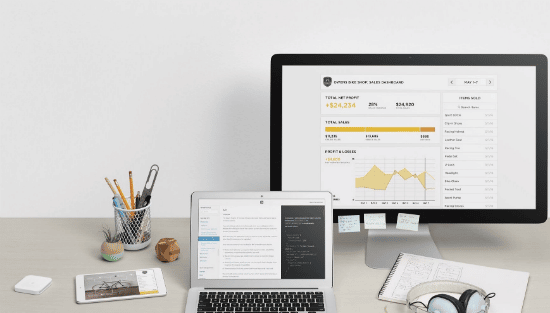 Having a mobile POS device is an easy way to create a positive end-to-end customer experience in your retail store. By enabling customers to make payments wherever they are, you are saving them the hassle of lining up at the checkout and ultimately offering them the same convenience as purchasing online, with the added benefit of one-to-one personal service.
Use data to improve your business
Having data and analytic tools is a must these days, especially for time-poor retailers who need a quick snapshot or a detailed breakdown of their sales. Analytic tools have traditionally always been available to big businesses to help them work out profit margins and maximise revenue, but advancements in digital technology have made these tools readily available to businesses of any size or type. Employing good data analytic tools will help you gain important insights into what's working and what needs to change in your business, so you can continue to make informed decisions to maximise revenue.
Employee management
Growing your team and hiring new staff is exciting. But managing employees, especially across multiple retail locations, can also be challenging. For one, as a busy business owner, you're unlikely to be able to be in multiple places at once, which makes supervision difficult.
Employee management software is a great way to support this. It's best to look for an employee management system that integrates with your POS system and allows your staff to set up personalised employee accounts with passcodes. This makes clocking in and out a breeze for them, improves your payroll management system, and also allows you to track employee transactions and sales history.
Inventory control
Inventory is one of the most critical costs of a retail business and can be a make or break. Businesses with multiple locations need to be particularly mindful because, with every store you add, your inventory costs will also increase.
There are various ways to effectively manage retail inventory and investing in a digital platform is a must these days. You can set up your stock lists quickly by importing products easily with CSV spreadsheets and receive email stock alerts when items are running low.
About Square
Square creates tools that help sellers of all sizes start, run, and grow their businesses. Square's free point-of-sale service offers tools for every part of running a business, from accepting card payments with Square Reader to online invoicing, inventory management, real-time analytics, employee management, and powerful reporting. For more information visit squareup.com/au