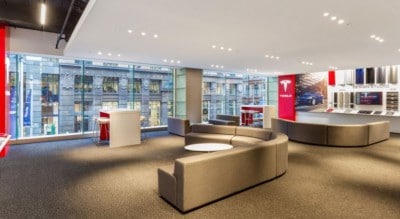 Tesla has opened what could be considered its first true retail 'store' in Australia, at in the Sydney CBD at Martin Pl.
The store, while acting as a showroom for its range of electric cars, also serves as a retail outlet, selling Tesla branded T-shirts and accessories, as well as being a key branding exercise for the business.
The Martin Pl store follows on from facilities at Artarmon in Sydney's north and Richmond in Melbourne's east. Artarmon was the US company's first Australian presence, opening in 2015.
The location is fitting for the premium premium priced automobile maker, nestled close by to the upmarket boutiques of Castleraegh and King streets
The two storey, 500sqm store is located at the newly redeveloped 20 Martin Pl, and provides for test drives, as well as housing two private design studios on the upper level to allow customers to customise their car purchases. Up to three cars are able to be accommodated on the ground floor of the store.
Tesla has gained a cult-like following around the world, with the battery operation of the cars billed as a solution to eliminate costly petrol and gas purchases and negate the environmental impact of traditional car fuels, and has been lauded to its revolutionary retail-style approach to car sales through the presence of its smaller stores located in non-traditional car showroom precincts, such as shopping centres and high streets.