The Homeless Grapes Project is a harmonious fusion of winemakers, growers, producers, families and individuals whom all donate their time and resources to create fantastic local wines – made by the people, for the people – with 100% of the proceeds going towards supporting Australia's homeless population.
Online wine retailer Vinomofo started the Homeless Grapes Project in March 2015 when McLaren Vale grower, Jock Harvey, put a call out on his Facebook page asking if anyone wanted a block of shiraz grapes that he wasn't able to pick. They were ripe, and decent fruit, but he didn't have a home for them, and it wasn't going to be worth picking commercially. Vinomofo saw the post and liked the idea and Andre Eikmeier, Vinomofo's joint CEO and Co-Founder, had a thought – why not create a wine, a proper wine, and sell it with all proceeds donated to Hutt St Centre, a front-line charity for Adelaide's homeless..
Andre called Jock up and asked him how much fruit there was and how many cases of wine they could make out of it. Jock said around two hundred. So, Andre did the maths – $15 a bottle with 12 bottles in a case, times 200 would equal… $36,000.
Andre asked Jock if he thought anyone would make the wine, and he looked into it. Three hours later, they had Yangarra making the wine, oak barrels being donated, in fact the whole community came together bottling, labelling and driving tractors to make this a reality, and the Homeless Grapes Project was born.
Vinomofo took action, putting together an offer on their website and this McLaren Vale shiraz – that hadn't even been picked yet, and wouldn't be on their doorstep for another year – sold out overnight.
The Vinomofo team worked with an artist who offered to turn the story of Norm, one of Hutt St Centre's clients who got off the streets and turned his life around, into a piece of art that would become the label.
A few days later, two hundred people turned up at Jock's vineyard at 7:30am – locals, friends, strangers, families with kids, journalists, food trucks and coffee vans all showed up to pick the grapes and make them into wine.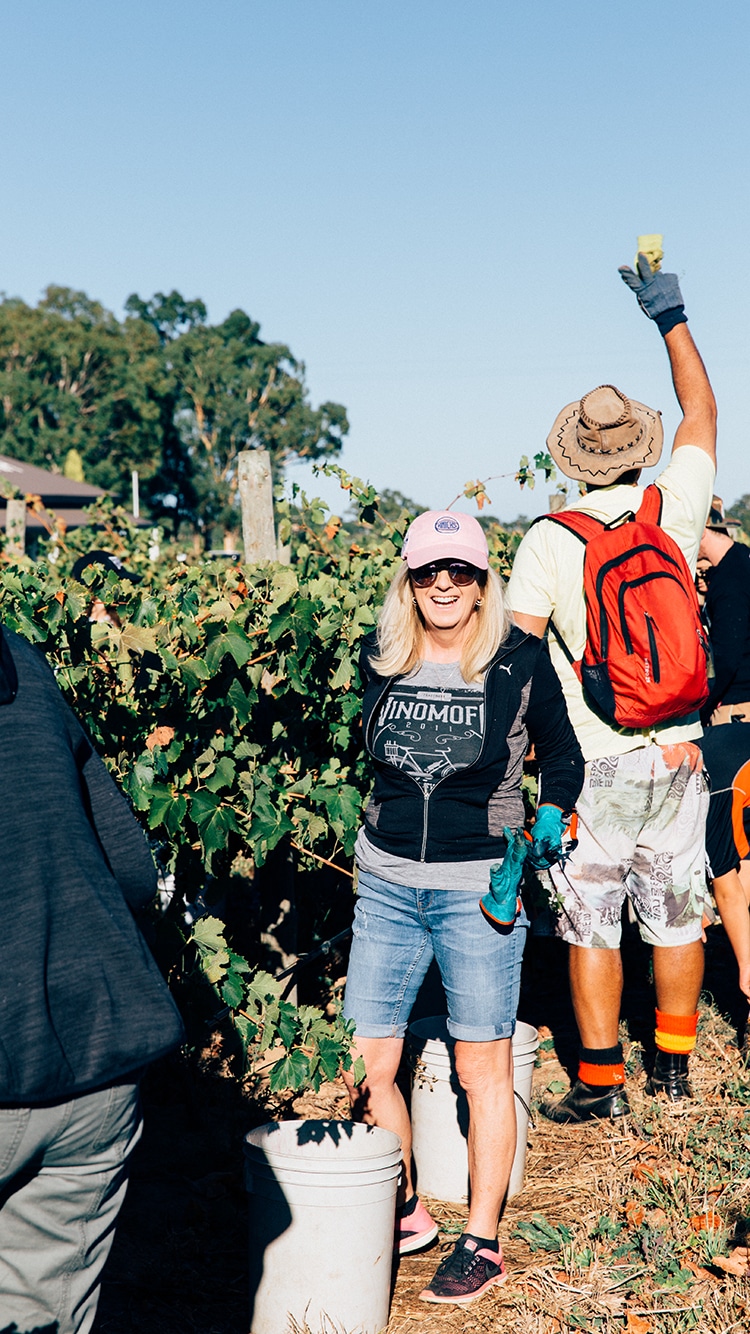 Since its inception, the Homeless Grapes Project has raised over $100,000, and to this day, every cent of proceeds from the wine sales has gone to Hutt St. The community has come together donating every part of the wine making process, from the grapes, to the winemakers, to the burger trucks at local pickings and the artist who created the labels. The project's purpose has always been to give back to the community and one of the reasons there is so much support behind it is because 100% of its proceeds are donated.
The Homeless Grapes Project is highly focused on consumer engagement, as it pulls together not only Vinomofo consumers, who are invited to join in the process with local grape pickings, but entire communities. Interest for public pickings, and the project as a whole, is pushed out through social media with communities given an open invitation to join in on the action.
This year the project went national. Twelve wineries across three regions donated their grapes, time and love to the cause. As we speak, a Yarra Valley chardonnay, McLaren Vale shiraz and Coonawarra cabernet sauvignon are in barrel, with grapes generously donated by De Bortoli, Rochford and Tarrawarra in the Yarra Valley, Inkwell and Penny's Hill in McLaren Vale, and Patrick of Coonawarra, Hollick, Raidis Estate, Penley, Sam Brand and Redman Wines in Coonawarra. Once sold, this project will translate to $200,000 – all of which will be donated to frontline homelessness charities across Australia.
Vinomofo can see a near future where this is a global project. Wine communities around the world donating their grapes, their time and their love to make beautiful wines in support of their local homeless.
Andre Eikmeier is Co-Founder and joint CEO of online wine retailer Vinomofo. Andre and Justin Dry launched Vinomofo in April 2011 from a little garage in Adelaide and have since amassed a wine-loving tribe of over 560,000 across Australia, New Zealand and Singapore. Learn more at vinomofo.com