The power of personalisation
When it comes to retail, personalisation is the name of the game. Here's the thing: humans are hard-wired to crave acknowledgement and recognition, and it makes a huge difference if you're able to greet a customer who steps into your retail store by name. If you remember their preferences, and recommend them a product that they love, all the more power to you.
You know what they say about empowering your employees, and not treating them like cogs in a machine? The same goes for your customers. If you're still offering everyone the exact same experience, you're doing it wrong. The way forward is to personalise your approach and service, so that you can make your customers feel appreciated and understood.
What is personalised service?
In a nutshell, personalised service refers to customising your interactions in a way that allows you to meet your shoppers' needs more effectively and efficiently.
Now, personalisation is manageable to achieve with customers who drop by your store often – simply encourage your sales staff to get to know them, and pre-empt their needs. But what about your customers who aren't regular shoppers, or customers who frequent your online website instead of your retail store? How do you recognise them, and go about personalising their experience?
Many retailers fall back on loyalty or membership schemes. Assuming your customer is part of your loyalty program, then you can easily record their past purchases, and use this information to serve them better in the future. (Other than simply recommending items to them, you may also want to notify them of upcoming sales events, or send them a newsletter that's customised for them).
If your customers aren't particularly partial to these loyalty programs, consider using your Point of Sale (PoS) system to collect and store data about your customers. You can also use digital solutions such as branded apps, and radio frequency identification (RFID) tags to identify your shoppers, and provide them with a more cohesive experience across your retail and eCommerce store.
Implementing personalised service
1. When your customer is passing by your store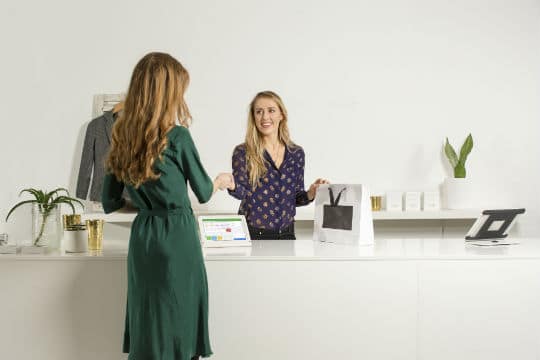 Say your customer is in the vicinity of your store. Using beacon technology (bluetooth), you can trigger ads or promotional offers to your customers' smartphones, and entice them to drop by.
With these ads, you're not blindly reaching out to anyone and everyone – you're getting in touch with a curated group of customers who have more incentive to visit your store. Because you'll be referencing the fact that your customers are already nearby your store, this also helps to personalise your ad copy, resulting in a more engaging ad.
2. When your customer is browsing in-store
With your a customer who's browsing in-store, and considering making a purchase, it's also possible to use technology to personalise their experience. For instance, you can trigger a push notification to their phone, and send them a link to a product demonstration video. Alternatively, if your customer is trying to decide between two products, it'll be helpful to send them a product comparison guide created by your marketing team.
3. When your customer is making their purchase
Go ahead and offer your customer their preferred payment method, be it credit card, debit card, or digital wallet. It's the small gestures like these that make all the difference!
Why is personalised service important?
Personalisation helps you identify more sales opportunities, which in turn increases your revenue. On top of that, serving customers personalised recommendations also helps with upselling, and increasing each customer's lifetime value (LTV).
What are the benefits to retailers?
The primary benefit of personalised service is customer loyalty. If your shopper has a better and more enaging experience with you, they won't be switching to your competitor anytime soon.
This customer loyalty brings about other benefits, as well. With your customers choosing to visit your store more often, you'll see an increase in both revenue and customer lifetime value. In fact, research from Forrester shows that brands who nail their personalisation efforts bring in 5.7 times more revenue than their competitors who lag in such efforts.
A final word on personalisation in retail
Personalisation is key to offering a great customer experience – that much is obvious. That said, retailers should also be wary of going overboard, and being intrusive in the way that they reach out to customers. To increase your customer loyalty and retention, and boost your profits, start working on your personalisation strategy now!
About RateIt
RateIt is the market-leader in on-the-spot customer feedback. RateIt helps retailers consistently deliver great customer experiences by gathering NPS and customer comments via engaging touchscreens, delivering insights that matter. For more information, see www.rateitapp.com/.