Despite e-commerce continuing to mature and grow in convenience, today's shoppers still value bricks- and-mortar stores. Zebra's 2019 Shopper Vision Study found that during the past year, only 43% of shoppers opted to purchase items online instead of visiting a physical store, proving that most shoppers still find value the in-store experience.
Shopper behaviours in-store
Though the preference for in-store shopping remains, Zebra's study found that shoppers are owning their shopping experience more than in previous years. Only 62% of the study's respondents were satisfied with the level of information or help that sales assistants could provide.
With the wide use of smartphones, shoppers are now able to search for coupons, discounts, product information, price comparisons—and basically anything they can access through the internet. Shoppers from Zebra's study responded that they consider smartphones to be an essential tool to their shopping, with most believing they're more connected to store information than the sales assistants. Therefore, equipping sales assistants with the right mobile technology is even more crucial to put the advantage back in the retailer's hands.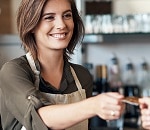 Empower sales assistants to maximise in-store retail sales
Retailers can use their brick and mortar stores to their advantage and potentially increase in-store sales by equipping sales assistants with the right technology. Tools such as barcode scanner-equipped mobile computers and business tablets put performance directly into sales assistants' hands, giving them the power to help find answers to customers' questions.
Tools like enterprise mobile computers give sales assistants the capabilities to enhance customer service—capabilities like real-time inventory visibility, processing payment anywhere within the store, product information lookup, access to customer information and alternative fulfilment options.
Retail mobile technology can be the simple solution retailers require to personalise the in-store experience for customers and positively impact business.
To learn more about what retailers can expect in the future, read the full 2019 Shopper Vision Study here.