If you've been keeping tabs on the eCommerce industry, you'll know that eCommerce is growing at an extraordinary pace, resulting for retailers around the world to up their game when it comes to the customer experience they provide. According to estimates, global ecommerce sales will reach $4.5 trillion by 2021, with Australia being one of the top ten countries contributing to this figure[1]. And as shown in a report by The NAB Online Retail Index Report, online shopping increased by almost 10% in Australia in 2017, while in-store foot traffic only increased by 3%[2]).
The good news? Retailers can still hold their own, but in order to do that, they'll have to improve their in-store experience, and incentivise customers to purchase from them. Read on to find out more!
1. Packaging is everything
Unboxing videos, where individuals film themselves opening up a new product and looking through its contents, are big online. In fact, a study by Google shows that one in five consumers have watched an unboxing video on the internet[3].
Why are people so fascinated with unboxing videos? It boils down to the fact that we're very much visual creatures, and we love to see how items are packaged or put together. So don't just slap some generic packaging onto your retail products and call it a day. Instead, put some thought into it, and make sure your packaging entices your consumers to make a purchase.
It is also recommended to offer boxes and gift wrapping options, especially if you're selling products that would make a good gift. Many people put off shopping for presents until the last minute, and when that happens, they'd rather make their purchase from a retail store rather than buy it online (and risk it arriving late). Make sure you capitalise on this opportunity!
2. Go mobile with your POS system
A mobile POS is basically a smartphone, tablet, or other wireless device that can perform the functions of your cash register or POS terminal. There are plenty of retail stores in Australia that have already jumped on the mobile POS bandwagon, including Jurlique, which recently implemented mobile POS systems across their 16 stores in Australia.
What are the benefits of mobile POS systems? First and foremost, they can help ease long queues at the cashier during peak periods. More specifically, your staff can attend to customers and process purchases with multiple POS devices, reducing the likelihood of a bottleneck.
On top of that, with mobile POS systems, you can offer to email your customers their receipts instead of printing them out. In this day and age, customers are increasingly favouring companies which do well and are environmentally-friendly, and offering digital receipts is a great way of showing that you care.
Last but not least, mobile POS systems allow you to easily collect and record your customers' information, including their email addresses. This way, you can grow your email list, and keep your customers updated about the latest in-store promotions and deals.
3. Personalise experiences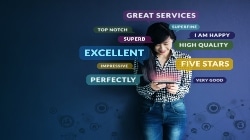 Most retailers already know that personalisation is the way to go. If you can personalise your customer's in-store experience, and offer them something that's tailored to their needs, this increases the chances of a customer becoming a loyal fan.
Here's an example: Japanese retailer UNIQLO recently rolled out a neuroscience fashion campaign in Australia. Using wearable technology called UMood, UNIQLO identified each consumer's state of mind ("adventurous", "calm" or "stressed"), and then gave these consumers product recommendations to match their state of mind. The campaign was a big hit with consumers, and landed UNIQLO media mentions in notable publications including Mashable.
4. Leverage social media
Here's the thing: even though you're working on your in-store experience, this doesn't mean that you have to restrict yourself to offline elements. We recommend harnessing the power of social media in order to make your in-store experience more compelling.
One Australian brand that did this was clothing retailer General Pants Co. The team at General Pants installed interactive kiosks in the store, and consumers could use these to play around with music, fashion and social media features. In particular, the social media widget (called "insta-opinion") was extremely well-received. This allowed consumers to photograph themselves wearing an item from the store, and submit the photo to get real-time feedback from other kiosk users.
5. Hold events
Now, many retailers steer clear of holding events because they take a lot of effort to organise, and they don't result in much sales. But the goal of holding an event in your store isn't to generate short-term sales; instead, it's to attract more visitors and foot traffic, and expose your brand to a wider audience.
Even if these people don't make a purchase immediately, your store will be on their radar, and they may pop by and buy something the next time you're in the area. You can also use these events to collect email addresses, and build your social media following.
With eCommerce going from strength to strength, retailers can't afford to rest on their laurels, or be content with the status quo. Use these five tips to improve your in-store experience, so that you can compete with all the online stores out there!
RateIt is the market-leader in on-the-spot customer feedback. RateIt helps retailers consistently deliver great customer experiences by gathering NPS and customer comments via engaging touchscreens, delivering insights that matter. For more information, see www.rateitapp.com/
[1] https://www.transdirect.com.au/blog/aus-ecommerce-stats
[2] https://business.nab.com.au/wp-content/uploads/2017/05/norsi-march-2017.pdf
[3] http://digitalmarketingmagazine.co.uk/digital-marketing-features/unboxing-unpacking-the-phenomenon/3934