With retail lighting undergoing major changes in 2018, the next 12 months will see a shift to more human-centric illumination and new technologies emerging in both the controls and delivery of lighting.
Aesthetics
Light fixtures will be able to seamlessly blend into retail spaces as they are continually becoming smaller in size due to miniaturisation of technology.
For example, Concord Lighting range developed by Retailite no longer requires cumbersome transformer 'boxes' strapped to the side of architectural fixture forms. OLED flexible light sources, miniature LED strip and multi-chip, high output fixtures can now integrate easily into discrete architectural details, reducing fixture 'clutter' and improving the visual experience of the interior space.
Ambience
Human-centric or color temperature-changing lighting will be a major trend this year. Typically, accent lighting in retail is over-lit to compete with 'the retail space next door' and causing washout of visual hierarchy of the retail experience.

Indirect ambient lighting is returning in popularity as colour rendering index (CRI) benchmarks increase. High profile retailers traditionally achieved ambient lighting through diffused fluorescent Barasol ceiling features. High CRI linear projectors can now graze architectural walls and ceilings, reflecting light into retail space as discrete infill illumination. With higher than typical uniform ambient lighting levels, accent lighting can become more of a feature enhancing tool to enhance the overall visual modelling of objects.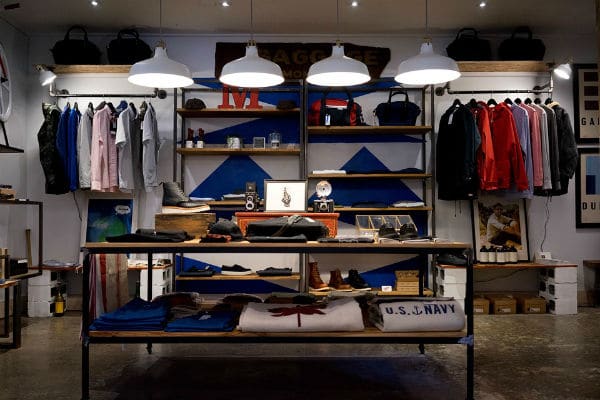 Controls
While lighting controls have traditionally resided in a box of electronics in a backroom or cupboard, 2018 will see a more intelligent approach. Wi-Fi and other wireless technologies are set to eventually replace expensive physically wired control installations. Dynamic White (tunable white) will render multiple merchandise materials and various environmental conditions to align with the varying corporate branding identities, merchandise materiality, interior finishes and atmosphere of each retail brand.
Design
The upheaval of LED has been a catalyst in improving the awareness and importance of having technical illumination and electrical knowledge within the multidisciplinary design team.
Design teams have broadened to include architects, interior architects, industrial designers, graphic designers, visual artists as well as traditional electrical engineers.
Reputable lighting design teams are no longer specialising in one discipline. Broad experience in commercial architectural, landscape, façade, sports and hospitality and retail all have unique lighting principals and considerations all of which influence unique and creative outcomes.
Tools of Design are continually improving how we create and communicate with architects and designers.
For example, Retailite actively uses Virtual Reality (VR) and real-time rendering software to immerse clients into an experiential simulation of their space. This technology provides an additional experience to clients compared to traditional lighting supply only services.
Image source: lightinghouse.com.au
About Retailite
Retailite is part of Australia's most innovative and comprehensive lighting group – Gerard Lighting. Specialising in tailored retailing lighting across a wide range of sectors, Retailite have partnerships with expert manufacturers across Asia and Europe, remaining at the forefront of lighting innovation and technology. Visit www.retailite.com.au