Building the most efficient delivery routes for your fleet is no easy task. There are so many factors to consider and you run the risk of slowing the process with human error in the mix.
Route optimisation is the best way to combat the challenges that come with route planning and improve your fleet's performance.
If you're a business owner or fleet manager then this article is definitely for you.
What is route optimisation?
Route optimisation involves determining the most efficient routes for your drivers. There are a multiple of factors that are considered, such as driver availability, types of vehicles, weather, traffic and order of stops.
Benefits of route optimisation
Reduced fuel costs
Fuel prices are crazy right now, so it's no surprise that business owners and fleet operators are looking to minimise expenses wherever possible.
By assigning your drivers the most efficient delivery routes, they are less likely to spend time idling in traffic and take extended routes. In doing so, your business can cut down unnecessary fuel costs whilst saving money at the same time!
Improved customer satisfaction
Your customers are what keeps your business running, so ensuring they receive excellent service should be top priority. Route optimisation lets you give customers accurate ETAs and updates throughout the delivery process. You can also send them a live tracking link!
Such visibility is key to improving their experience and in doing so, transforming them into repeat customers.
Reduced vehicle maintenance
With route optimisation, you can assess your drivers' behaviour and identify who is speeding and contributing the most to vehicle wear and tear. This allows you to select who needs additional training so you can reduce overall vehicle maintenance costs and unnecessary downtime.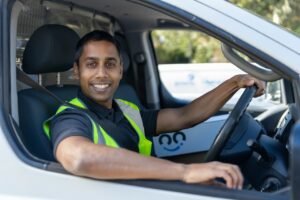 Improved driver experience
Your team is the driving force behind your business so keeping them happy and making their jobs simple is a great way to improve their experience. Route optimisation does this by automatically allocating them to the most efficient route so they can carry out each delivery as simply and quickly as possible.
Increased efficiency
Optimising your delivery routes can help speed up the overall delivery process, allowing your drivers to complete more bookings throughout the day. Having a reliable route optimisation solution like Locate2u allows you to add last minute stops without throwing off your schedule for the day. This enhances your business' operational efficiency and profitability.
Importance of route optimisation
Who wants to spend hours planning routes for your drivers? There is so much to take into account like driver availability, traffic conditions and the location and distance of stops. Not to mention your planning being susceptible to human error.
Investing in a quality route optimisation software means this entire process is completely automated so you can focus on other areas of your business. Throw away the pen and paper and enhance your team's performance with route optimisation!
Optimise your routes with Locate2u
Having discussed the many advantages of route optimisation, let's delve into what software is most suitable for your business.
Locate2u is a delivery management software that optimises your delivery routes, offers real-time tracking, booking management and a reliable proof of delivery system.
Locate2u gives you the ability to add in last minute stops without throwing off your delivery sequence for the day, allowing you to complete more deliveries!
Learn more about how Locate2u's route optimisation software can take your business to new heights