Following Christmas, the New Year's sales and a busy back-to-school period, many stores have taken stock of their inventory with varying levels of accuracy. For omni-channel retailers, where inventory is spread across multiple store locations, warehouses and distribution centres, the stocktaking process can be twice as hard.
Omni-channel retailing is one of the most promising areas of growth for retailers today and tech-savvy consumers are demanding greater convenience, easier access to items and shorter delivery timeframes. To be successful, a 'fulfil from anywhere strategy' where all inventory is treated as one giant pool of stock is becoming increasingly important. Whether ordered online, instore or via a call centre, the expectation for quick delivery Australia-wide is growing.
RFID technology is fundamental in providing accurate inventory information and management. Using a unique product code physically attached at the factory, the RFID chip tracks every product from its source at the manufacturing plant through to point of sale. Retailers can monitor items once they arrive in-store or at the warehouse, to quickly locate, replenish and ship products as required.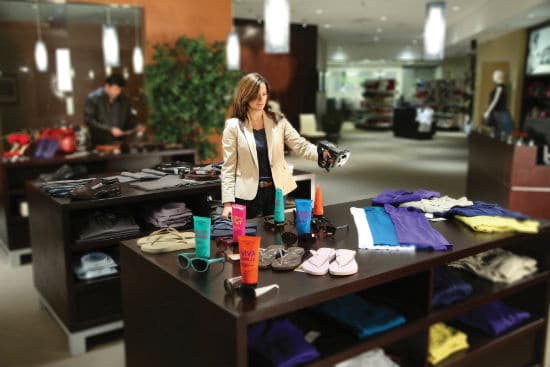 According to the Kurt Salmon RFID in Retail Study 2016, 60 apparel retailers throughout the United States and Europe reported that RFID improves inventory accuracy by 25.4%, with 67.4% inventory accuracy reported before RFID and 84.5% accuracy after implementation. This is an important lesson for Australian businesses looking to upgrade their retail technology.
A customer's omni-channel shopping experience can also be enhanced with RFID implementation. How efficiently can transactions be made, whether buying online, picking up instore or shipping from a physical shop environment? The answer comes back to reliable information around stock availability.
Reducing out of stocks is crucial to improving the shopper experience and building customer loyalty, especially in today's high competitive retail sector. Other inherent benefits of RFID technology include the reduction in shrink from shoplifting and internal theft. The technology can also free up sales staff who can be more focused on selling, rather than spending hours tagging products in-store.
Tyco Retail Solutions has been assisting a number of major global retail brands to deploy sophisticated RFID-enabled inventory solutions, including Zara and Lululemon. In Australia, the path to RFID is gaining momentum as the economic benefits become clearer with more retail executives convinced that the return on investment is worth the initial outlay required.
As customers today expect to be able to shop anywhere, anytime and anyhow they choose, Tyco Retail Solutions is keenly focused on enabling retailers to adapt to RFID, which will in time become a fundamental necessity of modern retailing to support omni-channel strategies and increase sales and profitability.
About Tyco Retail Solutions
Tyco Retail Solutions is a provider of retail Loss Prevention, Inventory and Traffic solutions. Tyco delivers real-time visibility and predictive analytics to help maximise business outcomes in today's digitally driven shopping world. Their more than 1.5 million data collection devices in the retail marketplace capture 40 billion shopper visits and track and protect billions of items each year. For more information, please visit TycoRetailSolutions.com.au