Australians are set to spend over $11 billion on Christmas presents this year, with a significant proportion to come from online sales, as toys, jigsaw puzzles and boardgames top the list of most popular gifts according to research from the Australian Retailers Association in conjunction with Roy Morgan.
The past few months have been a uniquely challenging time for most retailers, in particular small businesses navigating extended state-imposed lockdowns and restrictions that have limited their ability to trade. Despite this uncertainty, the good news is that consumer sentiment is upbeat for Christmas and retailers can look forward to healthy trading conditions over the busy festive season.
Gift buyers are expected to spend an average of $726 each, with 35-49 years old's the most generous age group. In good news for retailers, most Australians (79%) say they'll spend the same or more than they did last year.
Australians are turning to the internet in a big way – an average of 48% of Christmas presents are likely to be purchased online, with 58% of people saying they'll purchase more or significantly more items online than they did last year.
The most popular gifts are toys, jigsaw puzzles and boardgames, mentioned by 20% of Australians who know what presents they're going to buy, followed by vouchers and gift cards (18%) and clothing, shoes and sleepwear (16%). However, nearly half of Australians (45%) say they are yet to make up their mind about what gifts they'll purchase.
Consumers in NSW are the most generous and forecast to spend an average of $902 on their Christmas gifts, followed by Tasmanians at $813, Queenslanders $705, Victorians $652, South Australians $645 and West Australians $472.
This special ARA-Roy Morgan Snap SMS survey of over 3,000 Australians shows there is considerable optimism in the community looking forward to a Christmas retailing season that is set to see a record amount spent online.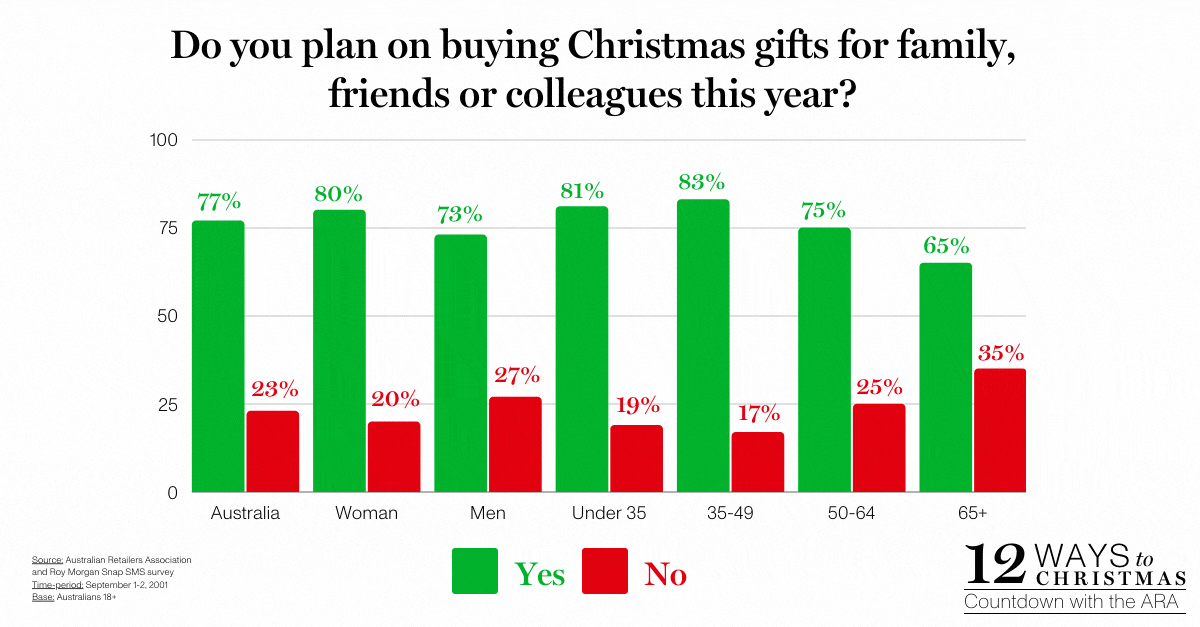 {{cta('c8f8ba82-b109-490a-b277-3b1b9dd43886')}}