Christmas is the busiest time of year on the retail calendar. During the peak season, exorbitant pressure is put on retail businesses and their staff to plan for a significant increase in sales.
While it is essential to be efficiently prepared and to anticipate any problem that may arise, there are issues retailers face that are not within their direct control. The biggest issue facing retailers right now is staff shortages. Another compounding issue retailers must be aware of is emotionally charged customers. Servicing emotionally charged customers can be difficult, draining, and take a toll on workers' mental health. 
The high job demands, combined with customer misbehaviour present a real risk to workers' mental health. 
This Christmas, retailers not only need to prioritise customer experience but employee experience too. Retailers have a legal obligation under health and safety law to ensure the psychological health and safety of workers while at work. This means talking to staff about the things that can cause harm to their psychological health and putting measures in place to eliminate or reduce those risks. 
Here are seven things retailers can do this Christmas period to promote good mental health at work…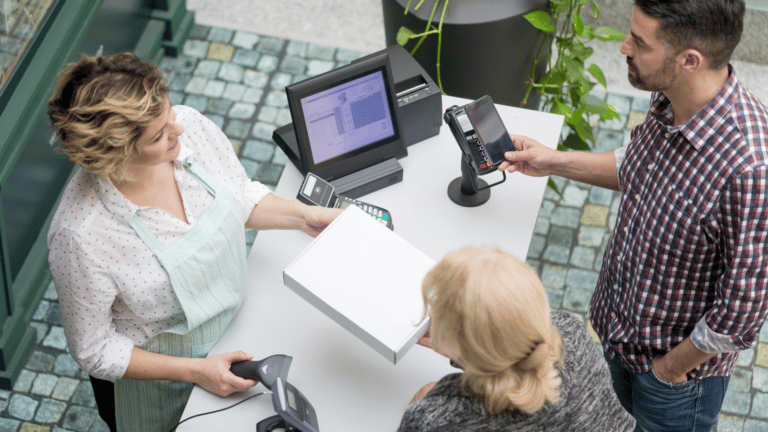 #1 Educate staff about mental health in the workplace
Talk to your staff about work factors that can potentially impact their mental health. Discuss strategies the workplace has implemented to manage these factors, and encourage workers to report situations that arise that may impact their mental health at work.
Education and training help to decrease stigma around mental health in the workplace, which means staff are more likely to speak up and seek help early before symptoms get too severe.
#2
Provide support to team members struggling with their mental health

The support of a manager and co-workers is very important, especially for someone going through a tough time, and can mean the difference between that person being able to stay in their role or leaving the workplace.

Every workplace has a legal responsibility to make reasonable adjustments so that a person with a mental health condition can remain at work, provided the person can meet the core requirements of the job. This may include offering flexible working hours, adjusting the person's workload, and providing additional guidance and support.
#3
Talk openly about mental health at work and encourage others to do the same

Sharing any personal experiences about mental health can make a real difference in creating a working environment where people are comfortable seeking support if they need it. Talking about mental wellbeing the same way you would physical health is a good place to start.
#4
Communicate regularly with your team

Communicating regularly with your staff and ensuring they can provide feedback helps to keep staff engaged and provides opportunities for any questions.

The communication should occur in a timely manner and consideration should be given about the best ways it should be done. Remember that a big part of effective communication is listening. Make sure you listen to any feedback your staff might have and take that feedback into consideration.
#5
Encourage respectful behaviour and communication by team members and customers

It is critical to set an expectation that all employees respect and listen to each other at all times and that managers and leaders model this behaviour day-to-day.

Talk with staff about acceptable behaviour, and share with them examples of customer misbehaviour, and the processes in place to deal with these situations.
#6

Improve work design by addressing potential workplace stressors

There are many things retailers can do to address potential workplace stress, including:
regularly review workloads, timelines and resources.
improve role clarity by ensuring staff have well-defined roles and their expectations of them are clear.
provide adequate resources and training to staff so they are able to perform their role confidently and competently.
#7

Work with your team to develop a plan

Develop a plan with your team on how you can all work to create a more mentally healthy workplace during the peak season. Managers and leaders should work with their immediate teams to identify priority areas that need attention and agree on actions that can be implemented to achieve their goals.
Disclaimer: The material within this update is provided for general information and educational purposes in summary form on topics that are current when it is first published. The content does not constitute legal advice or recommendations and should not be relied upon as such.
Source: Heads Up