Soothsayers, fortune tellers and crystal ball gazers have been predicting online retailers will soon displace the traditional bricks-and-mortar store for the last decade. Yet, retail stores remain. This may be because e-commerce in Australia is still maturing. Or it might be the big, global players are not fully operational in the Australian market. One thing is for certain, the tipping point these fortune tellers have been predicting may now be about to hit Australian shores.
NAB's recent research into consumer spending habits has found that online spending is growing five times faster than traditional retail spending. In fact, according to Go People's research, three in five Aussies are already shopping online due to the number of consumers using their smartphones, tablets and computers to shop online.
With Amazon looking to crack the Australian market in 2017, how can local bricks-and-mortar retailers put up a better fight and keep the online mega malls at bay?
Convenience and ease top consumer retail needs
It's no secret why consumers are turning to their smartphones or computers to shop. It's easy, it's convenient, you don't have to fight with the crowds and it gets delivered to your door. The length of time consumers have to wait for items has been significantly reduced, with many online outlets offering the items a couple of hours after the order has been confirmed. Iconic offer this already in Australia.
Delivery is quickly becoming a key differentiator for online retail in the sales process. In fact, according to Accenture, nearly two-thirds of digitally savvy consumers based their purchasing decision on delivery options.
It's no wonder the Amazons of this world are seeing the lion's share in sales. They offer quick, easy and multiple delivery options to suit the needs of their customers. Combining the look, feel and experience of the physical store with the ease and convenience of the digital store allows consumers to gain the best of both shopping worlds. According to reports, this is precisely what Amazon is going to do when it hits Australian stores this year This omni-channel experience might very well be why it's being reported that Amazon is "going to destroy the retail market".
Don't panic, just deliver
According to Go People research, Australian retailers aren't keeping up with Aussie expectations when it comes to deliveries. Over Christmas for example, one in six Australians received their Christmas gifts after December 30th.
As such, nearly half (45 percent) of consumers pay for express deliveries, even when standard deliveries claim to deliver on time, just to make sure their gifts arrive before the big day. This equates to $235M in additional delivery fees shoppers pay because they don't trust the service. That's an average of $21-$30 they could have spent on your products.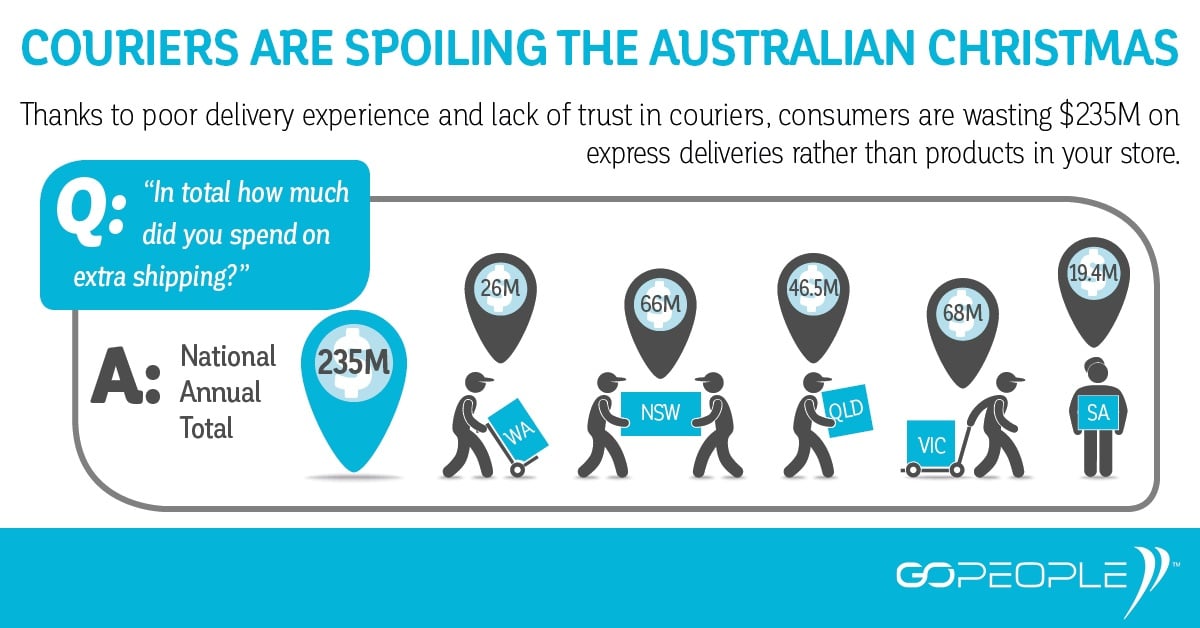 Even worse, delayed presents and a poor delivery experience can negatively impact retailers in a big way. That's because when a delivery is late, it's often not the courier consumers blame but the retailer that is perceived to be at fault.
On the flip side, you have online-only retailers, like the Iconic, investing heavily in their delivery options for consumers. When the time finally comes when stores are blended between the physical and virtual, the winner is obvious. It's the one with the best delivery service – the one that can offer the most convenience to the shopper.
Next-day delivery and standard delivery are no longer enough. Today's consumers are demanding one to three hour, evening and same-day delivery, in addition to next-day and standard delivery.
According to Temando's latest Australian retail study, retailers that offer multiple delivery services to meet the needs of today's consumers, see an increase in sales (79 percent) and a reduction in cart abandonment (62 percent).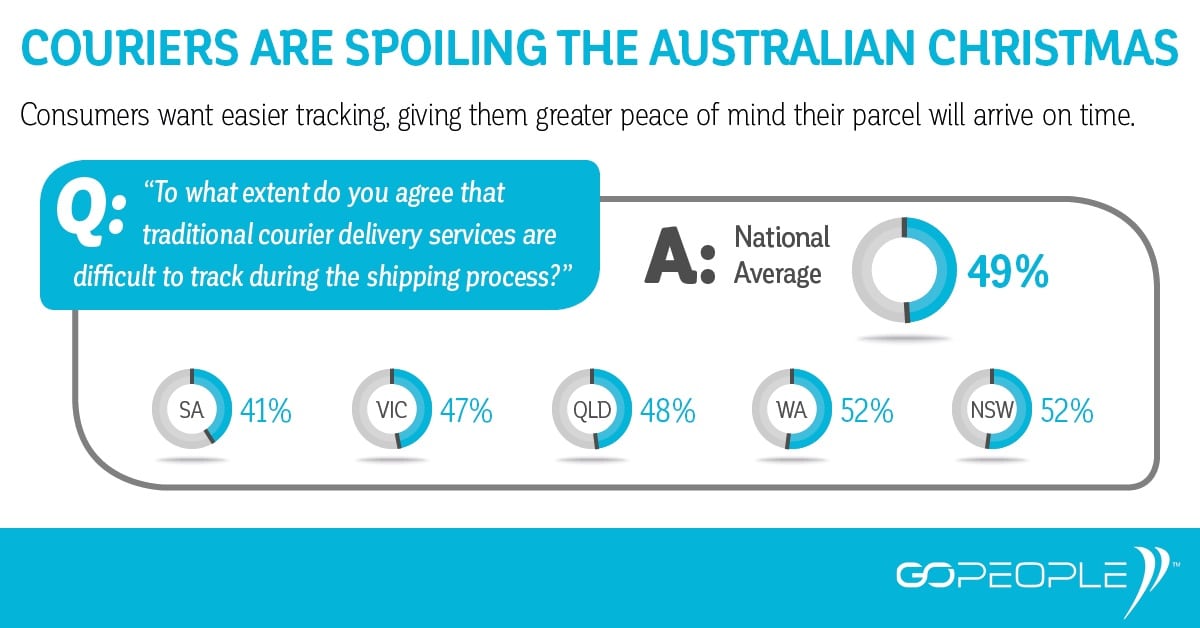 And that's not all, they want to know where their delivery is at all times. According to Accenture, tracking parcels is one of the most important features for consumers, with 79 percent of respondents wanting full-visibility tracking. However, almost half of Aussies (49 percent) say traditional courier services are hard to track during the shipping process And, guess who they blame…the retailer.
When Amazon finally comes to our shores, will consumers choose to shop at those retailers that don't offer a fast, convenient and easy shopping experience, which delivers direct to their door? My guess is probably not.
The customer experience provided by these international online mega malls is setting consumer expectations. If Aussie retailers want to keep their share of consumer spending, they need to be prepared to deliver and do it well. Choice, transparency and flexibility are the key ingredients in this mix.
With the death knell being sounded for traditional bricks-and-mortar retailers, it's time to fight back. Finding the perfect delivery solution will go some way in achieving this and getting ahead of the game before it's too late.