SafeWork NSW has recently published their At Risk Workers' Strategy 2018-2022. SafeWork NSW has deemed and outlined within their strategy, the following groups of workers to be a most risk of harm in workplace:
Culturally and linguistically diverse (CALD) workers
Migrant workers
Young workers (up to 25 years old)
Workers employed through labour hire arrangements
The strategy is pertinent to retailers, as some of these worker groups, particularly young workers are typically found in the retail sector. Approximately 40% of the retail workforce are in the young worker category.
In protecting young workers in retail, we shared the reasons why the young worker group is categorised as a vulnerable section of the workforce. Essentially, the young worker group are at greater risk of being injured at work than any other age group. Safe Work Australia explains that young workers are at risk of workplace injury due to their lack of experience and maturity, and they may be less aware of work health and safety risks and responsibilities.
The SafeWork NSW At Risk Workers' Strategy 2018-2022, identifies the top 6 high risk factors for the young worker group. The highest risk factor for the young worker group highlighted by SafeWork NSW is inadequate supervision and training. The other high-risk factors include: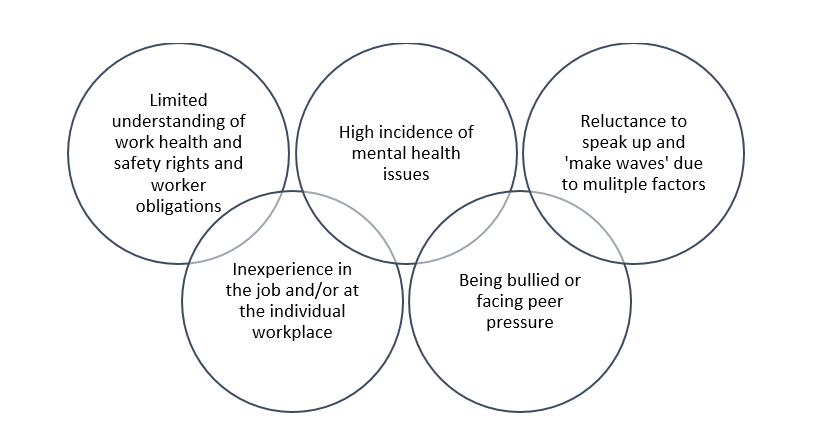 As a retailer, you may also engage CALD or migrant workers and labour hire workers. The SafeWork NSW strategy identifies the high-risk factors for these worker groups. For labour hire, the highest risk factor highlighted is labour hire workers are commonly assigned higher risk work, whilst language barriers hinder understanding of work health and safety rights and worker obligations was the highest risk factor for both CALD and migrant workers categories.
SafeWork NSW will continue to work with industry groups such as the ARA to develop targeted action plans to address these risk areas, however retailers are encouraged to take a proactive approach in their own workplaces now that this information is available. One suggested approach is to share this information with management, including senior managers and those who are responsible for the onboarding, induction and training of workers and development of work health and safety policies and procedures. Creating awareness is the first step. The business can then identify which of these At Risk Worker Groups are relevant and from there, commence planning and implementing controls to manage the risks.