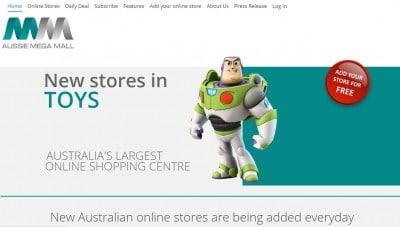 An online site claiming to be the biggest online shopping mall in Australia has been launched to support Australian businesses and cater for fast-growing online shopping trends, which have hit $19.6 billion in the past year.
The Aussie Mega Mall (AMM) showcases more than 3500 Australian online stores only, making it seven times larger than the biggest Westfield shopping centre in Australia at Bondi Junction with 522 stores.
CEO and founder, Darryl Reeves, said AMM, which has been created as a fight back against the huge number of foreign stores coming into Australia and buying their way to the top of search engines.
"In a growing number of categories of retail, it's getting difficult to get an Australian retailer on the first page or two of search engines now," Mr Reeves said.
"We aim to stop this because it's very bad for Australian business, economy and, importantly, it's very bad for Australian people."
Australian online shopping is showing no signs of slowing. NAB's Online Retail Sales Index for April 2016 reported that Australians spent an estimated $19.6 billion on online retail for 12 months to April 2016. While representing just over a third of all online sales, SME 18.1 percent (year on year) outpaced corporates and improved on March growth of 9.2 percent.
"The site is 100 percent touch which is perfect for handheld devices. Every store looks like and works like an app and can be found on page one of the aisle of a shopper's choosing," he said.
Any Australian online store, from large corporates to small stores, can list an online store for free, and will be placed on page one of the site. There are also 15 premium paid spots available in each category.
Listings can include digital brochures, daily deals, coupon codes, and access to AMM membership for extra promotion and discounted products.
"Many businesses can be Skyped directly from the site. We're the only business Skype directory anywhere as far as I know," Mr Reeves said.
He said the mall was by Australians for Australians and excluded Australian drop shipping stores which managed stock and processing overseas.
"Drop shipping could well be the death knell for many Australian online stores if we do not unite and showcase collectively. Drop shipping is doing to Australian online stores what the large grocery chains have done to the small corner store – put them out of business. We want to give the small online business owner all the support we can."
Upcoming features include social media links, listings for offline businesses, professionals and B2Bs, auctions classifieds, loyalty points and an AMM app.
A New Zealand Mega Mall is expected to open this year, as well as malls in the US, UK and South Africa in 2017.
"This has the potential to be a gigantic business on a global scale," Mr Reeves said.