Whether you send one or 1,000 customer emails each day – it is crucial that you don't lose sight of how important each one is – that each one is an important relationship building tool in your business.
Consider that your email might be the only communication that customer gets from you on a particular day. That email can not only change their relationship with your business (perhaps one step closer to 'love' and 'loyalty') but, written correctly, can impact their day on a much deeper level.
Getting customer emails right is worth the investment of time. Regardless of your automation system, there are some must haves inside your email that can (re)shape the way a customer feels about your business. An email (automated or not) should be as close to two people having a conversation as possible. This makes your customers feel like they are doing business with a human, unfortunately many businesses miss this mark.
Firstly, and quite obviously, is personalisation. Making every email personal is so important. Aside from using the recipient's name in the salutation, use it elsewhere in the email – fittingly of course.
As Dale Carnegie said in his book How to Win Friends and Influence People, "…remember that a person's name is, to that person, the sweetest and most important sound in any language…"
Ensure the email is coming from a human too – not just a team. "Many thanks Max" is much better than "Many thanks, Customer Service Team". Put a face to the name too. Not only will a photo help build trust and increase conversions, it will make your customers feel like they are dealing with real people.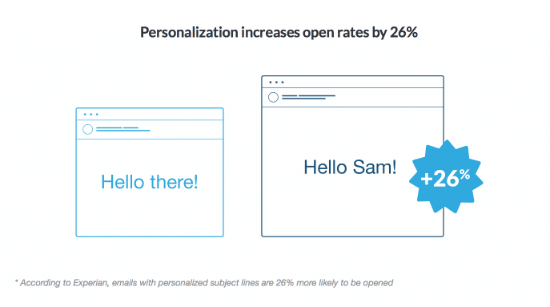 Always say thank you. No matter what the email you are sending is responding to, a complaint, a compliment, an enquiry or feedback – say thank you. All (good) business owners acknowledge that even the worst feedback is helpful feedback used to grow your business.
Look at your language – are you using positive language? Do you have sentences such as "actually, you can find that product here if you click," or "I understand but…". Taking out words such as "actually" and "but" can change the tone of your emails. Try saying instead, "absolutely we do! You'll find it here," and "I really appreciate your point, unfortunately…" etc.
If your emails are a sales conversation and you use the words "I" and "we," you are talking about your brand, and as the saying goes "customers don't care what you know, until they know you care…".
If you are telling them everything about you, I guarantee the information is not getting consumed. A sales email needs to be telling the customer what you can do for them, what the outcome will be for them, how much revenue or free time it will generate for them. You need to start using words like "you" and "your" instead.
Lastly, check the tone of the email – is it formal or casual? There's been a long, held debate of what is the preferable tone, however a recent survey of 2000+ online customers found that 65 percent of them, across all ages and all genders, preferred a casual, more friendly manner in customer emails. Of course, if you are delivering bad news to a customer, a casual tone may not be appropriate, so ensure you use the right tone for the right purpose. But a casual tone can help humanise an email and create trust.
Remember you can automate processes but automating relationships is much harder. While an email is not the same as a face-to-face conversation, the end result should leave your customer feeling like they had a personal experience with your brand or business, and be excited to do business with you again.
Each email might be a bit of effort, but it's a massive opportunity to build better relationships, grow your customer base and continue the personal experiences your customers have.
The Marketers Club is home to a host of successful marketers that are all dedicated to providing fast-track success for small business owners. Visit marketersclub.com.au/