"What is my consumers path to purchase?" The million-dollar question and one that is asked time and time again, and up until now, it's been fairly hard to determine. But with online retail growing at such a fast pace, and the abundance of online behavioural data being collected, answering this question has become a lot easier.
One of the areas that Hitwise specialises in is understanding online consumer behaviours in Australia. We track millions of digital daily footprints across our online panel of 1 million Australians. From this we can identify what consumers are searching for, where that search activity takes them, and the journey that consumers take whilst on a retailer's website. This kind of data is pure gold for any brand wanting to know where their online strengths and weaknesses lie.
According to ShopperTrak, last December saw the first time that in-store traffic declined significantly YoY. During this same time, we also saw Shopping & Classifieds reach its largest online audience ever. With this growth in online retail and the arrival of Amazon to Australian shores in the near future, now is the time to truly understand how your consumers use the internet when purchasing goods.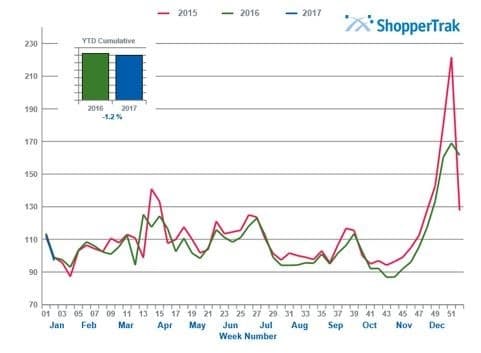 It all starts with search. 14 million Australian's visited Google in December last year, and for many (9.5 million) it was their first stop on their path to purchase . Given this, search terms provide vital information on what products consumers are seeking and from which brands they wish to purchase.
Search data can provide insight not only on the journey, but your true competitive set, potential challenges but also, who your true consumer is. Each brand and product is different, so it's important to break that down.
As one of Australia's most loved brands, Bunnings is an interesting case. The search activity around this brand demonstrate that many consumers don't intend to buy products online – for most it's a research platform. Bunnings is huge on the in-store experience and whether this is their intention or not, consumers are preferring this journey rather than online when making that final purchase. With experts on hand, 'how to' sessions, and the famous sausage sizzle (a weekend ritual for many!) they make being in store a lot more beneficial for the consumer than any other store in their competitive set! But online still plays a big part in the consumer journey for Bunnings consumers, and again – it starts with search.
Of the top 50 search terms for Bunnings, 30 percent are location based searches such as 'near me' and 17 percent are on 'opening hours'. That's almost 50 percent of all search terms purely being around going to the store. Many other searches are for the catalogue, product price or seeking advice. Whilst this might not be groundbreaking stuff, it highlights that in-store visits, whilst declining for most categories, are still very much alive when it comes to Bunnings.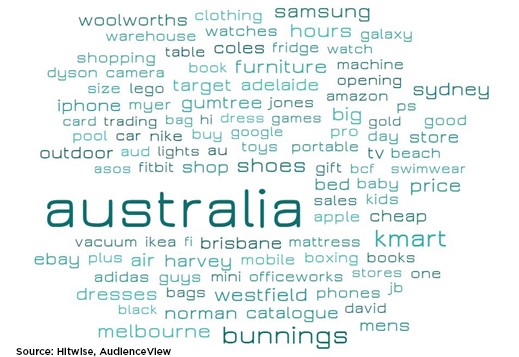 However, if you look at the automotive industry, where the journey is a lot longer and includes many more steps, the findings become very interesting. We recently partnered with a financial institution who wanted to understand when car buyers seek out loans during the car buying process. To do this, we captured those on our panel who showed a 'trigger' behaviour (that they intended to buy a car, by either seeking out dealer locations or by booking a test drive). We then tracked the panels behaviour eight weeks prior, and eight weeks after they showed the intention trigger. What we found is that searches for 'car finance' kicked in strongly in week 1 (post trigger behaviour) and held its strength until week 3. This highlighted that the key time frame when car buyers consider finances actually comes after the 'book a test drive' or 'visit a dealer'. We then saw 'car insurance' searches peak in weeks 2 and 5, indicating that the consumer may have found the car they are likely to buy.
This methodology assists brands in strongly understanding the consumer journey, but it also can help deliver the right message, at the right time within the journey. Rather than launch your one message campaign over a period of time, it's more beneficial to feed the relevant information to the consumer when they are more likely to be seeking out information. Search data showcases what they are looking for and when, which is a huge opportunity to capture an active consumer.
About Hitwise
Through a combination of Hitwise's rich online and offline behavioural, lifestyle and demographic data, we provide a detailed profile of each of your customer segments. Gain access to unparalleled cross-channel by visiting http://connexity.com/au/hitwise/