The ARA often receives calls from members who are having difficulties dealing with their employees when there is no employment contract in place to guide the employment relationship. These problems range from uncertainty about the correct notice period on termination, to disputes about what the employee should be paid, to being unable to enforce confidentiality obligations on their employees.
Who needs a contract?
The Employment Relations team advises that every new employee should be given an employment contract, including casuals and temporary employees. While having them in place doesn't eliminate all of your workplace relations issues, they definitely help in the long term, providing both you and your employee with consistency, certainty and predictability.
Additionally, if you have existing employees who were never given employment contracts, you should think about putting one in place as soon as possible. Giving your existing employees new contracts does not mean that they are being rehired – it is simply a way of ensuring that both you and your employee are on the same page when it comes to their employment.
As ARA members, you have access to free template contracts through the Employment Relations Management System (ERMS), which can be accessed through the ARA's website.
How do I find these employment contracts?
1. Login to your ERMS account and select the "employees" tab. Open up the relevant employee's file (if you haven't already created one, take the time to fill in a few basic details about your employee to add them into the system)

2. Once in the employee's file, choose the "documents" tab and select "create a new document"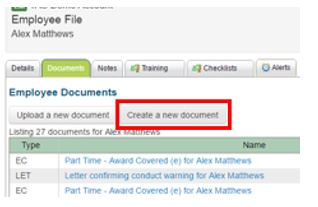 3. You will have the choice of selecting an employment contract, form or letter. Once you have selected "employment contract", you will be taken to the next page which presents the ten template contracts available on the system.
To determine which one is right for you, you need to ask yourself the following questions:
Is my employee full time, part time or casual?
Is my employee covered by a modern award?
Is my employee permanent or will they only be working for a fixed term?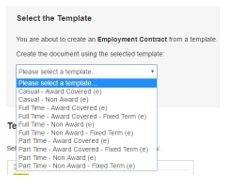 If you need any assistance in determining which contract you should use, please call the Employment Relations Team on 1300 368 041
4. Fill out the questions which are presented to you. Once you have finished, you will be given the option to amend or download the document.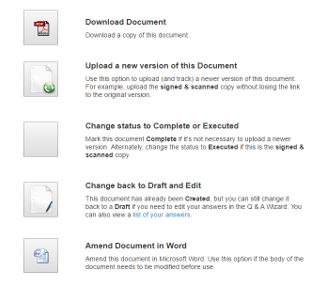 If you require a more complex employment contract to reflect specialised arrangements between you and your employees, please call the Employment Relations team on 1300 368 041 to discuss how we can help.
{{cta('6ecd3662-2c5f-4bb4-a46f-10c587603aa3')}}