Today's employees are digital first. They expect collaboration, flexibility, energy, purpose and inclusion. Employees are motivated by recognition, rewards and competition. But are workplaces keeping up? Recent research shows that 70% of business transformations fail due to a lack of employee engagement [1].
Businesses need to adapt; accommodate changing technology, embrace changes in market conditions and consumer behaviour, and manage changing expectations of employees. Only by adapting to their employees, will businesses see success. How can a business grow with unmotivated teams? Methods include an encouraging working environment, use of technology, maintaining goals and encouraging employees to succeed. While growing a company plus simultaneously engaging employees may seem easier said than done, there are ways to manage it all.
Build trust
Positioning your business as digital first; show millennials that you understand their world, much of which is now lived online. Trust equates to great work. If you trust your employees, they'll give back ten-fold, if they trust you, output multiplies again. Empower your employees by creating a sense of purpose. One way to do this is to educate your employees on your strategy. By keeping them in the loop, they'll understand what they're ultimately working towards. They'll also gain a much greater appreciation for you and your company because they'll feel included right from the get-go. When you show your employees that you trust them, and that, in return, they can trust you, generally speaking, they're going to want to do the best thing by you.
Flexibility means productivity
Digital transformation not only allows for, but actively encourages a wider range of talent by offering flexibility, with the ability to work remotely. Set up your business, right from the beginning, to accommodate being able to work remotely. Ensure you put the correct systems in place to support this. For example, utilise messaging platforms, cloud-based services and video conferencing, will help employees feel included in the company, regardless of where they work. Embracing digital transformation means embracing innovation. Allowing employees to be out of the office but still feel like part of the team can be a key driver for getting the best out of your employees.
Employees will be most productive at different times of days. There's the staff member who's up bright and early with the sun, doing their best work at dawn. And there's the staff member who happily works through lunch so they can enjoy their afternoon. Employees who set their own hours actually tend to be more productive, happier and work longer. Using software, you can even track your team members' hours and productivity to ensure they stay on track.
Reward their work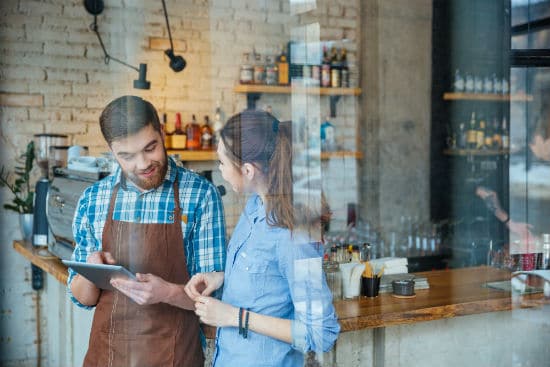 There are more ways to reward employees for hard and productive work than just cash, all thanks to the digital environment. Besides from the usual of encouraging flexible hours, providing food and drinks or implementing a casual Friday, there's also gifting them vouchers – either monetary or experiences, paying for their parking for the week; giving them the opportunity to work from home. The key when it comes to rewarding your staff is finding out what is important to each individual employee. What drives their work ethic? Once you've figured this out, you can customise your rewards to suit.
Commit from the top
Employees will react much better to transformation if those at in senior management are embracing and internally championing it too. Show your employees that you're in touch with what matters to them. Use the digital platforms that your staff would be using. Test new platforms such as Facebook Live, Instagram stories and more. That way, you'll be informed and you'll be able to accurately question or challenge your staff members when they're pitching ideas to you.
Celebrate the wins
Digital transformation is still transforming. It's not finished yet. And the end is nowhere in sight. Many brands are still trying to figure out what digital is and what digital transformation actually means. So, when you win in your field, celebrate them. When an employee does something that actively assists in company development, especially when it comes to generating brand value, highlight them as an example. Not only does this instil confidence in that particular team member, but it also encourages others to do the same.
It may be easier to stick to traditional tactics when it comes to employee engagement, but that is now becoming a trend of the past. Embrace digital transformation. Your employees and your business will thank you for it.
[1] Recent research shows that 70% of business transformations fail due to a lack of employee engagement
[2] Employees who set their own hours actually tend to be more productive, happier and work longer
About Prezzee
Prezzee an online marketplace providing an innovative digital Gift Card solution built to change the art of gifting. Prezzee was designed to solve the problem of sending Gift Cards in the corporate world, enabling simple bulk sends, instant delivery and co-branding options. Prezzee also operates in a consumer market to alleviate the problem of lost or misplaced plastic Gift Cards when you need them the most. Visit www.prezzee.com.au/