Most managers and business owners understand, on some level, that happy employees result in happy customers. That said, with key decision makers choosing to focus their time and effort on revenue-generating activities, employee satisfaction often gets overlooked.
Here's the thing, though – ensuring that your employees are happy does result in a direct and significant impact on your bottom line. Gallup's The State of the American Workplace report, for example, details how employees who are engaged are more likely to improve customer relationships, resulting in a 20% increase in sales.
Let's we'll explore the various reasons why happy employees result in happy customers (not all are as obvious as you may think), and discuss how to motivate your employees and keep them highly satisfied.
How does happy employees result in happy customers?
1. Service with a smile
This one's pretty self-explanatory. When employees are happy, their good mood carries over to the work they do.
Your sales reps will be more charming and charismatic when speaking to potential customers. Your front-line staff will greet consumers with a smile. And your support staff? They won't snap and hurl vulgarities at that customer who's being rude and condescending.
The end result? Happier customers who have a great impression of your brand.
2. More innovation
What has your employees' satisfaction levels got to do with innovation? As it turns out, everything.
Consider this: only 6% of those who strongly disagree they're happy in their current job are of the opinion that their job brings out their best ideas. All the way on the other end of the spectrum, a whopping 82% of employees who are the happiest at work say that their work brings out their best ideas.
Obviously, when your employees come up with innovative ideas on how to serve your customers and fulfil their needs, it's your customers who end up benefiting. Like we said… happy employees, happy customers!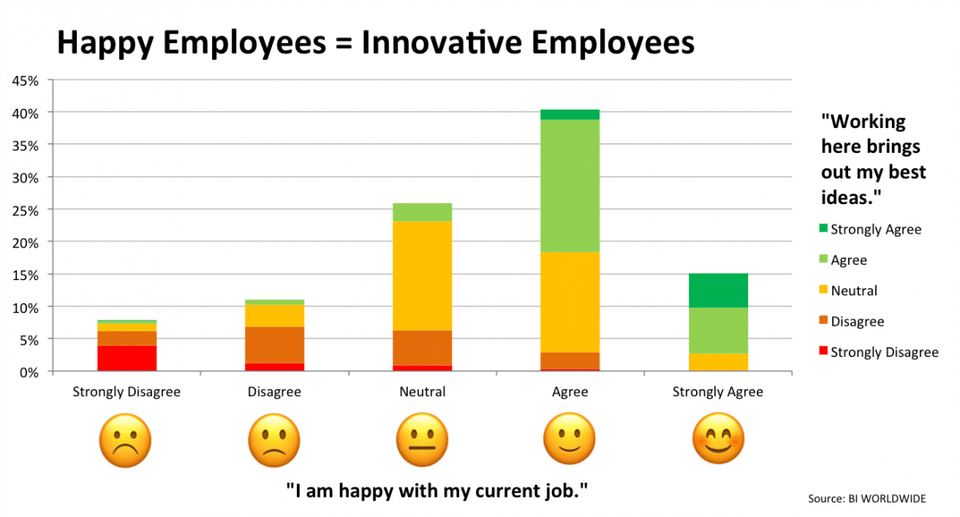 3. Better service
When your employees are happier, they stay at your company longer – it's not rocket science.
Now, here are the implications: if your employees are fed up and leaving your team in droves, you've got to constantly hire new team members, and it'll take some time for these guys to familiarise themselves with your company and the nuances of your product or service.
Unless you pay through the nose for a highly experienced candidate who's knowledgeable about both your industry and product, your customers will probably experience poorer quality service and support in the short-run.
The bottom line? Keep your employees happy and your retention rates high, and your customers get to enjoy higher quality service!
How to keep your team engaged and happy
Now that we know exactly how happy employees translate into happy customers, let's discuss a few ways in which you can keep your team happy.
1. Offer training and development opportunities
"I want to remain stagnant, and not upgrade my skills," said no employee ever.
While businesses with a strong learning culture enjoy employee engagement and retention rates of 30-50% higher than those that don't, most businesses aren't making it a point to improve upon their training schemes. As such, only 25% of employees feel as though their organisations offer adequate opportunities for professional development.
If you haven't already done so, make it a priority to come up with a structured training program that offers your employees plenty of learning opportunities.
2. Support employees
Work on supporting your teams instead of micro-managing them, and you'll find your employee satisfaction shooting through the roof.
How do you offer support? Check in with your employees regularly, and talk to them about how they might achieve their career goals. If they're facing any problems at work, provide them with the necessary resources to overcome these problems, and also be receptive to any feedback that they might have about the company.
3. Encourage employees to have fun
Your employees aren't robots – they need to cut back and let loose once in a while.
Of course, you can argue that they have all the time to do this outside office hours, but by organizing fun activities and programs for your employees, you're showing them that you care about their well-being. And that makes them happy! These activities also help your team bond and build ties, which also increases their overall satisfaction.
4. Be open to flexible working arrangements
In this day and age, companies who offer flexible working arrangements are a dime a dozen. For your employees whose job scopes don't require them to be in the office everyday, consider allowing them to work remotely from home for a fixed number of days per month.
We know that remote workers are happier than their peers who stick to traditional working arrangements; on top of that, they're also more productive. If you ask us, it's a win-win!
Living the 'Happy Employees, Happy Customers' principle
As the saying goes, a team is only as strong as its weakest link. Want to build a team full of high-performing employees who will go the extra mile for your customers? The first step is to make your employees a priority, and focus on keeping them happy.
RateIt is the market-leader in on-the-spot customer feedback. RateIt helps retailers consistently deliver great customer experiences by gathering NPS and customer comments via engaging touchscreens, delivering insights that matter. For more information, see www.rateitapp.com/