It only takes one bad experience to put a retail customer off for life.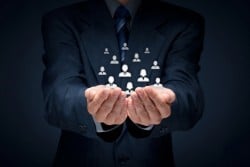 With so much competition among retailers these days, you need a manager who will fire on multiple fronts – pleasing customers, dealing effectively with staff and overseeing the smooth running of your enterprise.
Discovering all that in one person can be a challenge, so we've put together a check list of attributes found in the perfect retail manager.
Respect for staff
Your manager should respect all staff members, from the entry level to the most senior. Genuine respect can encourage employees to think for themselves, take pride in their work and step up to a challenge.
Respect for customers
Smart managers know what customers want and present a professional, friendly and welcoming face at all times – even when everything is going wrong and the customer is being a pain.
Empathy and understanding
The best retail managers possess a natural empathy for the emotional lives of others, with innate understanding of their needs. Sensitivity to others' feelings is a real plus in a manager.
Focuses on feedback
A good manager knows that two-way feedback is vital – from employees to manager, and from manager to employees.
This keeps the lines of communication open, helps solve problems in real-time, builds trust within the team and helps workers to grow in confidence and skill.
Loves a challenge
It really helps if your retail manager possesses genuine problem solving skills – and is always happy to put them into action.
Timid or reserved managers too often sit back when forward thinking and positive action is required. The best managers see problems as challenges and relish solving them.
Goal orientated
There's nothing better than a retail manager who sets clear objectives and goals for their team to achieve.
Employees generally rise to the challenge when given something solid to aspire to.
Incentives and rewards
Workers need incentives to achieve their goals. So as well as setting objectives, your manager should be adept at creating suitable incentives and rewards to encourage staff to excel.
Leadership and motivational skills
Aside from a concrete reward program, a great retail manager knows how to motivate staff by appealing to their need for achievement and belonging.
Bonding exercises, team building and personal feedback are all important ways to encourage a feeling of staff inclusion and pride.
Getting stuck in
Successful retail managers aren't afraid to get their hands dirty. Don't employ someone who will only tackle the easy jobs. Your manager should be happy to tackle any job in a crisis – from mopping up a mess on the floor to assisting a frail or argumentative customer.
On the other hand, your manager needs excellent prioritisation skills, knowing when their time is best spent on shop floor work or higher-level managerial duties.
Too daunting to find this in one package? Consider using a specialist retail recruitment agency with years of experience in finding skilled managers.