Businesses worldwide are experiencing the effects of the highest inflation rate in a generation.
In Australia, inflation is growing at its fastest pace in 20 years. According to data published by the Australian Bureau of Statistics (ABS) on 27 July, the annual inflation rate surged to 6.1% in Q2 2022 from 5.1% in Q1 2022 and 3.5% in Q4 2021, surpassing market estimates.
Insurers demanding accuracy
Business interruption is generally regarded as one of the top insurable risks, a consequence of the loss exposure that may threaten a business following events like a natural catastrophe, COVID-19, and cyber. Inadequate business interruption declared values or sum insured may lead to a significant shortfall in the event of an interruption, potentially crippling the business and starving it of cash flow.
The impact of inflation on declared asset values
Inflation has a direct impact on the values in which an insured must declare as part of their insurance policy. The basis of value in which most property insurance policies respond is Reinstatement Cost. If you have not regularly reviewed and updated values, this could result in your declared values being inaccurate and impacting you in a claims event.
Want to learn more from the team at Marsh?
How inflation impacts insurance is your one-stop resource for understanding the importance of accurate valuation of assets and business interruption reviews. You'll be provided with insights into the current inflationary landscape, its impact on insurance and steps you can take to bolster your risk management program.
Get your copy of the full article on the Marsh website.
Interested in insurance solutions risk advisory for your business? Request a callback from the team at ARA Insurance team at Marsh on 1300 133 988 or at arainsurance@marsh.com to speak to them about developing an insurance and risk management program that aligns with your business risk requirements and appetite.
Exclusive ARA Member OnDemand Webinar: Business interruption trends in retail – Are you adequately insured? WATCH NOW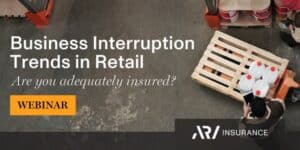 Marsh Advantage Insurance Pty Ltd (ABN 31 081 358 303, AFSL 238369)("MAI") arranges the insurance and is not the insurer. This publication contains general information and does not take into account your individual objectives, financial situation or needs. This publication is not intended to be taken as advice regarding any individual situation and should not be relied upon as such. The information contained herein is based on sources we believe reliable, but we make no representation or warranty as to its accuracy. MAI shall have no obligation to update this publication and shall have no liability to you or any other party arising out of this publication or any matter contained herein. MAI makes no representation or warranty concerning the application of policy wordings or the financial condition or solvency of insurers or re-insurers. The Australian Retailers Association (ARA) receives a financial benefit when a policy is arranged for its members by MAI, enabling it to continue to provide further services to the retail industry. LCPA 22/409